Is CBD Legal in Washington? The Evergreen State Lives Up to Its Name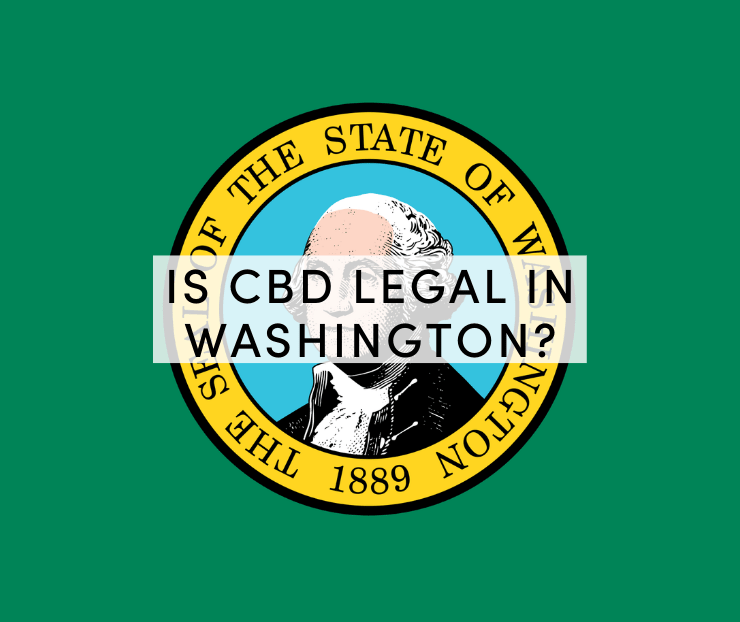 Posted on January 5th, 2021
Is CBD legal in Washington? Yes, CBD is a legal product in the State of Washington.  Washington was the second American state to legalize medical marijuana. This was after voters in Washington voted for Initiative 692 back in 1998. While CBD and medical marijuana may be legal within the State, visitors cannot bring their own product to the State. This means you can only use/buy medical marijuana and CBD produced locally. The product is only legal to individuals of 18 years and above. 
Although all CBD and hemp-derived products are legal in Washington, they should contain no more than 0.3% THC (tetrahydrocannabidiol) to be federally legal. THC is a compound considered to have intoxicating properties, hence not recommended for some people.  For this reason, anyone looking to produce or sell CBD and related products is required to get a valid license from the Washington State Department of Agriculture.  Under the 2018 Farm Bill, the Federal Government regulates how marijuana and hemp are grown to ensure low THC levels. Thus, producers/farmers have to choose from carefully selected hemp cultivar. The plants must be tested for THC and other impurities before it can be considered 'safe' to use. 
Understanding CBD
CBD is a product of the cannabis plant. This alone is subject to concern for many people, considering the negative stigma surrounding cannabis.  Understanding what CBD is can, however, help you get an idea of why Washington legislators made it legal within the State. 
CBD (cannabidiol) is a compound that occurs naturally in the cannabis/hemp plant.  The compound (CBD) occurs alongside THC (tetrahydro cannabidiol) among dozens of other cannabinoids. Unlike THC, CBD does not produce a "high" effect.  However, specific cannabis hemp cultivars contain higher concentrations of CBD compared to THC. These are the ideal strains for CBD products. The 2018 Farm Bill thus recommended the use of specific hemp cultivars to help keep THC levels to less than 0.3% and higher concentrations of CBD. People extract cannabinoids from the hemp plant (through CO2 extraction). They can then either be isolated or left as a full-spectrum product. Carrier oils (jojoba, coconut, or olive oil) help preserve its potency and purity and help extend its shelf life.
CBD products have gained popularity in the health and wellness sector. Many people use CBD to improve symptoms of chronic conditions. Its potency might also be the reason the FDA approved a drug that includes CBD. Epidiolex, treats seizures associated with Epilepsy (Dravet and Lennox-Gastaut Syndrome). CBD interacts with the endocannabinoid system (ECS), helping to maintain the body's homeostasis. CBD thus has the potential to improve symptoms of various conditions, including:
-Acne
-Arthritis
-Multiple Sclerosis
-Some types of cancer
-Anxiety and depression
-Chronic pain
-Addiction
-Diabetes
-Hypertension
While there are strict restrictions on medical marijuana in the State of Washington, CBD remains unregulated. This means you can buy and use CBD and still be on the right side of the law.
What Makes CBD Legal in Washington?
Marijuana was a Schedule 1 substance in Washington and most other states until November 1998. However, I-692 allows patients with a debilitating condition and proper documentation to have access to medical marijuana. You need to get an MMJ (medical marijuana) card to be able to buy medical marijuana from licensed dispensaries. 
Senate Bill 6032 amended the I-692 to allow for more conditions to be included in the medical marijuana program. The final amendment in 2nd November 2008 included other conditions including Hepatitis C, Crohn's disease, anorexia, wasting, loss of appetite, vomiting, seizures, cramping, muscle spasms, and arthritis. If all other standard medications and treatments didn't help relieve the conditions, officials would allow medical marijuana. Again, the bill was amended on 31st August 2010, adding Chronic renal failure as a qualifying medical condition for the MMJ program. 
Officials voted in the Initiative i–502 on 6th November 2012, allowing for licensed and legal production, distribution, and possession of regulated marijuana in the State. Only persons aged 21 and above and not convicted of a felony could obtain the necessary licenses for producing and distributing medical marijuana and CBD products.  Then, Governor of the State of Washington, Jay Inslee, signed SB 5052 into law.  The SB 5052 provides patients with medical marijuana cards additional rights and protections, including: 
– Protection from arrest
– Purchase medical marijuana and CBD products tax-free
– Purchase 3X the legal limit of recreational marijuana. 
This means designated patients with the valid authorizations would be able to defend themselves in case of criminal prosecution. Acquittal is likely as long as they had not more than 6 ounces of usable marijuana and/or 4 plants of the same. 
CBD Laws In Washington
The 2018 Farm Bill made it possible for producers to grow industrial hemp, which saw an influx in CBD infused products in the Washington markets.  While CBD remained an unregulated product, the State, in 2019, made hemp-derived CBD illegal in food and beverage products. The WSDA (Washington State Department of Agriculture) is thus working hard to get rid of all products with hemp-CBD as an ingredient from the shelves. Hemp-CBD products, however, remain legal to this day. These include CBD oil, tinctures, gummies, CBD isolate, full-spectrum CBD, CBD lotions, and creams, among many others. Anyone can buy these products from either a local store or order online. 
Citizens of Washington over 21 years of age can have up to 1ounce of marijuana for private use.  However, the law doesn't condone smoking weed in public, an offense that can cost you $100 in fines. Holding anything more than 40grams of marijuana can cost up to $10,000 in fines and/or 5 years in prison. 
Dispensaries must acquire a license from the state to legally sell marijuana. CBD oil falls under the 'Marijuana-infused liquid' labeling, allowing one to have up to 72 ounces of CBD oil. 
Licensing Requirements For Hemp-CBD
In an attempt to regulate the production of industrial hemp, the WSDA has put into place guidelines. These (and revised State Laws) help producers and distributors produce high-quality CBD with very little to no THC. Some of the notable changes in the licensing requirements (from the 2018 Farm Bill) include:
– Certified hemp growers should procure recommended hemp seed cultivars. They should also notify the IHRP (Industrial Hemp Research Pilot Program) where they sourced the seeds. 
– Growers do not have to maintain the 4-mile buffer distance as required before.
– Simplified IHRP hemp grower license requirements
– Growers must test their product for THC levels and a Certificate of Analysis provided.  The COA should outline, among other things, the analysis method used, THC levels, presence of microbes (e.g., yeast, mold, etc.), and chemical impurities.  
Washington considers hemp-CBD with less than 4% THC to be legal. There can also be no trace of heavy metals (from pesticides). Consumers cannot buy more than 72 ounces of CBD liquids. 
Where To Buy
CBD products are widely available in the State of Washington. You can thus buy products containing CBD, such as CBD edibles, gummies, and CBD oil, from licensed dispensaries. Online outlets like Tanasi provide a wide assortment of CBD products to choose from. You should ensure any CBD product you order online meets Washington's requirements. You might also want to confirm the product details before making an order. Some of the key things to check include:
CBD concentration

Net weight

Any additional ingredients

Date of manufacturer

Distributor name

Batch code
Tanasi takes care of all of these details to give buyers confidence in the product. $2.5 million funded the scientific research that led to Tanasi's full spectrum hemp extract formula. Tanasi also ships everywhere in the United States, including the Evergreen State. 
So Is CBD Legal in Washington?
The short answer is YES. CBD is an unregulated and legal product in Washington.  The state has an established industrial hemp program. Having embraced the 2018 Farm Bill, CBD and hemp products are readily available over the counter (in dispensaries). Anyone over the age of 21 can thus buy up to 72 ounces of CBD and medical marijuana legally. However, registered patients with an MMJ card can purchase 3 times the allowed possession limit for medical marijuana and CBD.