Is CBD Legal in Oregon? The Beaver State's Cannabis Laws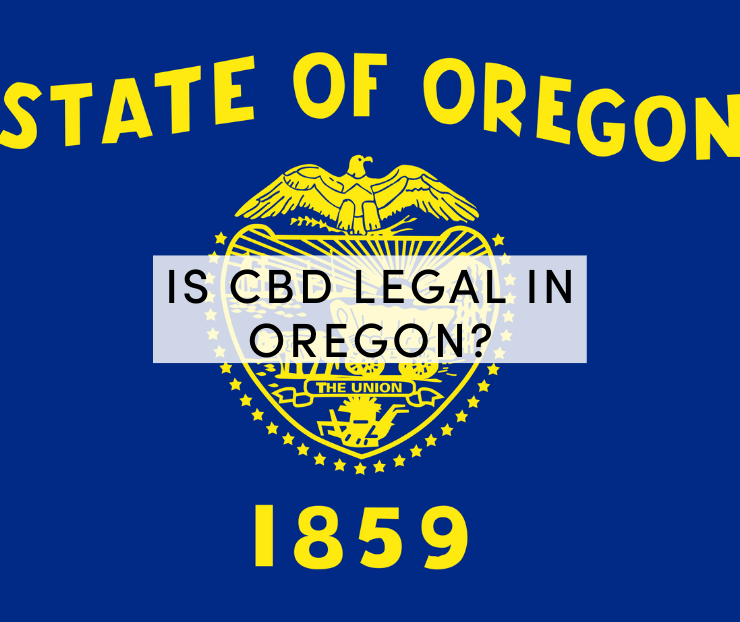 Posted on January 6th, 2021
Is CBD legal in Oregon? This is a common question for residents in Oregon. CBD is legal in Oregon as long as it conforms to all state and federal standards. Since 2016, all forms of hemp and marijuana-derived CBD products are legal in the state. If the product contains less than 0.3 percent THC or tetrahydrocannabinol then it is legal nationwide. This article focuses on the question: Is CBD legal in Oregon?
What Makes CBD Legal in Oregon?
The 2018 Farm Bill removed industrial hemp and all its extracts from the Controlled Substances Act (CSA) across the United States. The Act re-categorized industrial hemp as an agricultural commodity. It permits a wide range of practical uses including the production of oils, textiles, fibers, foods, cosmetics, beverages, and more. The CSA offered a detailed framework for the cultivation of industrial hemp at a federal level. The US Department of Agriculture (USDA) was named as the regulatory authority over hemp cultivation. States have the authority to monitor the cultivation of industrial hemp within their borders by submitting a plan to the USDA.
Oregon was one of the first states to permit the cultivation of industrial hemp following the 2014 Farm Bill. The Oregon Department of Agriculture (ODA) monitors the cultivation and procession of industrial hemp in the state. Any grower (handler) should obtain a license from the ODA before growing hemp. The handler should also comply with state regulations. These include comprehensive reporting, record-keeping, and THC testing the industrial hemp. In fact, Oregon is one of the very first states in the country that allowed commercial CBD products. Oregon also permits the sale of CBD foods, dietary supplements, non-alcoholic beverages, vapes, and cosmetics. These products must contain less than 0.3 percent THC.
Farming
ODA-licensed growers or handlers of industrial hemp can sell their products to the marijuana recreational market. To do so you must satisfy certain testing, record keeping, licensing, and labeling requirements of the state. Industrial hemp producers are allowed to sell their products outside of the state as long as the product contains less than 0.3 percent THC. Oregon law prohibits the selling of hemp-derived CBD products containing more than 0.3 percent THC. All outside growers and producers of CBD should adhere to Oregon's total THC testing standards before they can sell their products in the state. All products should contain less than 0.3 percent THC. Violating this law is considered a Class C felony.
Marijuana Law In Oregon
Oregon was one of the very first states in the country to legalize medical marijuana. Ballot Measure 67 in 1998 legalized marijuana for medical purposes. The rate of cannabis use in Oregon between 1999 and 2005 was 45% higher than the general average in the country. The act modified state law to allow the cultivation, procession, and use of marijuana for medical purposes on the recommendations of a qualified medical practitioner. Measure 74 in 2010 provided access to medical cannabis to patients with certain conditions through licensed and regulated dispensaries across the state. 
In 2014, Measure 91, legalized the cultivation of marijuana for recreational use. Governor Kate Brown approved the bill in 2015. Recreational weed was available from dispensaries across the state since October 2015. In Jan. 2017 dispensaries were permitted to sell recreational marijuana only if they possessed an Oregon Liquor Control Commission license. A person is permitted to possess a maximum of one ounce of recreational marijuana in Oregon. If you are a state resident, you can possess up to 8 ounces in your own home. But you cannot possess more than one ounce of weed in public even if you are a resident of the state. Residents are also allowed to grow up to four plants of cannabis in a personal garden. All of these laws and bills are what made CBD legal in Oregon.
Industrial Hemp In Oregon
There were more than 100 farmers cultivating an estimated 1,300 acres of industrial hemp in the state by 2017. In fact, there had been a 20% increase in state licenses to grow industrial hemp between 2015 and 2018. By 2019, there were more than 50,000 acres of industrial hemp in Oregon. The Beaver State is the #1 hemp producer in the United States at the moment. Hemp cultivation is expected to increase exponentially in the next couple of years. 
In Oregon, cannabis falls into two categories: industrial hemp and marijuana. You don't need a license or registration with the authorities to sell CBD products from industrial hemp. As long as the product contains less than 0.3 percent THC, you're free to sell these products. Testing requirements are monitored by the Oregon Department of Agriculture (ODA). They make sure handlers comply with state laws before selling their products to the consumer.
Where To Buy CBD Products In Oregon?
CBD products are unconditionally legal in Oregon. This makes it possible to weed out low-quality products from the wide range of CBD products on the market. Natural competition in the state lets you select the best product when buying CBD. One of the best places to find high-quality CBD products in Oregon is online. The importance of buying your CBD products online cannot be overemphasized. You have access to a wide variety of CBD brands and get to choose the best product that meets your needs and budget when looking for CBD products online. 
One way to secure the highest quality CBD product is to buy from a reputable manufacturer or supplier. Make sure that independent laboratories have tested and certified the product to safeguard yourself from illegal CBD products. The product should contain less than 0.3 percent THC to become 100% legal in the state. An independent laboratory should test the contents of the product and certified its THC content. Check the label of the product to see if it has the mandatory information required by the state. 
Determining Quality
Many people have complained of CBD products that do not have enough CBD in them. Most of these products have only trace amounts of the substance which isn't enough to make them effective pain relievers. That's where independent testing becomes so important. Third-party testing will reveal the actual percentage of CBD in the product. You should opt for a product that contains the right amount of CBD for your health condition. 
The manufacturer or supplier of the product should make the test results public. This allows the customer to know what he or she gets with the product. Some manufacturers test their products once in a while and some others test every batch of products they sell. Results should be more accurate when testing batches rather than testing CBD products in bulk. That's why you need to buy from a manufacturer or supplier who tests their products in batches rather than in bulk. 
Besides online purchases, there are local shops that sell CBD products in Oregon. In fact, Oregon has marijuana clinics and dispensaries across the state. But local shops may not have a wide variety of products to choose from like online shops do. Local shops order CBD products depending on the demand for each product. Keep this in mind if you decide to shop for your favorite CBD product from a local CBD shop.
One Extract to Rule Them All
Remember that just because legislation makes CBD legal in Oregon does not mean all products are equal. One brand that jumps through all of the aforementioned hoops is Tanasi. While not based in Oregon, they ship everywhere in the US. Tanasi tests all of their products and labels them clearly and professionally. $2.5 million funded the scientific research that led to Tanasi's full spectrum hemp extract formulas. So if you don't want to sort through the ocean of options in Oregon, look no further than Tanasi. 
What Is CBD?
CBD stands for cannabidiol. It's one of the hundreds of cannabinoids in the cannabis plant. The component interacts with the endocannabinoid system (ECS) in the human body to potentially relieve pain and provide a host of other possible health benefits. CBD helps the ECS to maintain a healthy balance and regulate a number of critical bodily functions such as digestion, sleep, pain relief, emotional health, and more. Recent studies are proving the immense amount of potential that CBD has.
CBD is a safe and non-addictive substance with very few side effects. You don't need any special license to purchase CBD products in Oregon. Here are some of the most common reasons why people buy CBD products in Oregon:
. Relieving pains and aches
. Easing anxiety and depression
. Promoting tranquility
. Supporting joint and muscle functions
. Maintaining homeostasis
. Promoting healthy skin
. Supporting mental clarity and focus
. Improving mood
Conclusion: Is CBD Legal in Oregon?
CBD products are legal in the state as long as they conform to all state and federal requirements. In fact, hemp CBD products that contain less than 0.3 percent THC are 100% legal in the state. These products are available over the counter without any restrictions. On the other hand, marijuana-derived CBD is also legal as long as the product contains less than 0.3 percent THC. Marijuana is also legal for recreational use under strict conditions. The most important thing is to opt for a high-quality CBD product. One easy way to ensure you are getting the highest quality hemp extract is to try Tanasi. You can see for yourself why quality CBD makes all the difference.