Is CBD Legal in New Hampshire? What You Should Know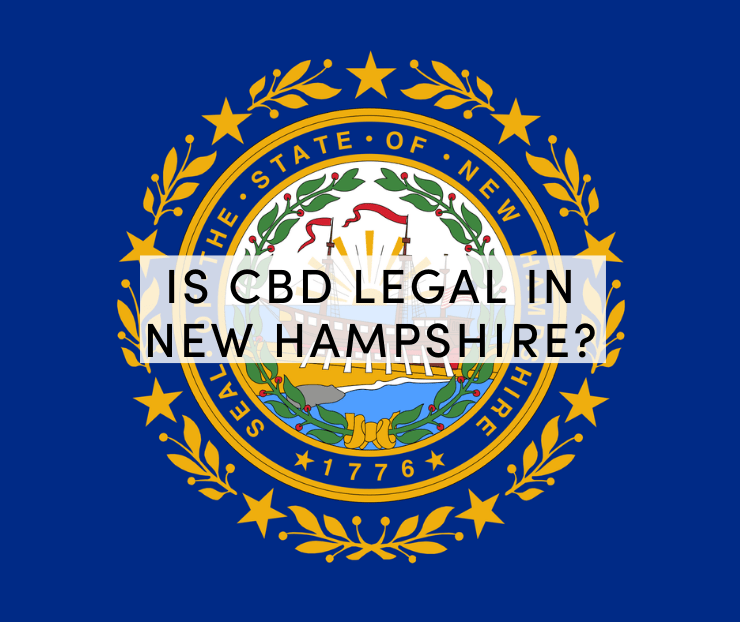 Posted on January 7th, 2021
New Hampshire participates in a medical marijuana program, but many still wonder, is CBD legal In New Hampshire? The state has yet to fully offer a mandate or directions in regard to the legal status of cannabidiol or CBD. In fact, the state has generally deferred its citizens to federal guidelines. However, much of this changed in 2018 with the introduction of the Farm Bill. CBD products are now much more accessible to residents in New Hampshire. 
You may have already noticed that it has become increasingly easy to find a wide variety of CBD products throughout the state. However, authorities have advised businesses that it may not be infused with any drinks or foods. 
What Exactly Is CBD?
CBD is the non-intoxicating cannabinoid that is present in cannabis. In other words, it's not the part of cannabis that gets users "high." Tetrahydrocannabinol or THC is the most abundant cannabinoid in the plant, followed by cannabidiol. Research shows that CBD offers a number of therapeutic properties, including seizure-suppressants, anti-anxiety and anti-inflammatory. CBD can be sourced from a wide variety of hemp and marijuana plants. 
CBD's Legal History
The hemp plant is incapable of producing enough THC to provide intoxication. Yet all forms of cannabis were controlled substances and considered illegal throughout the United States under the Federal Controlled Substance Act of 1970. During this period of time, cannabis was tossed into the Section One category. This meant that it was considered to be a substance that could be easily abused and habit-forming with no possible medical benefits. 
However, the Hemp Farming Act of 2018 would legalize the ability to cultivate hemp and begin the process of normalizing hemp and helping to divide it from the Section One category. Hemp contains less than 0.3% of THC while marijuana contains more than 0.3% of THC by weight. Hemp became federally legal in 2018, thus making CBD from hemp legal. However, CBD from the marijuana plant is still an illegal substance. Because hemp is an agricultural commodity, farmers can grow and sell it nationwide. 
Food and Drug Administration 
Additionally, this bill allows the US Food and Drug Administration to regulate the claims and labels of CBD. Still, the FDA has remained steadfast in keeping CBD out of food and drinks. You also cannot label it as a dietary supplement. Recently, the FDA has begun to reevaluate its stance on a number of CBD products. The FDA has always been strict with products offering any form of health or diet claims. They have released a number of specific guidelines for both manufacturers and businesses alike. They provide rules to proceed in the sale and production of CBD products. 
At the time of this writing, the federal legislation is still highly involved in the sale and production of hemp. The Hemp Farming Bill takes things one step further in allowing states to either regulate or prohibit the sale and production of CBD. Additionally, there are a number of states that are much stricter in their regulations than the FDA is. 
Is CBD Legal In New Hampshire?
At this time the laws regarding cannabis in New Hampshire tend to be rather simplistic and undeveloped. It is illegal to use marijuana for recreational use, however one can use it legally with a medical marijuana card. That is as far as lawmakers in New Hampshire have taken it with marijuana laws. New Hampshire simply follows federal policy when it comes to CBD. The fact that the US government says CBD is legal is what makes CBD legal in New Hampshire.
The New Hampshire Liquor Commission stated the legalities of CBD in food and beverage in June 2019. The statement informs businesses that per the FDA mandate, CBD may not be used as an additive in any foods or drinks. A number of New Hampshire businesses voluntarily removed all hemp-derived food and beverages from their shelves.
A large number of CBD products do remain on the market, including the highly popular CBD oil. In June 2019, authorities did state that the standard's of the FDA would not apply to CBD oil or CBD creams. These are still legal to use and sell throughout the state. 
One interesting detail about hemp in The Granite State is that there is a bill stating that growing it is legal. The interesting part of the bill says that growers must be certified by the US government, but there is no such federal program. Typically states regulate hemp agriculture themselves. So technically New Hampshire has made it impossible to farm hemp at this time. The one exception is for research, but only the University of New Hampshire is permitted.
New Hampshire CBD Possession Limits 
There is no limit as to how much CBD you may possess or purchase. 
However, it should be stated that there are limitations regarding the medical marijuana program in New hampshire. A patient that has a qualifying health condition or concern and has a medical marijuana card is allowed to purchase and use products that contain both THC and CBD. Under the laws of New Hampshire, this individual is allowed to hold up to 2 ounces of medical marijuana at any given time. 
Where To Purchase
It is possible to purchase CBD oil and other CBD products at a wide variety of retailers throughout the state. Typical New Hampshire businesses that sell CBD products include gas stations, retail shops, health food stores, as well as specific CBD shops, which can be found all over the state. 
The best way to purchase CBD products, especially in New Hampshire, is online. The best products come from states that are allowed to freely grow hemp and marijuana. Since it is almost impossible to grow hemp in The Granite State, you are better off finding information and products online.
Tanasi is a company that takes all of the guesswork out of your search. They have crafted their hemp extract formulas with the help of years of scientific research. Everything is labeled clearly and all of the appropriate testing has certified the products as safe and effective.
CBD Labels and Packaging 
The major CBD retailers that are reputable will label their products with all of the essential information you need to know. Typically, the label should contain most of the information found below: 
– Supplement Fact Panel 
– Amount of active CBD per serving 
– Name of manufacturer 
– Net weight 
– Isolate, full spectrum, or broad spectrum 
– Suggested use/dosage 
– Date or batch code 
One of the most important aspects is whether the product is an isolate, full spectrum, or broad spectrum. 
A full spectrum CBD product is one that contains all available compounds of the hemp plant. Many people have found that the consumption of full spectrum CBD products leads to better results due to the entourage effect. The entourage effect refers to all of the cannabinoids and terpenes working together to produce the most complete effect possible.
A broad spectrum CBD product will contain both terpenes and CBD, however it has gone through an additional process to strip away any trace amounts of the THC. 
Finally, an isolate has gone through extensive procedures to remove every element with the exception of CBD.
Conclusion: Is CBD Legal in New Hampshire?
Hopefully, this article has shed some light on the legality of CBD in the Granite State. At this point in our country's relationship with cannabis, things are rarely clear. Each state has slight variations on cannabis and hemp laws, and New Hampshire's are somewhat tricky. Because it's hard to grow, it's hard to study and create products locally. Luckily, many companies like Tanasi ship high quality hemp extracts anywhere in the US. If you're in NH and looking to try out some CBD products, look no further than this website. Understand that laws are always changing and it is best to come back to this page often regarding any updates on the legality of CBD and CBD products.