Is CBD Legal in Georgia? Answers to What's On Your Mind.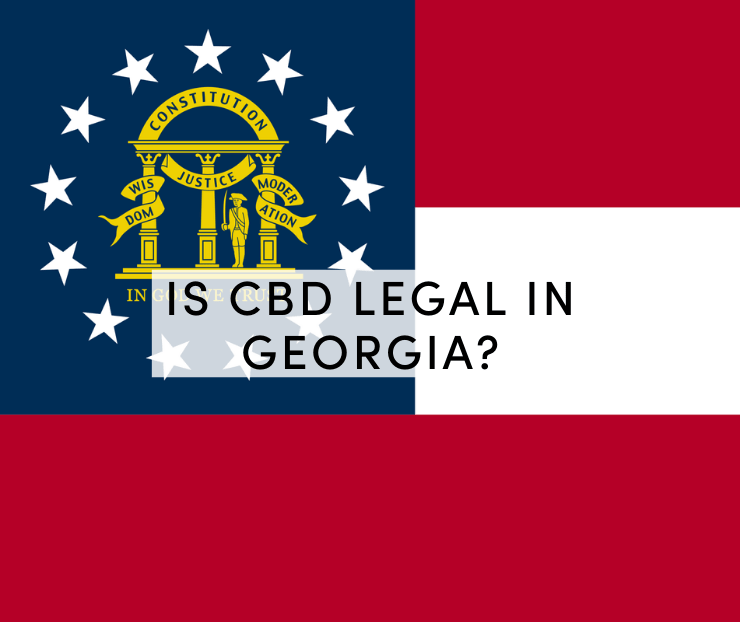 Posted on December 22nd, 2020
Is CBD legal in Georgia? You have come to the right place to find out. There are hundreds of stores – both online and offline – selling CBD products in Georgia. People are using CBD for help with their anxiety, stress, insomnia, diabetes, and a host of other health conditions. But some are confused as to its actual legal status. In fact, CBD products are legal in the state as long as they contain less than 0.3% THC.
The "Georgia Hemp Farming Act" (HB 213) became law in May 2019. It formally legalized the sale and use of CBD products in Georgia that conform to federal law requirements and contain less than 0.3% THC. But there is an exception to this law. The law doesn't allow CBD to be added to foods, beverages, dietary supplements, and animal feeds. This article provides information on what you need to know about the legal status of CBD in Georgia.
What Is CBD?
CBD or cannabidiol is a cannabinoid present in the cannabis plant. There are hundreds of cannabinoids in the plant and CBD and THC are the most popular compounds. CBD is non-intoxicating while THC causes the "high" associated with using cannabis. These products come from marijuana and industrial hemp – two common types of cannabis. CBD from hemp has a low THC content. If it comes from marijuana it has a higher THC content and isn't legal in Georgia. Extracts from marijuana has more than 0.3% THC and is illegal for recreational or medicinal use in the state.
Researchers have found a wide variety of potential benefits of CBD to date. The compound has anti-inflammatory, anti-seizure, anti-aging, analgesic, and anti-anxiety properties. The chemical compound may offer therapeutic benefits for people with a wide range of health conditions. Some of these include depression, anxiety, mood disorders, seizures from epilepsy, chronic pain, and insomnia.
Uses Of CBD
Pain Relief
Many believe that CBD is a highly effective product in managing various kinds of pain in the body. The endocannabinoid system regulates many bodily functions. Sleep, digestion, pain response, nervous functions, and immune functions are some of these. The endocannabinoid system naturally produces cannabinoids in the body. These cannabinoids bind to cannabinoid receptors in the central nervous system. CBD impacts receptor activity and may provide effective pain management. In fact, CBD interacts with neurotransmitters and may reduce inflammation. This could help with conditions such as arthritis and multiple sclerosis.
Pain relief is one of the most common reasons for people in Georgia to use CBD. One in every five people is suffering from some kind of a pain in the United States. Surviving chronic pain with painkillers is quite tough because of the many side effects associated with prolonged usage. In fact, chronic pain affects you physically, socially, and impacts your work life as well.
Using a few drops of CBD in your food or tea may help with chronic pain and improve the quality of your life. Individuals who suffer joint pains due to arthritis may also find CBD highly effective for their condition. If you are looking for a natural alternative to potentially addictive pain medication, CBD could be the answer.
Mental Health
CBD may help with mental pains as well. Anxiety and depression affect millions of people in Georgia. People suffer from anxiety and depression in different forms. If you have suffered from the condition, you know how debilitating the condition is. CBD has a calming effect on people with this condition. Using CBD before going into social situations may help relax your mind and fight anxiety. If you suffer from insomnia, CBD could be one of the best products for you. Losing sleep can ruin your day. Insomnia needs to be treated before it affects the quality of your life. Taking CBD at night has helped many people sleep better. CBD may also help people who are addicted to various substances. CBD from hemp doesn't have intoxicating properties and is ideal to help deal with various addictions.
Is CBD Legal In Georgia?
Georgia has a restricted medical marijuana program in place since 2015. In fact, the governor signed HB 1 in 2015 to legalize CBD for medical treatment. If a patient qualifies under this program, he or she can access CBD products that contain less than 5% THC. Recreational use of marijuana is illegal in the state. This law set the tone for CBD products in Georgia. But it didn't implement any regulations to address the production, purchase, sale, and transportation of CBD products.
Officials signed The Farming Act HB 213 in 2019. This act legalized commercial CBD products that met the minimum requirements set by the state. The THC level is the most important limitation stated in this act. As per this act, for a CBD product to be sold or used, it should possess less than 0.3% THC. Anything more than 0.3% is tantamount to breaking the law in Georgia. In fact, any resident of Georgia – including adults, children, adolescents, and seniors – can use CBD for medicinal purposes as long as the product is derived from industrial hemp and contains less than 0.3% THC.
So is CBD legal in Georgia? The short answer is YES. But the product should come from industrial hemp & contain less than 0.3% THC. You should also remember that CBD isn't legal for recreational use in Georgia.
Restrictions On CBD
The 2018 Farm Bill does permit the growing of CBD-rich hemp. But the strongest restrictions are placed on food and beverages. The FDA states that CBD should not be added to food, beverages, dietary supplements, and animal feed. The FDA has a very strict position on this issue. There are also restrictions on labeling CBD products in Georgia. In fact, the FDA will be in charge of every bit of information regarding CBD products. They will decide if a certain product meets the requirements of the law before giving the green light to market it. Although the Farm Bill legalizes CBD products, the FDA regulates them.
No CBD supplier has the right to put an unspecified claim on the product to sell it. All labeling requirements are supervised by the FDA. No medical claim can be written on the label of the product. Any product that doesn't adhere to these regulations will be banned. That's why you need to buy your CBD products from a trusted supplier in Georgia.
CBD Farming In Georgia
The Farming Act – HB 213 – legalizes the cultivation, processing, and transportation of industrial hemp for commercial purposes. A lot of new markets opened up for businesses in Georgia due to this act. A farmer should obtain a permit from the state to grow industrial hemp. The Georgia Department of Agriculture issues these licenses. Only after getting the license can a farmer cultivate and process hemp.
Although HB 213 made CBD legal in Georgia, obtaining a license to cultivate hemp isn't easy. The local law enforcement conducts numerous background checks on the candidate before issuing the license. The applicant should be free from any crimes related to substances in the past to qualify for the license. The license fee in Georgia is $50 per acre and a maximum of $5,000.
Cannabis Penalties In Georgia
Possessing CBD with more than 0.3% THC in Georgia will land you in prison. If you possess more than one ounce of such CBD, you will be charged with a felony. It involves a $5,000 fine and up to 10 years in prison. Possessing over 10 pounds qualifies as trafficking and involves 5 years in prison and a mandatory $100,000 fine.
Where To Buy CBD In Georgia?
There are plenty of shops where you can buy CBD in Georgia. But all of these shops are not the same. Some unscrupulous retailers may try to sell CBD products with more than 0.3% THC. You will fall into trouble if you possess any type of CBD product with more than 0.3% THC. That's why you should be doing the homework properly before shopping for CBD products.
You can also buy CBD products online from highly trusted suppliers. The most important thing is to do your research properly and find a reliable online supplier before you buy CBD products. All reputable brands will provide you with essential product details so that you are on the safe side. They will display third-party test results on the website or product to show you the chemical composition of the product.
Tanasi is one such reputable company that hopes to put consumers' minds at ease. Millions of dollars of scientific research created the formula in Tanasi's hemp extracts. Tanasi believes in using full-spectrum hemp extracts to provide the most complete CBD experience. And yes, Tanasi will happily ship any product to Georgia quickly.
Conclusion: Is CBD Legal in Georgia?
CBD is in fact legal in Georgia as long as the product comes from industrial hemp and contains less than 0.3% THC. The most important thing is to buy your CBD product from a reputable supplier. The road to legalizing cannabis at the federal level has been long. But now that states like Georgia have access to CBD, people can begin to experience the benefits hemp offers.