Is CBD Legal in Connecticut? The Constitution State's Laws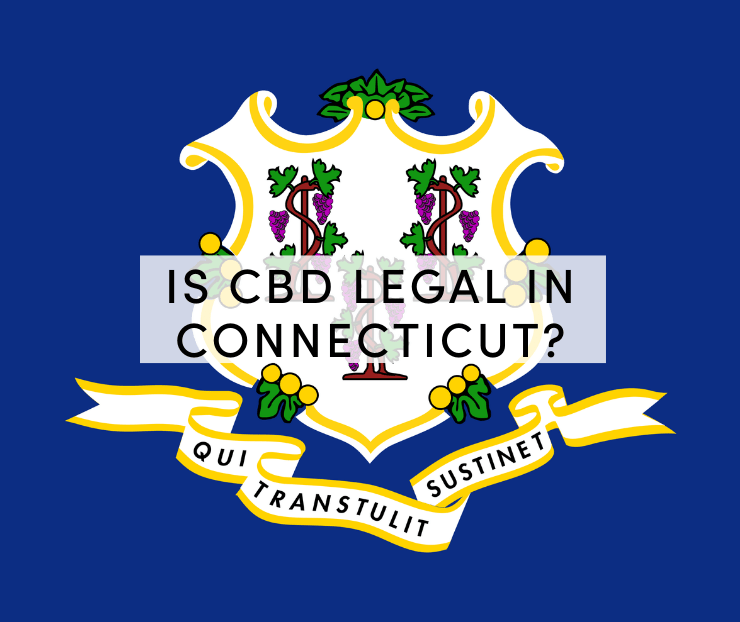 Posted on January 14th, 2021
Is CBD legal in Connecticut? If you want to know about CBD laws in Connecticut, you have come to the right place. The short answer to this question is yes. But there is a lot of confusing information on the internet regarding CBD laws in the Constitution State. Here is what you need to know about the legal status of CBD products in Connecticut.
CBD products derived from industrial hemp containing less than 0.3% THC are legal in Connecticut. Senate Bill 893 legalized the cultivation of hemp and the possession of hemp-derived CBD products in January 2019. CBD products can be sold as topicals or consumables in Connecticut, but the suppliers cannot make any claims of medical effects or health impacts. The state has had a medical marijuana program in place since 2012. Even though Connecticut decriminalized the possession of small quantities of marijuana in 2011, recreational use is still illegal.
What Makes CBD Legal in Connecticut?
House Bill 5780 legalized industrial hemp in the state in 2015. All seeds, stalks, and fibers of hemp were removed from the definition of marijuana in this bill. But the Farm Bill of 2018 indicates that Connecticut restricts any CBD product that contains more than 0.3% THC. Purchasing marijuana-derived CBD without enrolling in the Medical Marijuana Program is illegal in the state. CBD from marijuana is legal only for patients with qualifying medical conditions. If you want anything with a higher THC content, you should enroll in the Medical Marijuana Program. To do so you must meet the following requirements:
-Be a resident of Connecticut
-Present a certificate from a qualified physician
-You must not have any drug possession charges on your record
Connecticut CBD Laws
CBD from hemp is legal in all 50 states as long as the product contains less than 0.3% THC. But all states have their own regulations on the growing, manufacturing, and distribution of CBD. HB 5780 allows farmers of Connecticut to legally plant industrial hemp and traders to sell the product in the market. Senate Bill 603 allows residents to purchase and consume CBD products in Connecticut. The consumer should apply for a manufacturer of hemp consumables license through DCP to legally used hemp products in the state. This license is mandatory for purchasing raw help plants as well as hemp food products. But if you plan to trade hemp products from authorized manufacturers with less than 0.3% THC, you don't need such a license.
Senate Bill 1014 decriminalized the possession of small amounts of marijuana – up to 1/2 ounce. The penalty was reduced from a $1,000 fine and one-year jail term to only a $150 fine without any jail term and criminal record. Exceeding the allowed limit may involve a penalty and jail term. Under SB 893, hemp cultivation is legal in Connecticut. The Connecticut Department of Agriculture is authorized to supervise the cultivation process. Farmers can apply for a cultivation license by paying $50 as an application fee and $250 annually. Failing to possess the license while cultivating hemp involves a fine of up to $250. 
There is no restriction on who can possess hemp CBD. In fact, adults, children, adolescents, and seniors can possess CBD products as long as the THC content in the product is less than 0.3%. But CBD is age-restricted for vaping. Topical CBD with low THC isn't age-restricted as per the FDA. 
Is CBD Legal in Connecticut Always?
Under the Federal Controlled Substances Act of 1970, all types of cannabis including hemp-derived products with less THC content were illegal. All cannabis strains were categorized as Schedule 1 under this law. It defined the plant as a highly addictive substance with a high potential for abuse. The medical benefits of cannabis were not known at that time. 
The Hemp Farming Act of 2018, re-classified hemp as an agricultural commodity and legalized its cultivation across the United States. The act also removed some of the substances that were categorized under Schedule 1 and created a legal distinction between marijuana and hemp. In fact, hemp and marijuana are two strains of cannabis with different contents of THC. Marijuana has more than 0.3% THC and causes a "high" when consumed. On the other hand, hemp has a lower content of THC which is less than 0.3%. It is also non-intoxicating. The law categorized CBD products derived from the hemp plant with less than 0.3% THC as safe for consumption and legalized its possession, cultivation, and transportation in Connecticut. But there are still federal and state regulations on how to grow it.
As per the Hemp Farming Bill, the Food and Drug Administration (FDA) is authorized to regulate CBD product labeling and the use of CBD products as a food additive. The FDA has stated that even hemp-derived CBD cannot be added to foods and beverages. It cannot be marketed as a dietary supplement either. Any labeling that could be perceived as a medical claim about CBD is not allowed by the FDA. Any CBD product that contains more than 0.3% THC is illegal in Connecticut. 
What Is CBD?
CBD or cannabidiol is a plant compound with numerous potential benefits. It is one of the hundreds of chemical compounds in the Cannabis Sativa plant. There are over a hundred cannabinoids in the plant and CBD and THC are the most abundant compounds. Marijuana and hemp are two of the most popular varieties of cannabis plants. These plants differ due to the THC content in them. Marijuana contains more THC and produces a "high" feeling when consumed. On the other hand, hemp contains less than 0.3% THC and doesn't have any intoxicating properties.
Health Benefits Of CBD?
The latest studies reveal the numerous potential health benefits of CBD. Some of these possible benefits include:
-Stress and anxiety reduction
-Help with insomnia
-Anti-inflammatory and antioxidant properties
-Pain management properties 
-Potential to manage the symptoms of epilepsy and Alzheimer's disease
Epidiolex is the first CBD-based medication that the Food and Drug Administration (FDA) has approved. The product is recommended for patients suffering from seizures due to Lennox-Gastrault or Dravet syndrome. The product underwent rigorous human studies before the FDA approved it for treating the two conditions. Scientists think that CBD influences a receptor known as the transient receptor involved in seizure activity to control seizure symptoms in patients.
Studies suggest the effectiveness of CBD products in relieving pain and inflammation in people suffering from various kinds of pains. CBD products may reduce inflammation in the body by preventing the release of compounds that trigger inflammation. Painkillers help relieve pain and stiffness. But they come with numerous side effects when used for prolonged periods. CBD may be an effective and natural alternative to painkillers to reduce pain and stiffness.
CBD may help slow the spreading of some types of cancer cells. In early research, the compound appears to suppress the growth of cancer cells, promoting their destruction in the process. CBD doesn't have side effects compared to chemotherapy drugs. It may also help improve the actions of chemotherapy and lessen its side effects. Cannabidiol could also help reduce symptoms of stress and anxiety. People suffering from PTSD, general anxiety disorders, social anxiety disorders, obsessive-compulsive disorders, and panic disorders find CBD quite helpful with their conditions. There are many other potential health benefits of CBD products.
How To Buy CBD In Connecticut?
You should be cautious when purchasing CBD products in Connecticut. There are hundreds of suppliers out there, but all of them do not make high quality products. You should do the research properly before choosing a reputable and trustworthy supplier to purchase your CBD requirements. The law in Connecticut permits the general public to purchase food supplements, edible gummies, body oils, creams, oral drops, and vapes made of CBD. The only restriction is the product should contain less than 0.3% THC per weight. It should not cause the "high" feeling that marijuana does. As long as the THC level is below 0.3%, you can purchase without any prescription. 
There are many ways to buy CBD products in Connecticut. Buying them from a trusted online supplier is the easiest way to do it. Make sure the product belongs to a legitimate company or a licensed manufacturer. Tanasi is one such manufacturer. Tanasi tests all of their products according to federal regulations and labels them all clearly with necessary information. Consumers can also rest assured that Tanasi's hemp extracts are of the highest quality possible. Millions of dollars funded the scientific research that led to Tanasi's full spectrum extracts.
Conclusion: Is CBD Legal in Connecticut
CBD products are legal in Connecticut as long as the THC content of the product is less than 0.3%. Make sure you buy the product from a trusted supplier in the state. Or you can have Tanasi ship a variety of products straight to your door.