CBD in Tennessee: Laws and Regulations Explained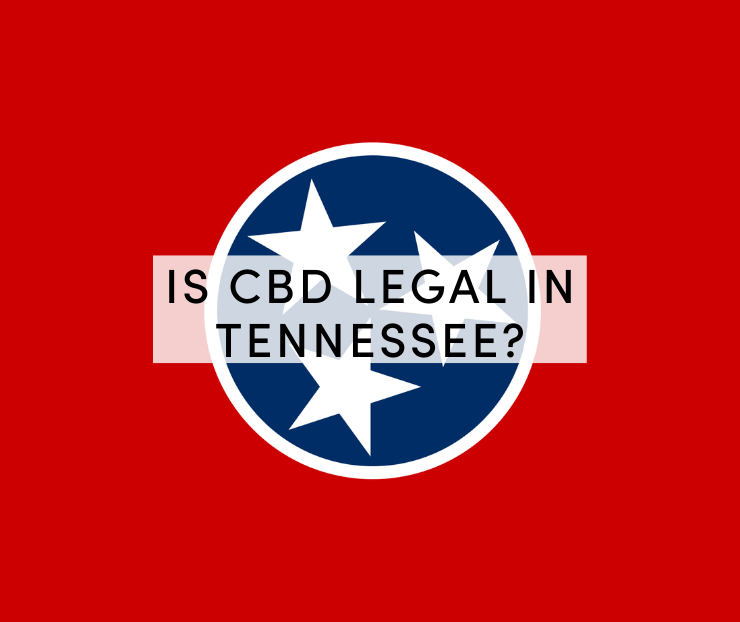 Posted on January 2nd, 2021
CBD (cannabidiol) is currently one of the hottest topics in the health and wellness industry. People seeking safer and more natural health remedies are turning their attention to CBD and the various CBD products available on the market. Thanks to ongoing scientific research, people are starting to realize the many health benefits CBD may provide. For a long time, the Cannabis Sativa plant was primarily associated with the intoxicating effect of marijuana. However, there is much more to this plant than getting high. A lot of confusion surrounds marijuana, hemp, and lately CBD. People interested in CBD products often wonder whether they are safe and legal. This is mainly because the laws have changed considerably. Laws also vary between each state and federally. Today we're looking at The Volunteer State. This article dives deep into the legality of CBD in Tennessee.
What Exactly is CBD?
CBD or cannabidiol is one of the hundreds of compounds present in the cannabis plant. It is the most abundant compound after THC (tetrahydrocannabinol). While both THC and CBD are psychoactive, they don't produce the same effects. CBD doesn't produce the 'high' effect that THC does. Rather, CBD interacts with different receptors in the brain via the endocannabinoid system. This interaction produces effects such as improved mood, reduced anxiety, reduced seizures, and other positive effects on brain activity. 
CBD in Tennessee: Legality
CBD is legal for purchase and consumption in Tennessee as long as it is derived from the hemp variety of the cannabis plant. "Hemp" refers to cannabis that contains no more than 0.3% THC. CBD oil derived from cannabis that contains more than 0.3% THC is illegal but there are a few exceptions to this rule: 
i) If approved by the FDA as a prescription medication
ii) If it is used for a certified clinical research study by a university and doesn't exceed 0.6% THC
iii) If in the possession of an individual who has proof of order or recommendation from the issuing state. The individual should also provide proof that they or an immediate family member is suffering from epilepsy or intractable seizures diagnosed by a licensed doctor, and that the oil contains less than 0.9% THC. 
Federal Laws Regarding Hemp and CBD
In the United States, hemp was legal in the 18th and 19th centuries. However, it was banned in the 20th century and has returned as a legal agricultural crop in the 21st century. 
As a measure in the war on drugs, industrial hemp was banned under the Controlled Substances Act of 1970. Despite the fact that hemp contained little to no THC content, it was banned due to the fact that it belonged to the same plant species as prohibited cannabis. This effectively made the cultivation of all cannabis illegal. 
There was no legal difference between marijuana, hemp, and all other varieties of the cannabis plant. They were all categorized as Schedule 1 drugs. According to the law, Schedule 1 drugs are substances or chemicals that have little to no accepted medical value and have a high potential for abuse. 
The Agricultural Act of 2014 made the cultivation of hemp legal on an experimental basis.
But thanks to the passage of the 2018 Farm Bill, the commodity production of hemp was made legal on a federal level. This Act removed hemp and all derivatives of cannabis with extremely low THC content (less than 0.3% THC on a dry weight basis) from the Schedule 1 status. 
The 2018 Farm Bill gave the U.S. Food and Drug Administration(FDA) the authority to regulate the distribution of CBD in the market. Companies aren't allowed to market CBD products as dietary supplements though the FDA is re-evaluating its stance on CBD products. The FDA also prohibits companies from making unproven claims about the therapeutic uses of CBD. Due to this, companies have to explicitly clarify that CBD is not medicine on their websites. 
Tennessee CBD Laws
Under the state law in Tennessee, for a CBD product to be legal, it has to contain less than 0.3% THC. All CBD products should have a lab report or verification that they contain less than 0.3% THC. It is also important to note that all hemp flower products should be sold in sealed containers. 
The following state laws will help you get a clearer picture of the history of the legal status of cannabis, hemp, and CBD in the state of Tennessee.
In 2014, legislators in Tennessee passed Senate Bill 2531. This bill made changes to the definition of marijuana which created an exception to the illegality of possession and use of high-CBD low-THC cannabis oil. Patients suffering from intractable seizures could now use low-THC, CBD-rich cannabis oil for their condition.  
In 2015, the state passed Senate Bill 280. This bill allowed the use of CBD oil containing less than 0.9% THC by patients suffering from epilepsy and intractable seizures. 
In 2016, Senate Bill 2125 was signed into law. This bill made amendments to the section regarding university research. It permitted the research of CBD-rich cannabis oil containing less than 0.6% THC. The bill excluded cannabis oil with less than  0.6% THC from the definition of marijuana. 
That same year, the state passed House Bill 2144. This bill stipulates that patients are allowed to possess CBD oils with less than 0.9% THC if they have a legal court order, or they or an immediate family member, have been diagnosed with epilepsy by a licensed Tennessee doctor.
Marijuana
You should know that cannabis that contains more than 0.3% THC or marijuana is illegal in the state of Tennessee unless under certain circumstances. Exceptions apply to certified university studies, and possession by patients that have court orders or recommendations to use CBD that has no more than 0.9% THC for epilepsy and seizures. 
Under the law in Tennessee, marijuana entails all the plant parts, whether growing or not. These include the seeds, resin extracted from any part of the plant, and any salt, mixture, derivative, manufacture, compound, mixture, or preparation of the plant. It doesn't include mature stalks, cake or oil made from the seeds of the plant, or fiber produced from the stalks. 
Possessing, selling, or consuming recreational marijuana is illegal in the state of Tennessee. The possession of up to a half ounces of marijuana is classified as a misdemeanor carrying a $250 fine and/or a one-year jail term for the first offense. For repeat offenders, they end up with a misdemeanor but risk a $500 fine and/or one-year jail term. 
On the other hand, selling or trafficking of marijuana is a felony offense. The penalties will vary depending on the weight. 
The cities of Memphis and Nashville stopped treating the possession of minimal amounts of cannabis as criminal offenses in 2016. Rather, offenders face a civil penalty. This essentially lowers the fine to $0 and about 10 hours of community service as punishment. 
Limitations on Possession of CBD in Tennessee
The possession of CBD products that contain less than 0.6% THC is completely legal in the state of Tennessee. Senate Bill 2125 changed the legal definition of hemp to include cannabis that contains less than 0.6% THC. The federal government had previously recommended 0.3% THC.
The possession of CBD oil containing up to 0.9% THC is allowed for patients enrolled in a clinical study by a university or patients with a legal court order or recommendation, or those diagnosed with epilepsy by a licensed Tennessee doctor as earlier discussed. 
However, considering that there are currently no legal avenues to buy CBD products containing up to 0.9% THC in Tennessee, patients have to procure medicinal cannabis products from other states. They have to provide proof that the product was purchased from another state otherwise they can be charged with a Class C misdemeanor offense which carries a fine of up to $50 and/or a 30-day jail term or both. 
Where to Buy CBD in Tennessee
After answering the question is CBD legal in Tennessee?, the next logical question is where can I purchase CBD? Well, there are lots of places where you can buy hemp-derived CBD products containing less than 0.3% THC. There are many stores in big cities such as Memphis that deal with all kinds of CBD products such as oils, tinctures, infused products, etc. 
However, for patients seeking medical cannabis products that have a much higher acceptable THC content, they will need to do their purchases in other states. Buying CBD products online is the most convenient way of buying CBD products. There are many companies that provide online ordering and shipping. But it is essential to do your homework and find a reputable company that offers high-quality CBD products such as Tanasi.com
Conclusion
The laws surrounding CBD and CBD products are always evolving as research into this continues. It is essential that you stay updated with these laws to avoid falling into legal troubles. Hopefully, this article has satisfactorily answered the question, is CBD legal in Tennessee.