CBD in South Carolina: The Palmetto State's Cannabidiol Laws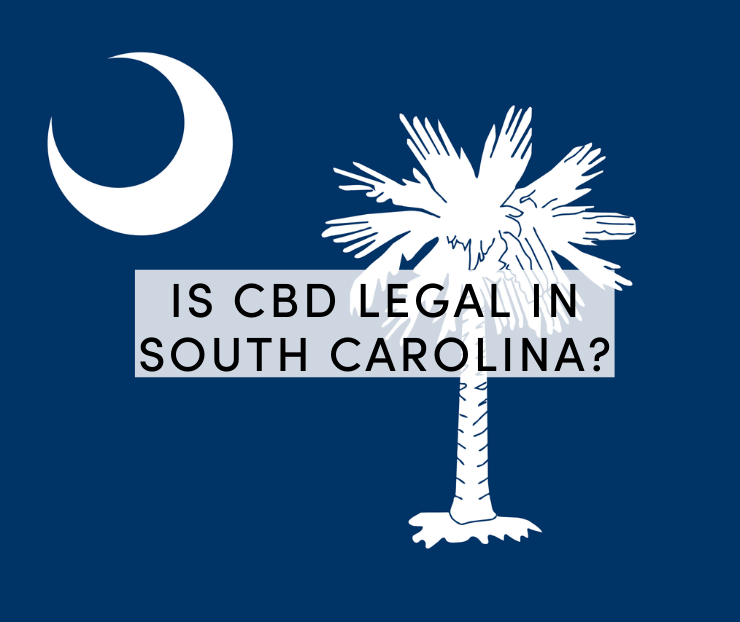 Posted on December 31st, 2020
There is a growing interest in using CBD in South Carolina, as well as in all areas in the United States. As more people become aware of the potential benefits of using CBD and see it take effect in the lives of those whom they know, they begin wanting to see those benefits for themselves. This leads many people in The Palmetto State to wonder, is CBD legal in South Carolina?
Before we dig into details on the subject, let's address the elephant in the room. CBD oil that comes from the hemp plant is federally legal in all 50 states in the United States. There are certain legal restrictions that are in place, however, for CBD oil that comes from marijuana. As long as you are using Cannabidiol (CBD) that is extracted from the hemp plant and meets all of the regulations for sale in South Carolina, you can purchase it without worrying about the legalities.
Hemp vs Marijuana CBD
CBD oil like Tanasi's contains 113 of the high-quality cannabinoids that are found within the hemp plant. Although there are fundamental differences between hemp and marijuana, one of the primary differences is the level of Tetrahydrocannabinol (THC). THC is the chemical that is in marijuana and produces the high that makes it a popular recreational drug.
Since Tanasi products come from the hemp plant, they have a very low level of THC. In fact, there are only trace amounts in the extract, and it makes up less than 0.3% of the product. In other words, CBD products that come from hemp do not make you high.
CBD oil that comes from the marijuana plant, on the other hand, contains higher levels of THC. There are specific laws that regulate its sale and use in South Carolina.
Regulations on CBD in South Carolina
At one time, it was not only beneficial to grow the hemp plant, it was suggested that people do so. After all, hemp (not marijuana) is beneficial in so many different ways. Early humans used hemp plants to make fabric, paper, and many other textiles. But at some point, the lines between hemp and marijuana were blurred and the government outlawed both.
All of this changed when the Agriculture Improvement Act of 2018 was enacted. This bill, also known as The Farm Bill, removed hemp from the Schedule 1 drug list. It did the same thing for any derivatives that came from hemp as well. This includes CBD oil and similar products.
As of 2018, each individual state became responsible for regulating hemp farming within its borders. The plan for growth would be submitted to the USDA. That doesn't mean that it was always easy for hemp growers and those offering CBD to do so in South Carolina.
Things improved even further in March 2019. A new enactment took place that allowed for greater leniency in the cultivation of hemp. Many more licenses would now be available and it was now possible to cultivate more acres of hemp within the state.
Food Restrictions
In addition, the South Carolina Department of Agriculture began to more clearly define the legality of CBD. At that point, they defined CBD as being legal but it could not be added to food or animal products. There is not any research to show that doing so is harmful to humans. Still, the state is waiting for FDA approval and more clinical studies.
Just because it is illegal to add CBD to human or animal foods and sell it, does not mean that it is illegal to sell all CBD products. That is why legitimate CBD shops in South Carolina sell nonfood CBD products, such as creams and tinctures.
Where to Find CBD in South Carolina
Since we have established that CBD is legal in South Carolina, the next logical question is where you would buy it. If you do your research and make the right choices, you can enjoy all of the benefits that CBD products have to offer.
First of all, there are plenty of brick-and-mortar shops located in South Carolina that sell CBD. These include food stores, smoke shops, and other 'mom-and-pop' shops that specialize in CBD. You should be aware, however, that just because somebody offers CBD does not mean that you are getting high-quality products.
One of the most important things you can do to take full advantage of CBD is to use the highest quality product that is available. Many people turn to Tanasi, because of the research that is behind it. In fact, they have been working with a university partner since 2016. The research they have funded has helped to get the highest quality product available.
Using a low-quality or untested CBD product is at best, ineffective and at worst, could be dangerous. The last thing you want to do is to jeopardize your health while making an effort toward regaining your health.
CBD Benefits?
You are likely to hear about the multitude of benefits of using CBD in its various forms. Some of the claims come from hard science and others from personal experience. The endocannabinoid system in your body is the reason CBD has any effects at all. CBD and other cannabinoids interact with the ECS and affect many changes throughout the body. The anti-inflammatory properties of CBD are likely the most popular and beneficial. Here are some other benefits to consider.
Pain Relief
One of the most common reasons why people use CBD is for pain relief. Inflammation almost always includes pain when it is present. So anti-inflammatories, such as CBD, can reduce or perhaps even eliminate pain naturally. Studies have shown that CBD interacts with COX-2 receptors in a similar way to NSAIDs. 
Anxiety/Depression
It is difficult to find anyone who is not suffering from some form of anxiety or depression these days. Many people have found relief from those difficult issues by using CBD.
Acne
The anti-inflammatory properties of CBD may help to reduce the symptoms of acne and clear your skin.
Hypertension
Don't allow this 'silent killer' to creep up on you. If you suffer from hypertension, pharmaceutical drugs may be able to reduce your blood pressure but can be expensive and come with bad side effects. CBD may help to safely keep your blood pressure at acceptable levels, but only with your doctor's approval. 
Cognitive Disorders
These are some of the most difficult issues that we are facing today. Alzheimer's disease, epilepsy, Parkinson's, and similar issues create problems for the individual and people in their lives. CBD may help to prevent some of these cognitive disorders from occurring or help with the symptoms. Epidiolex is an example of an effective drug that helps with epileptic seizures. It's one of the only prescription drugs that uses cannabis.  
Final Word About CBD in South Carolina
Many people think of CBD as just some type of oil or new health product. In reality, CBD (cannabidiol) has been around for as long as the hemp plant. It's a bioactive molecule that is present within the cannabis Sativa L. hemp plant. It occurs naturally and is non addictive. This makes it hard to believe that CBD in South Carolina was illegal for so many years. Luckily that has changed.
When you use a high-quality CBD product, you are able to take advantage of the potential benefits that have been there all along. Since it is now legal in South Carolina, you can do so with confidence. It won't get you high, and it won't get you in trouble as long as the THC content is below 0.3%. Just make sure to be careful to avoid low quality products and false advertising.