CBD in Massachusetts: Legal Regardless of the THC Level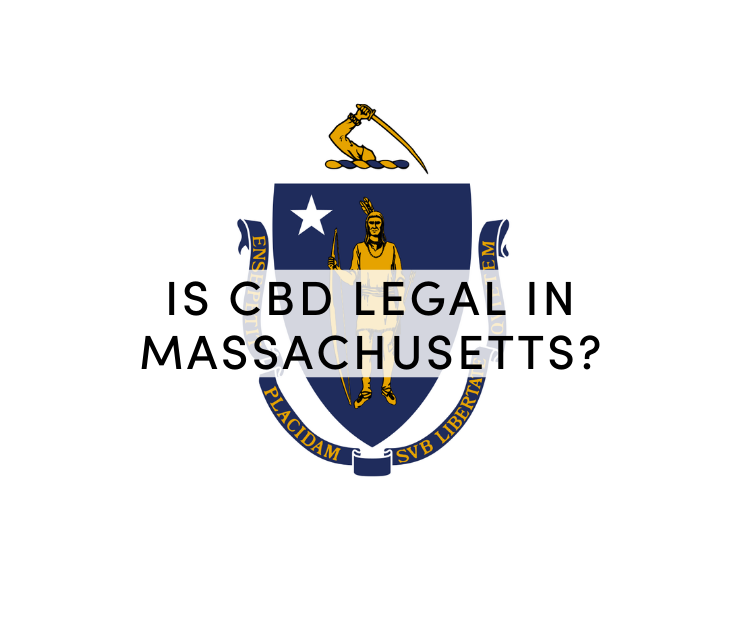 Posted on December 29th, 2020
Massachusetts is one of the best states for CBD and marijuana in the country. Is CBD legal in Massachusetts? Yes, but there are some exceptions to the law. You should know about all the CBD laws in Massachusetts before you decide to go ahead with your CBD journey for better health and well-being. This article fully answers the question "Is CBD legal in Massachusetts?"
There are two major types of CBD products. Massachusetts laws treat these two differently. CBD is the acronym for cannabidiol which is one of the hundreds of cannabinoids in the Cannabis Sativa plant. In fact, CBD and THC are the most prevalent cannabinoids in the plant. THC contains properties that make a person high. But CBD doesn't have such properties and is widely used for its health benefits. Cannabis Sativa has two varieties of plants such as hemp and marijuana. CBD from industrial hemp contains less than 0.3 percent THC and is legal to possess and use in Massachusetts. On the other hand, CBD from marijuana contains more than 0.3 percent THC and is illegal to possess and use under federal law. It's still a Schedule 1 drug under federal law. 
But the Bay State is one of the first ten states in the country to legalize marijuana for both medical and recreational purposes. It's also the 33rd State in the country to implement a medical marijuana program. So you won't get into trouble for possessing any CBD products in Massachusetts. But there is still a bit of legal gray area about the limits of marijuana possession.
Marijuana In Massachusetts
The state took the first step towards legalizing marijuana-derived products in 2008. The authorities removed penalties for the possession of marijuana in Massachusetts to a misdemeanor punishable with a fine. The voters of the state passed a bill to legalize marijuana-based products for recreational use in 2016. Under these laws, any person above the age of 21 years can purchase up to an ounce of marijuana from dispensaries that are licensed by the state. They can possess up to ten ounces of marijuana at home at any given time. There are over 42 recreational marijuana dispensaries operating in the state currently. 
The Medical Marijuana Program
Even though purchasing marijuana isn't illegal in the state, an individual with a medical marijuana card can purchase up to 10 ounces of marijuana or a 60-day supply from a licensed dispensary. You can transport up to ten ounces of the substance at a time with the card. A doctor can prescribe more medical marijuana if it is deemed necessary for your condition. A person owning a medical marijuana card has access to many more benefits that are not available for a recreational user.
Hemp CBD In Massachusetts
CBD sourced from industrial hemp is federally legal since 2018. In 2018, the US Government amended the Agricultural Act of 2014 and removed hemp from the list of controlled substances. The 2018 Farm Bill treats hemp as an agricultural crop and can be grown and harvested across the country. Industrial hemp is grown for a wide variety of reasons including clothing, paper, fuel, food, building materials, and health supplements. CBD oil qualifies under health supplements. 
Marijuana is legal in Massachusetts. But you cannot transport the substance across state lines because it is a federal felony. Doing so could send you to jail for several years including hefty fines. You can legally travel with hemp-derived CBD across state lines as long as the product contains less than 0.3 percent THC. Hemp CBD products provide numerous potential health benefits without making you high in the process. 
Finding Quality CBD in Massachusetts
Both marijuana and hemp-extracted CBD products are legal in Massachusetts as long as the products contain less than 0.3 percent THC. That's where the importance of third-party testing comes in handy. The CBD industry is largely unregulated in the country. There are hundreds of suppliers in Massachusetts, but all of them may not sell legal CBD products. If the THC content is more than 0.3 percent, the product becomes federally illegal. Third-party testing is important to find a reliable supplier to purchase CBD products in the state.
If you are a first-time buyer, it may be difficult to find a reliable CBD supplier in Massachusetts. There are good brands out there. But there's an equal number of companies that are trying to take advantage of uninformed customers. Here are some tips to distinguish between a reliable and unscrupulous supplier and buy legal CBD products in the state:
Third Party Testing
Check the reputation and experience of the supplier before you buy any product from them. Make sure the product has been tested by a third-party lab in Massachusetts. An independent lab will tell you the actual content of CBD, THC, and other compounds in the product. There are some products that contain more than 0.3 percent THC and negligent amounts of CBD. Such products are illegal in the state and may not provide the desired health benefits. On the other hand, a reliable supplier should list all the content of the CBD product on its label.  
Organic
Hemp plants absorb everything from the environment they grow in. Organically grown hemp is best for the extraction of high-quality CBD oil. Such plants yield clean and CBD-rich flowers. Look for such a product when you are shopping for a high-quality CBD brand in Massachusetts.
Extraction Method
CO2 extraction delivers the highest consistency when it comes to CBD concentrations in the hemp plant. CO2 extraction doesn't require additional solvents or heat to extract CBD oil. You get the purest form of CBD from this method. That's why you need to look for CBD brands that use CO2 extraction. 
Medical Claims
Any brand that makes broad medical claims that are too good to be true should be avoided. CBD is not a cure-all substance but a highly effective product for pain management, insomnia, seizure symptoms, and anxiety. It can improve the quality of your life over time. But don't fall prey to companies that promote CBD as a cure-all product. The FDA prohibits companies from advertising their products as a cure-all. 
Full Spectrum
Opt for full-spectrum CBD instead of broad-spectrum products or isolates. Full-spectrum products contain other cannabinoids, terpenes, and flavonoids that help enhance their effectiveness. Full-spectrum products offer "the entourage effect" to enhance the overall benefits of the product. 
Locating CBD In Massachusetts
If you own a medical marijuana card, you can find both hemp and marijuana CBD products at your local store. There are over 42 approved dispensaries across the state that sell medical marijuana and hemp-extracted CBD products. Your local vape shop is the best place to buy quality CBD products at an affordable price. If they don't sell your favorite product over the counter, they should be able to direct you to another local supplier who does. The most important thing is to do your homework before you try any CBD product.
The most convenient method of buying CBD in Massachusetts is to buy it online. Online shops offer a wide variety of CBD products for you to choose from. These companies don't have to deal with too many overheads. They usually pass this benefit to the customer by offering reasonably priced CBD products. Buying online is the fastest way to compare different CBD products and choose the best one for your needs. You will always know where to go for your next batch when you purchase CBD products online. Some online retailers may offer you discounts when buying in bulk. 
Tanasi is an example of a brand that ships high quality CBD products anywhere in the United States, including Massachusetts. You can rest assured that Tanasi's products are the purest, highest quality hemp extracts that scientific research can create.
Are there Benefits Of CBD?
There are numerous potential health benefits of CBD products. Some of these may include:
-Anxiety relief: Stress and depression are some of the most common reasons people use CBD.
-Pain relief: This is one of the most commonly reported benefits of CBD. The effects of CBD on the brain's receptors may help manage pain. Reducing inflammation is a main reason CBD seems to be an effective pain reliever. 
-Neuroprotective: CBD may be helpful to people with neurodegenerative disorders such as Alzheimer's multiple sclerosis, stroke, and Parkinson's. 
-Anti-acne: CBD appears to help reduce overall inflammation in the body. It may benefit acne management as a result. CBD also seems to reduce activity in sebaceous glands. Too much sebum produced in the glands can lead to acne breakouts over time.
Conclusion: CBD in Massachusetts
If you were not sure about the legality of CBD in the Bay State, now you can be. The CBD market in Massachusetts is exploding right now. CBD from hemp and marijuana is completely legal in the state. The most important thing is to buy your product from a trustworthy supplier who facilitates third-party lab testing of their products. And if you do choose to buy a product that has more than 0.3% THC, remember not to take it out of the state. Marijuana is still federally illegal, so if your CBD has too much THC, other states may be less lenient than Massachusetts.