CBD Effects on Heart Rate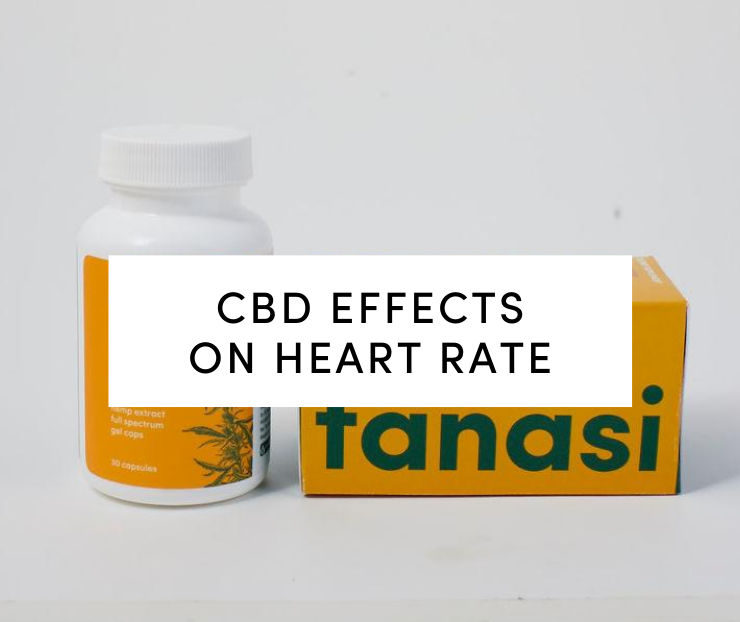 Posted on August 17th, 2020
Cannabidiol, also known as CBD, has become a growing product on the market. While more research is needed to fully understand what all this cannabinoid offers, studies show promise on its potential health benefits. Of these potential benefits, CBD may even have an effect on stabilizing the heart. Other potential benefits include calming the brain, helping with psychosis, and improving a person's ability to focus. All of these benefits are essential to understanding what CBD may be capable of.
So you may be wondering whether or not CBD is going to have a positive effect on your heart, in particular your heart rate. And we understand why! The heart is a vital organ responsible for circulating oxygen and nutrients throughout the body. So let's take a deeper look at how the effects of CBD might impact the heart rate. 
CBD and Heart Rate
In general, CBD is known for its potential to calm the heart and reduce a person's heart rate, especially if they are under duress. In some cases, it might also help stabilize the heart rate regardless of whether or not a person is dealing with stress.
Studies show that CBD may positively impact a person's elevated blood pressure and heart rate. One study in particular has suggested a noticeable decrease in blood pressure if it has been elevated due to stress and increased heart rate. 
This demonstrates the viability of CBD when a person is stressed or anxious and their heart rate skyrockets. As a result, CBD might offer a natural way to help with an increased heart rate.
Is CBD Only Good for Stress-Related Spikes in Heart Rate?
Some people may experience periods of life where stress is consistent. However, others may only experience stress from time to time. Therefore, it becomes essential to understand whether or not CBD could help stabilize the heart rate when things are not stressful.
In general, the heart rate tends to go up and down throughout the day and that is a normal part of life. However, a lot of people don't just deal with stress as some of them will have anxiety and/or other related issues that can lead to an elevated heart rate. Read on to explore more on how CBD may affect the heart rate in everyday situations.
CBD vs. THC
This is an essential distinction to be made because the two are often compared. In essence, THC is known for being a part of the cannabis plant but it tends to elevate your heart rate, while the opposite has been found with CBD. 
This is because of how each cannabinoid interacts with systems in the body, namely the endocannabinoid system. THC tends to lead to a rise in anxiety within a person, while CBD may affect the nervous system by calming it down. 
The difference has to do with how the two cannabinoids interact with the endocannabinoid system. This is thought to be why THC has psychoactive properties, while CBD does not. CBD interacts indirectly with the cannabinoid receptors and THC binds to them. Some CBD products contain trace amounts of THC, less than 0.3%. This is because the full range of cannabinoids, including minute amounts of THC, are able to work together to provide the "entourage effect". This is what is known to synergistically provide the potential effects of hemp-derived products. 
Research suggests that CBD can have a positive effect on THC within a compound as it reduces how much it might affect the heart.
CBD and the Cardiovascular System
The heart rate is just one detail that has to be accounted for when it comes to CBD and its effects. You also have to consider what it does to the rest of the cardiovascular system to better understand this cannabinoid and how it works.
CBD may have a positive effect on the cardiovascular system. It may do so by helping to reduce the amount of stress that is put on the heart rate.
One common heart-related concern is heart disease. This medical concern affects millions of people each year and it can have a profound impact on a person's quality of life. One way to alleviate the symptoms is to mitigate the elevated heart rate and increased blood pressure that come with this disease.
Often times, a person will be prescribed with medications to help manage the symptoms of heart disease. However, certain medications can come with side effects. CBD has the potential to help target symptoms. However, CBD is not a replacement for medication. You should always talk with your doctor before introducing new supplements to your routine. It's important to note that further research is needed to understand the full impact of CBD on the cardiovascular system.
Impact on the Heart Rate
Let's assume a person is regularly taking a dose of CBD and wants to see how it impacts the heart rate. It's one thing to start making changes to your regimen and another to recognize what it is going to do the heart and the body as a whole.
The impact in the first few days may be steady as the body gets used to the effects of CBD. It may provide a sense of calm to the mind and could help reduce the heart rate and blood pressure, too. 
For most people, the impact may be seen in the resting heart rate. This reduction isn't going to be significant, but it may be enough for you to notice. A reduction may be as little as 1-3 beats per minute.
Of course, it's important to note this is going to vary from person to person and other underlying variables that are at play.
A healthier person may notice an improvement in their resting heart rate more so than someone who is already suffering from symptoms of heart disease. 
What happens when the body starts exercising and is put under duress? This can be from something as simple as running at 5 MPH from one place to the next. In situations such as these, CBD may help regulate how the heart beats even when it is under stress.
Similar to the resting heart rate, if you experience a reduction in heart rate, it may be minimal. However, it may take time for the body to get used to CBD and its effects. So you may want to check back with your heart rate over time. 
Effects of CBD and Heart Rate Medication
Heart rate issues can lead to a long list of problems making it important to maintain a healthy lifestyle. Because of this, doctors will often prescribe a heart rate treatment to help alleviate the symptoms as soon as possible. This medication is known to help stabilize the heart rate in all types of situations.
While CBD may positively impact the heart rate, it's important to understand that you should always consult your physician before taking CBD for any conditions, including those that are heart-related. This is particularly true if you have a health condition or are taking any medication.  
Effects of Vaping and CBD
For those who prefer vaping, you may be familiar with the increased heart rate you feel after vaping. This is likely because vaping has been known to increase your heart rate and blood pressure. Several health-related illnesses are also known to be the result of vaping. And so, it is not recommended to consume CBD through vaping. 
However, you may be wondering if ingesting CBD could help to combat the increased heart rate experienced by vaping. Further research is needed before we can understand the effects of vaping and CBD. But as mentioned, if you are looking to experience any of the potential benefits of CBD, it is always important to speak with your doctor first.
Final Thoughts
For those who are thinking about including CBD in their daily regimen, it's essential to think about how you are going to use it and where it is sourced. There is a wide range of CBD products available on the market today including tinctures, topicals, and capsules. The form of product you choose is often based on the results you are looking to achieve.
In general, you want to look for a high-quality product from a reputable manufacturer. Reputable companies will offer a certificate of analysis provided by a third-party lab.
While life may lead to fluxes in the heart rate, you may be looking for a way to provide stability. And, heart rate medications could come with unwanted side effects. The effects of CBD on the heart rate may show promise, however, more research is needed to fully understand its effects.