Could CBD Dog Treats for Anxiety Help Calm Your Stressed-Out Pup?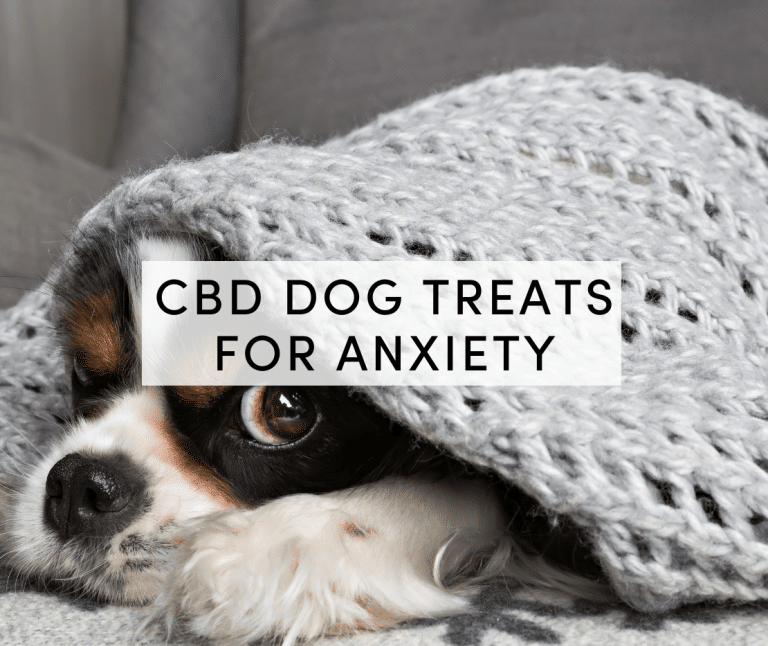 Posted on March 31st, 2021
Dogs experience anxiety just like humans do. Although it's unpleasant, it's a normal and healthy emotion. Dog anxiety is likely to affect all dog breeds, however individual dogs are all different. Even though dogs may experience anxiety from time to time, it may get to a point that needs treatment. If nothing is done about it, a dog may eventually suffer from an anxiety disorder. In other words, the dog may begin to change its behavior permanently. So, how will you know if your dog has anxiety? And, if it's true the dog has anxiety, how can you treat it? This article will explain more about dog anxiety – the causes, common symptoms, and solutions like CBD dog treats for anxiety that may offer relief.
Causes of Dog Anxiety
Dog anxiety may be due to various factors. Let's cut to the chase and find out some of the most common causes of dog anxiety.
Fear
Fear-related anxiety in dogs can come from simple things like very loud noises. Various visual stimuli can also trigger it. For example, some dogs dislike hats, strange people and animals, strange-looking or new environments, and unique situations like vehicle rides. Some dogs are likely to react a little to such kinds of stimuli, but anxious dogs may get disturbed more.
Aging
Older dogs are likely to experience age-related anxiety and may come along with cognitive dysfunction syndrome (CDS). Dogs with CDS will experience a decline in learning, memory, awareness, and perception. This is the case in humans during the early stages of Alzheimer's disease. In old dogs, this can lead to anxiety and confusion.
Separation
14% of dogs suffer from separation anxiety. Such dogs feel uncomfortable while left on their own or when separated from their family members. This kind of anxiety is evident when dogs portray behavior like defecating and urinating in the house, barking, and destroying furniture.
So, how will you be able to tell that your dog could benefit from CBD dog treats for anxiety? There are a few vital symptoms you should look out for.
Common Signs of Anxiety
One of the symptoms of dog anxiety is aggression, and it is generally the most dangerous one. Depending on the situation the dog finds itself in, this aggression may manifest directly or indirectly. To begin with, direct aggression happens when the dog behaves aggressively toward humans or other animals. Indirect aggression occurs when someone comes between the aggressive dog and the source of its aggression. Indirect aggression is likely to be equally dangerous. And even though a dog may not cause harm to others, aggressive behavior such as barking and growling may lead to some bad situations for people and other dogs.
Another common cause sign of anxiety is urinating or defecating in the house. An anxious dog is going to work him or herself up until they poop or pee in the house. This is an undesirable act for the owners, keeping in mind the disgust that comes with cleaning up the whole mess.
Destructive behavior in dogs is also a sign of separation anxiety. Damage usually occurs around entry and exit points, like at the places where windows and doorways are. However, dogs with massive levels of anxiety may end up hurting themselves. Forceful attempts to break through windows may lead to painful injuries which may cost a huge amount of money for veterinary treatments. Other signs of a dog with anxiety include pacing, shaking, trembling, lip licking, yawning frequently, excessive barking, drooling, repetitive behavior, and restlessness.
CBD Dog Treats for Anxiety
If your dog is battling anxiety, this shouldn't worry you too much. The good news is – you may find treatment options for dog anxiety. There are many ways to alleviate dog anxiety, and it's best to consult with your veterinarian. But one recent option that many people have found useful for helping anxious dogs is by using CBD dog treats for anxiety.
Cannabidiol (CBD) is an organic plant compound in cannabis plants. Many people have used CBD for years to treat multiple health conditions. One of these is anxiety, both in humans and pets. CBD activates specialized receptors all over a mammal's body once it enters the endocannabinoid system.
These receptors allow for two-way communication between the body systems. And according to studies, this is how CBD can temporarily relieve symptoms of anxiety and depression. This usually happens in the form of a feeling of calmness.
How CBD Dog Treats for Anxiety Work
Cannabidiol likely works to ease anxiety symptoms in dogs because of its soothing and calming effect. To get maximum benefits, you should administer CBD and some training to help your dog calm down and relax better.
For you to understand the benefits of CBD for your dog, you need to have at least a basic understanding of the endocannabinoid system.
The Endocannabinoid System
The endocannabinoid system is a system that's present in mammals and is a relatively new discovery. Scientists believe that it is one of the most important systems in maintaining balanced health. According to research, cannabidiol interacts with this system, and by doing so it can affect the mental and physical well being of a person.
CBD is capable of soothing and calming anxiety healthily and naturally. The moment the body releases these endocannabinoid chemicals naturally, they connect with special receptors. This stimulates the natural ability of the body to create and release serotonin, which stabilizes mood naturally.
The most popular method for getting CBD into your dog is applying CBD tincture directly under the tongue of the dog using a dropper. Another method you can use is mixing the dose with the meal or drink of your dog. But recently, CBD dog treats have become a popular product as well.
Best CBD Dog Treats for Anxiety
Honest Paws Dog Treats
Honest Paws dog treats use organic hemp oil that contains natural CBD. For anxiety relief, the options are only two. The Honest Paw Calm Soft Chews, which are chewy treats that taste like chicken. And there are the Honest Paws Calm Bites, coming in a flavor of peanut butter, which are a bit crunchier.
Why is Honest Paws a great choice among the many CBD dog treats for anxiety? Their products are of top quality and are safe. They use high-quality CBD and their ingredients are organic.
Spruce CBD
Although dogs have a reputation for eating almost everything, they may avoid eating whatever you really want them to eat. You may find yourself struggling to give your dog supplements and medication. The reason may be that the dog dislikes the flavors and texture of the product.
Unflavored treats like Spruce CBD may be a good option. The quality is top since Spruce CBD uses the same human-grade organic CBD oil in the CBD oil meant for dogs. Unlike most CBD oils made from hemp, Spruce CBD uses coconut oil. So, it's gentler on the stomach of the dog and its taste is a bit milder.
CBDPure
CBD products for dogs can be expensive. As a dog owner, you want a product that is effective and costs a sensible amount. If this is what you want, go for CBDPet 100 from CBDPure. Although they're considerably cheap, all CBDPure products are made with natural hemp, and they have a natural flavor of hemp. They have the same standards as the ones for humans so you can rest assured that they're a healthy option for your dog.
Other Benefits of CBD
Besides anxiety, CBD may treat other acute and chronic issues. Cannabidiol helps our immune system to modulate its activity. This enables the body to control and manage cellular degeneration better. Your dog may also benefit from CBD if they suffer from:
Joint Pain/Arthritis – There are not many official studies specific to CBD and dogs. However, this study examined the effects of CBD on osteoarthritic dogs. The arthritic dogs taking part in the study were more playful and also mobile after a few weeks of receiving the treatment. That is a promising start at least.
Glaucoma – It's been clinically proven that CBD can reduce eye pressure which is traditionally associated with glaucoma, and it gives relief to both humans and dogs. Additionally, this improves pain, anxiety, and motor control that comes with canine glaucoma.
Seizures – It's estimated that 5% or more dogs suffer from some form of seizure disorder. This study showed that CBD can significantly reduce the frequency and severity of seizures in dogs.
Conclusion
Many dogs are likely to experience anxiety at several points in their lives. So it is important to understand the causes, symptoms, and options you can use to treat dog anxiety. If you think your dog is having an issue with anxiety, it would be best to consult your veterinarian first. They may check for other underlying causes, and they may recommend CBD dog treats for anxiety. If they do, here's a handy guide to determine what dose you should start with.