CBD Dog Treat Recipe: How and Why to Try Giving CBD to Your Dog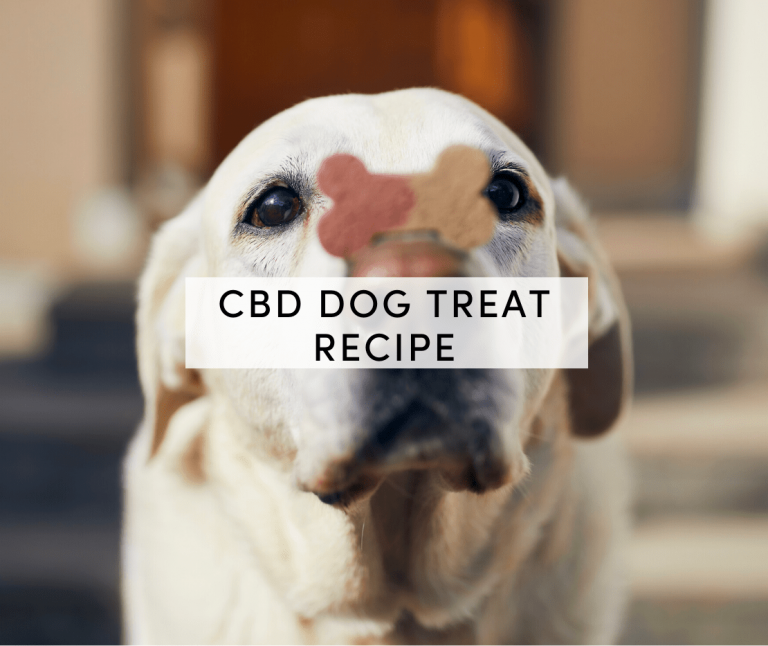 Posted on May 25th, 2021
People have many different opinions about CBD. Some think that it's similar to weed because it comes from the cannabis plant. On the other hand, many people can't stop praising its health benefits. A few even say that CBD is good for dogs. Now, that certainly might get your attention if you have a dog at home. So far, maybe you only know CBD for its effects on humans. But is it equally beneficial for dogs? If so, how? It's essential to have all the information before you decide to try a CBD dog treat recipe. 
First of all, let's address the CBD vs. weed question. CBD comes from Cannabis Sativa, while weed or marijuana comes from Cannabis Indica. But both belong to the same cannabis plant. Marijuana plants have a high percentage of THC. THC is the psychoactive element that gets you high. CBD products generally come from hemp plants. By definition, hemp plants contain 0.3% THC or less. So extracting CBD from hemp doesn't yield enough THC to cause any intoxication. Keep that in  mind as we discuss how it may affect your dog.
Is CBD Safe for Dogs?
The first thing that may come to your mind when you hear that dogs can take CBD is whether it is safe for your pet. And though CBD is now widely popular among humans, is it as effective for dogs? Many vets are already recommending CBD products, especially CBD oil for dogs. 
A study from Colorado State University states that healthy dogs can tolerate CBD very well. Although a few reports suggest that some dogs experience slightly elevated serum ALP levels (liver enzyme) and diarrhea, the side effects are not at all fatal. In fact, they go away after the first couple of doses. According to multiple studies, CBD doesn't pose a threat to liver toxicity in dogs. 
CBD seems to be beneficial in humans for its anti-inflammatory properties. It can help you reduce pain, control aggression, anxiety, and depression, reduce muscle spasms and seizures, and may even control neurological disorders. Dogs also seem to experience similar effects. These studies from eminent institutes and reviews from dog owners strongly suggest that CBD is safe for your canine friend.
CBD Benefits for Dogs
Do you have a dog that feels nervous during thunderstorms? Or maybe struggles to walk and run properly due to arthritis? If so, you may feel heartbroken to see your best friend suffer. You wish you could do something to make that problem go away. It is possible to ease these symptoms with a good CBD dog treat recipe. 
Many dog owners suggest mixing CBD with dog treats. If you try a CBD dog treat recipe, you may notice how a few drops of CBD can change the dog's health over time. Here are some of the possible health benefits of CBD for dogs that you can keep in mind before buying the first bottle of CBD oil:
Eases Anxiety
Like humans, CBD also interacts with your dog's endocannabinoid system. If your dog exhibits destructive behavior, is overly restless, or barks excessively, it may be due to separation anxiety. Dogs also feel stressed, but their reasons may be different from humans. For example, thunderstorms can make your dog behave strangely. He may run for cover or start whining. This happens because of anxiety. Your dog panics because a thunderstorm isn't a normal condition for him. 
CBD may help relieve your dog's anxiety. It can make your dog calmer in situations like thunderstorms or after separation from his mother. Add a CBD dog treat to his diet to notice a change in his behavior. CBD may be useful to alleviate anxiety symptoms related to noise phobias. You may observe that your dog doesn't behave peculiarly anymore if there is a thunderstorm or fireworks nearby. 
Epilepsy and Seizure Relief
It's not that only humans suffer from epilepsy and seizures. These conditions are common among dogs also. Vets often recommend medicines and antibiotics to control seizures. But these medications don't come without side effects. They may stop the seizures now, but they may have long-term adverse effects on your dog's liver. 
If you don't want your dog to suffer now or later, try a mild dose of CBD. Like with humans, CBD is highly effective in alleviating epilepsy and seizures in dogs. It slowly mixes with your dog's bloodstream and calms him down. CBD works relatively quickly and also doesn't come with any long-term side-effects. It should be safe for your canine friend. But always check with your vet first. 
Reduces Joint Pain
There is no denying that people with chronic back pain or joint pains praise CBD's soothing properties. Applying CBD salve topically can reduce joint pain quickly (within a few minutes). The same thing happens with dogs. It significantly reduces joint pains, including nerve-related pain.
Arthritis is a common condition among dogs. They slowly lose their agility and would want to lie down for hours. You will notice your dog walking slowly and may even miss a few steps. These are clear indications of arthritis. Although medication can help control the condition to some extent, you may also be able to make your dog feel better with CBD oil. Adding CBD oil to your dog's treats can reduce joint pain. 
CBD Dog Treat Recipe
Now that you know some of the benefits of CBD for dogs let's take a look at some of the recipes you can make at home. Remember, a CBD dog treat recipe doesn't have to be too complicated. It's about mixing the right number of drops of CBD oil into your dog's favorite treat. Here are a few tricks you can follow:
Apply CBD Oil Directly Onto Treat
This one is the easiest of the lot. It's a no-brainer. Take your dog's favorite biscuit/treat and drop a few drops of CBD onto it. The only trick in this recipe is to let the treat absorb or soak the oil properly. Allow the treat to rest for a few minutes before giving it to your dog. If the treat doesn't absorb the oil, prick a few holes with a toothpick and then add CBD oil. 
Frozen Treats
Frozen dog treats like peanut butter banana pops, chicken ice cream treats, frozen pumpkin treats, strawberry banana treats etc. are widely popular among dog owners. Dogs love them, especially during summers. The trick in this recipe is to get the math correct.
Companies make frozen dog treats in batches. This means you need to multiply the number of treats you will make from the recipe with the number of CBD oil drops appropriate for your dog while adding them to the treat. A mild dose is enough for your dog. This trick works best if you add the CBD oil to one of the thick ingredients in the recipe first. It can be yogurt or peanut butter etc. You can then mix the liquid and separate each portion properly.
No-bake Treats
If your dog is not fond of frozen treats or pre-made treats and likes homemade food, this may be a good option. Make sure you pick a treat that requires you to use some type of oil. You can reduce that oil content and replace it with CBD oil. 
You can make both baked and no-bake treats. No-bake treats are softer, making them easier for your dogs to swallow. If you cook the treat make sure you don't burn it. That may take away the health benefits of CBD. 
Baked Treats
This is a little trickier than the other recipes. You need some experience baking in general. The rule of thumb for a CBD dog treat recipe is to keep the temperature low. A high temperature will evaporate the CBD altogether. According to experts, you should keep the temperature at 350 degrees or below. Make sure you choose a CBD dog treat recipe that doesn't require high-temperature baking. 
The best way to bypass this problem is to extend the baking duration. Again, you need to keep the dose in mind. Remember, you make batches of baked treats. Therefore, decide well ahead how many treats you will make in a batch. Next, add the CBD oil according to the appropriate dose for each batch and divide the number of treats equally. The oil should mix properly with the ingredients.
Dosage: CBD Dog Treat Recipe
The CBD dosage for dogs depends on their height, weight, and build. Dogs usually require a mild dose compared to humans. It's best if you consult with a veterinarian before mixing CBD with your dog's treats. One general rule of thumb is 1 mg of CBD per 10 pounds of body weight. So if you have a 40 lb dog, 4 mg of CBD is a good starting dose. Feel free to increase the dosage as your dog becomes more comfortable with CBD. 
One of the best things about cannabidiol as a supplement is that it is almost impossible to take enough of it to cause any harm. Studies show that enormous amounts of CBD still only cause mild symptoms like lethargy and diarrhea. Of course, you should always be careful when giving your dog a new supplement. But keep in mind that even if you give them too much, they're just likely to be a little sleepy.