Why You Should Invest In CBD Beauty Supplies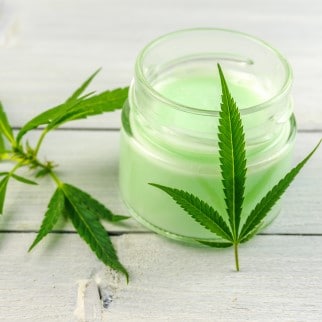 Posted on September 5th, 2021
CBD beauty supplies are the latest in a string of hemp-based products. Today, you'll find everything from CBD gummies to drinks, vapes and, now, makeup and hair products as well. So, if you're not familiar with CBD, you might be wondering how you can benefit from this ingredient.
CBD is short for cannabidiol, which is a compound found in cannabis plants. In most cases, the CBD you find in beauty supplies and other products comes from hemp plants. Unlike THC, another cannabis compound, it does not have psychoactive properties. And that's why you can legally purchase hemp extracts throughout the United States.
Along with its rise in popularity, we've seen new waves of CBD research. Studies now show that CBD's properties  could make it an effective beauty supplement. Which is why, today, we find it in skincare, makeup, hair products, and more.
CBD's Role in Skincare
Many common skin issues, including acne and hyperpigmentation, are linked to your body's inflammatory response. (1) CBD has anti-inflammatory properties, which means it may be able to reduce redness, irritation, swelling, and other issues. (2) CBD products may also help regulate your endocannabinoid system to promote healthy skin. (3)
Since CBD is an anti-inflammatory, it may help sensitive skin's reactivity and redness. Still, if your skin is sensitive, try patch testing CBD products before using them all over your face. That can prevent unwanted rashes or reactions.
CBD's anti-inflammatory properties may also help reduce breakouts. After all, inflamed skin cells may produce excessive amounts of sebum, which can lead to acne. Studies show that CBD can soothe these cells, reducing sebum production. (4)
CBD can be a useful ingredient for people with oily and dry skin. That's because CBD is hydrating and has emollient properties, helping keep skin moisturized. (5) It could even repair a damaged skin barrier, healing badly dehydrated skin.
While it's normal for skin to age, using the right CBD products could slow the process. Free radicals can lead to fine lines, wrinkles, loss of elasticity, and other skin problems. CBD's antioxidant properties can counteract the damage they do to your skin cells. (6)
For all these reasons, CBD is an active ingredient in many skin care products. Or, if you prefer, you can apply CBD oil directly to your skin. When applying CBD topically, it's important to check the ingredients list and confirm that you're using a well-tested, high-quality product.
CBD Beauty Supplies: Cannabidiol in Makeup
CBD beauty supplies are so popular, we're regularly seeing new makeup products. CBD shows up in lip balms, mascara, eye shadows, brow gels, highlighters, primers, and more. And for good reason.
Since CBD is moisturizing and non-comedogenic (7), it can nourish and protect the skin when you apply makeup. Many makeup products break apart as the day goes on, making skin texture more visible. The best CBD products are hydrating and long-lasting, making them an excellent option for all-day makeup looks.
Some CBD makeup products offer additional benefits as well. For example, CBD-infused mascara may encourage eyelash growth. (8) Plus, while other makeup products can clog your pores, the right ones can nourish and enhance your skin.
When evaluating CBD makeup products, it's important to look at the product's formulation and the other included ingredients. Moisturizing agents, such as jojoba extract, can boost CBD's hydrating properties. It's also important to read reviews and find products that flatter your features.
CBD in Haircare Products
CBD is rich in compounds that can benefit the hair and scalp, including potassium, phosphorus, calcium, magnesium, fatty acids and vitamin E. It's an ingredient that is suitable for all hair types, and it can even be used by people that have sensitive scalps.
Over time, CBD products may be able to strengthen hair strands, which can reduce hair damage. (9) Products may also help to lock in moisture, keeping hair hydrated throughout the day. Lack of moisture can cause frizz, split ends, and can even accelerate hair loss. Products that contain hydrating ingredients like CBD can help keep your hair soft and manageable.
Managing Disease
CBD's anti-inflammatory properties may also aid in managing the symptoms of scalp diseases like psoriasis and follucilitis. (10) It can soothe an irritated scalp and can moisturize scalps that are dry and scaly. Taking steps to improve your scalp health can also improve your hair's overall condition.
In addition to these scalp conditions, CBD may be able to manage dandruff. Dandruff is linked to sebaceous dermatitis, a condition that inflames and irritates your scalp. (11) Reducing scalp inflammation could be an effective way to treat dandruff and leave your skin flake-free.
CBD can be found in many types of hair products, including shampoos, conditioners, and serums. Some products are specifically formulated to address common concerns, such as frizz or hair loss. In addition to buying products that contain CBD, it's possible to add CBD oil to your existing products.
What to Consider When Buying CBD Beauty Supplies
Cannabidiol can benefit your hair and skin, but that doesn't mean all CBD beauty supplies deliver great results. Before making any purchases, you'll need to identify your primary concerns. Then, seek out well-reviewed products designed to meet your needs.
Look carefully at labels and pay attention to ingredients lists. If you take the time to closely evaluate each item, you'll avoid problems and find beauty supplies that enhance your daily routine.
You can also apply CBD oil directly to your skin and hair. Simply take a small amount of oil and massage it into your target area. Just remember, this won't work with oils designed for oral delivery, like tinctures These products aren't designed for skin application, so they may not be topically effective.
Steer Clear of Side Effects
It's rare for CBD products to cause itching and irritation, but it's still best to patch test a product before using it for the first time. Apply a small amount of the product to a clear, clean part of the skin that's easy to access. Cover the area with a bandage and leave it in place for 24 hours. If your skin is free of irritation when the bandage is removed, you can use the product without concern.
The nutrients found in CBD make it an excellent ingredient for beauty products. It's packed with antioxidants like vitamins A and E, it's a strong source of Omega-3 fatty acids, and it has both moisturizing and anti-inflammatory properties. Many new products containing CBD have hit the market in recent years, and as more research comes out, it's likely that this ingredient will be used in new and exciting ways.
The right CBD beauty supplies can address all kinds of common concerns, including acne, dryness, and irritation. When formulated properly, it can be used on all skin types and all types of hair. If you're in the market for a new beauty product, you may want to consider a product with CBD.
1. https://www.ncbi.nlm.nih.gov/pmc/articles/PMC2921758/
2. https://www.ncbi.nlm.nih.gov/pmc/articles/PMC7023045/
3. https://www.ncbi.nlm.nih.gov/pmc/articles/PMC2757311/
4. https://www.ncbi.nlm.nih.gov/pmc/articles/PMC4151231/
5. https://www.ncbi.nlm.nih.gov/pmc/articles/PMC2757311/
6. https://www.sciencedirect.com/science/article/pii/B9780128007563000934
7. https://clinicaltrials.gov/ct2/show/NCT04045119
8 https://publications.sciences.ucf.edu/cannabis/index.php/Cannabis/article/view/78
9. https://www.ncbi.nlm.nih.gov/pmc/articles/PMC7736837/
10. https://pubmed.ncbi.nlm.nih.gov/6288130/
11. https://www.ncbi.nlm.nih.gov/pmc/articles/PMC4852869/