CBD Beauty Supplies – Can CBD Help You Look Fabulous?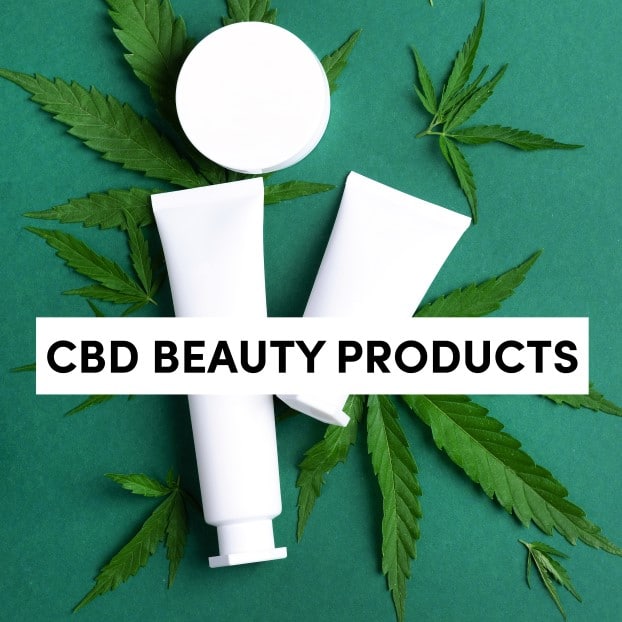 Posted on September 2nd, 2021
What are CBD beauty supplies, and why should you try them? After all, it seems like manufacturers add CBD to everything. There are CBD gummies, vaping liquids, coffees, and lemonades. But which are fads, and which are worth trying?
We're here to help you sort the difference. And, since CBD's may reduce inflammation, it could also have benefits for your skin. For that reason, CBD beauty supplies could be a good investment. But before we get to that idea, let's get a better understanding of how this compound works.
What Are Cannabinoids?
Cannabinoids are compounds found inside the cannabis plant. There are over a hundred different compounds, and each has its own effects in your body. They work with the cannabinoid receptors that are part of the endocannabinoid system (ECS). Now, this relationship seems to be why medical cannabis is effective. Once the cannabinoids trigger CB1 and CB2 receptors, they may boost some of your bodily functions. In turn, you may experience relief from unwanted symptoms.
Besides cannabinoids, terpenes are another type of cannabis compound. They're present in the plant's resin glands, which sit on its flowers and leaves. Typically, cannabinoids and terpenes work synergistically to further enhance the effects of a cannabinoid. That phenomenon goes by the name of the entourage effect. Today, manufacturers often prefer full-spectrum products that include terpenes along with cannabinoids.
What Is CBD?
CBD is one of many cannabinoids that are naturally present in the cannabis plant. Researchers are exploring its possible therapeutic effects. But why focus on CBD among the many hundreds of cannabinoids?
Well, along with delta-9 tetrahydrocannabinol, or THC, CBD is the most well-known cannabinoid. Now, when it comes to popularity, THC tops the list as the most famous (and infamous) compound.
Of course, THC gets that reputation because it induces a psychological effect. If you smoke it or cook with it, you'll experience this mind-altering "high" sensation. Specifically, you will experience distortion in your space and time perception, along with movement impairment. Also, some users experience hallucinations from THC.
In contrast, CBD is non-psychoactive. Which means that it doesn't mess with your mind. But it can still deliver a varied range of possibly therapeutic effects to your body.
Where Does CBD Come From?
CBD originates from cannabis plants. Most people think that 'cannabis' and 'marijuana' are synonyms, but that's not the case. Marijuana is a variety of cannabis, as is hemp. And the legal difference between both is their THC content. According to federal guidelines, hemp plants must have a THC level of 0.3% or less. Otherwise, they're considered marijuana.
Most marijuana growers breed their plants for high THC levels. Hemp growers, on the other hand, don't have to manipulate their plants. And that's because hemp strains naturally hold trace amounts of THC, alongside high CBD concentrations.
Hemp Oil for the Skin
Hemp oil in skincare products can boost their effectiveness. Here are some reasons why you may try products with CBD, hemp seed oil (or both!)
Moisturizing
Both hemp seed oil and hemp oil can help your skin hold on to moisture. But hemp seed oil acts as an emollient that leaves your skin feeling supple and soft.
Anti-Inflammatory
Hemp oil with CBD appears to hold anti-inflammatory properties. That's why recent studies suggest it might help ease skin inflammation.
Antioxidant Properties
Hemp seed oil is rich in antioxidant ingredients: fatty acids such as gamma-linolenic acid, and vitamins A, C, and E. Furthermore, antioxidant skincare products might protect your skin against premature aging.
Potential Antibacterial Properties
Research also shows that hemp oil with CBD contains antibacterial properties. This may prove beneficial to your skin, with more evidence.
One thing that you must absolutely be clear about hemp seed oil does not contain any CBD at all. CBD only appears in the plant's leaves and flowers, not the seed from which hemp seed oil comes. But hemp oil and hemp seed oil may BOTH be great for your skin.
How Does CBD Work? How Does It Interact with the Endocannabinoid System?
All cannabinoids trigger body effects by working with cannabinoid receptors that are part of the ECS. CB1 and CB2 are the two primary receptors within your body. CB1 receptors are well-spread all over the body, but mainly expressed in the brain. They primarily help with movement, appetite, pain, memories, mood, thinking, etc.
When it comes to CB2 receptors, they're present in the immune system. They play a role in inflammation and pain. THC often binds to CB1 receptors. On the other hand, CBD works peripherally to these receptors. Ultimately, it boosts the ECS' normal functioning.
CBD Benefits
CBD's potential benefits could make it a promising alternative for people living with certain conditions.
Some of these involve your skin. And so far, research suggests CBD can help with:
Relieving Pain and Inflammation
Researchers now suspect that cannabis can ease pain because of CBD. Animal studies demonstrate that CBD may alleviate chronic pain by reducing inflammation. They may also ease pain from surgical incisions, as well as sciatic nerve pain. Using CBD with THC in the form of medical marijuana is effective at easing pain caused by multiple sclerosis and arthritis.
Dryness and itching
Based on a 2019 study, CBD might be beneficial for addressing some symptoms of skin conditions, including dryness and itching. CBD's anti-inflammatory properties seem particularly effective for lowering potential triggers of psoriasis and dermatitis. Since CBD oil may help soothe skin and decrease the appearance of irritation, it might be beneficial for those with sensitive skin.
Introduction to CBD Beauty Products
Incorporating CBD oil into various beauty products makes it so a person can derive from its potential advantages daily. Generally speaking, people use CBD beauty products or cosmetics to improve and care for their skin, lips, or hair. These might include shampoos, face masks, face serums, and lip balms. A considerable variety of these CBD beauty products are now available.
Skin Products
Life Elements Skin Repair Stick
According to Life Elements, you should apply this product directly to the specific region that needs attention. Cracked heels, fine lines, bug bites, and dark spots are its main targets. It consists of 25 mg of broad-spectrum CBD oil. That means it consists of all the cannabinoids from the marijuana plant except for THC.
Furthermore, the skin repair stick consists of tea tree oil, honey, shea butter, and vitamin E. Based on a particular review, honey contains antimicrobial qualities. Meanwhile, a different review shows that tea tree oil may enhance wound healing. Since the product also comprises nut oils, individuals with a nut allergy shouldn't use it.
Face Products
Plant People Revive Face Serum
Generally, this product consists of 300 mg of cannabichromene (CBC) and full-spectrum CBD. A particular 2016 study and a 2019 review show that CBD, as well as other cannabinoids, might possess anti-acne qualities.
Furthermore, this face serum consists of Kalahari melon seed. According to several studies, this might possess moisturizing effects on the skin. The manufacturers also claim that the product may enhance cellular regeneration, ultimately leading to a more youthful look.
Envy CBD Face Mask
According to most consumers, this product is quite effective when it comes to daily moisturizing, anxiety relief, relaxation, and inflammation. It consists of three masks containing 10 mg of full-spectrum CBD.
The manufacturer also claims that the product consists of Centella Asiatica extract, which might enhance collagen production. Green tea leaf extract is another ingredient that several studies hint towards its promising anti-aging effects.
Lip Products
Saint Jane Luxury Lip Shine
The product consists of CBD combined with sunflower oil mixed with shea butter, grapefruit seed extract, and chamomile extract. Research shows that shea butter possesses both antioxidant and anti-inflammatory qualities. A systematic review study also came to a similar conclusion when it comes to chamomile extract.
Nonetheless, there's a lack of research on how grapefruit seed extract might benefit human lips and skin. The product typically comes in three colors, and its manufacturers claim it offers a smooth and silky finish. It's also vegan-friendly.
CBD Beauty Products Against Acne
Acne is an all-too-common skin condition that estimates say affects more than 9% of the entire population. There are quite a variety of factors that cause it, such as underlying inflammation, bacteria, genetics, and overproduction of sebum. The latter is an oily secretion produced by sebaceous glands in the skin.
According to recent studies, using CBD oil might help treat acne due to its anti-inflammatory properties. Also, a particular test-tube study discovered that CBD oil inhibited sebaceous glands from releasing excessive sebum. It also induced anti-inflammatory actions and inhibited the activation of "pro-acne" agents such as inflammatory cytokines.
CBD Beauty Supplies – The Takeaway
CBD beauty products are becoming popular, and there's some evidence to suggest CBD oil may moisturize the skin and decrease pimples.
CBD's potency and strength in beauty products might vary, however. That could affect just how well they work on your skin. If you're planning to use CBD beauty products, consider other ingredients in the product and search for reviews to see if it might indeed help you.