CBD Arthritis Cream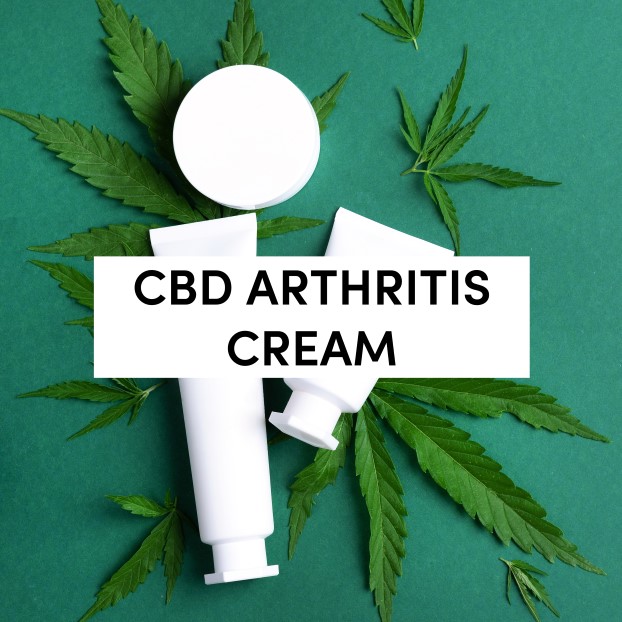 Posted on February 25th, 2021
For some time now, cannabidiol (CBD) has unofficially become a go-to alternative for people suffering from various ailments. This happened even before doctors recommended it thanks to word of mouth and positive hints from research. Hints to what?  Hints to the potential therapeutic benefits the compound might hold!
CBD is a cannabinoid, a compound found inside the cannabis plant. It is the second most abundant cannabinoid in the plant, right behind the much more famous THC. Unlike THC, however, CBD is non-psychoactive, meaning it cannot get you high when you ingest it. But what you might derive from it is much relief in a couple of different ways. Indeed, research points out that CBD has anxiolytic and anti-depressive effects as well as pain-relieving and anti-inflammatory benefits as well. On top of it all, since it is non-psychoactive, people turned off by the effect of the THC in marijuana can opt for CBD.
CBD products, such as gummies, creams, and oils, come to be through the extraction of the cannabinoids from the cannabis plant. Manufacturers then infuse the refined chemical into other products for topical use or ingestion.
Hemp, a variety of cannabis, is the main source of CBD. The U.S. removed hemp from its comprehensive list of controlled substances back in December 2018. Because it is a relatively new development, we have only a limited number of studies on CBD's effect on conditions like arthritis. Still, anecdotal evidence and early research point to great potential in the compound.
Keep reading to know more about CBD and CBD arthritis cream, a product that might help ease the pain from the condition.
CBD – What Is It?
Simply put, CBD is a chemical belonging to the cannabinoid family. Typically, these chemicals naturally exist in the cannabis family of plants to which marijuana and hemp belong. CBD is but one of over a hundred different cannabinoids found there.
What Is CBD Cream?
CBD products come in many different presentations. However, if you are seeking help with skin-related issues or physical discomforts like joint pain due to arthritis, look for CBD topicals.
As a simple definition, a CBD topical is any cream, salve, or lotion infused with CBD that you can apply directly to the skin. The rest of this article will look into CBD arthritis cream, how it works, the best ways to use CBD arthritis cream, and how can arthritis patients derive from it.
CBD Arthritis Cream – How Does CBD Cream Help with Arthritis?
According to research, CBD is able to relieve chronic pain related to both osteoarthritis (OA) and rheumatoid arthritis (RA). RA refers to an autoimmune disease that makes a person's immune system attack their own joints, making them inflamed. Mostly, this type of arthritis affects the hand and feet, leading to swollen, stiff, and painful joints.
Osteoarthritis, on the other hand, is a degenerative disorder that attacks the bones and joint cartilage, making them feel painfully stiff. It also affects the thumb joints, hip, and knees.
On its own, CBD works by interacting with your body's endocannabinoid system (ECS). The ECS is a body-wide network of receptors and neurotransmitters. The system itself plays a part in regulating key bodily processes such as appetite, sleep, immune system response, and pain perception.
Of these receptors, from which there are two kinds: CB1 and CB2, CBD's anti-inflammatory effects come from its interaction with CBD. CB2 receptors are abundant in the immune system and its periphery. They are also particularly involved in pain sensation and inflammatory response to bodily harm.
Based on a 2011 study, CBD might help lower pain related to inflammation by affecting how pain receptors react to stimuli. Another 2015 study showed that CBD was effective in alleviating pain related to arthritis in rats.
Finally, a 2020 study suggested that CBD might also help with both osteoarthritis and joint neuropathy by acting as a shield to the nerves and relieving joint inflammation.
What Should You Look for In a CBD Cream?
When looking to buy a CBD cream, it's better you look into a couple of things to make sure you are buying a quality product.
By understanding what to look for, you minimize the risk of purchasing a product that, at best, works mediocrely and, at worst, is contaminated. Below is a list of several things to consider if you're looking to buy a CBD arthritis cream:
Hemp Source
If you're purchasing a CBD arthritis cream, there are a couple of factors you should look into, the source of the hemp used, for example. People grow hemp all over the world. Yet, not grown in the same country where CBD production happens, there's little control on the quality of the plant. So, if you are from the U.S., make sure the manufacturer used stateside-grown hemp. Some companies make the location of their plantations public and might allow for visits at scheduled times.
Ingredients
You must take a careful look at the ingredients list on the label. You can find many CBD creams in the market, and they might each come with their own distinct formula. What you want to find there it's that its THC concentration remains at 0.3% or below and that it does not have any harmful chemicals. IF you can help it, better choose a cream that features as many natural ingredients as possible.
Brand
Consider the brand that produces CBD cream. There are several manufacturers out there that produce these creams, and their quality it's up to them. You should always pay keen attention to the brand's reputation. Look them up online, see what past users are saying about the brand. People love to share their experiences with products in online comments nowadays, use that to get an idea of the quality of the brand.
Pricing
Take a good look at the price tag on any CBD arthritis cream. The price of these products differs quite a lot from manufacturer to manufacturer. And you better be conscious of how much you are about to spend on any CBD brand. Your account balance will be thankful for this.
Shipping Policies
Most CBD retailers you will find online rather than in brick-and-mortar shops. And one thing most online buyers do seem to neglect to check out it's the shipping policies of a brand. You need to make sure that the company you are looking to purchase does ship to your actual location. Also, consider shopping costs. Although some companies provide do free shipping, others request an additional fee; pick yours carefully.
Return Policy
Sometimes, some creams simply fail to work! Although these products might not be exceptionally costly, they're also not cheap. As a result, a person wouldn't want to waste their cash on a product they'll end up throwing away. In most cases, a return policy enables you to return the product you find does not work for you. Many companies do provide a one-month return policy. Furthermore, it's critical to review the terms and conditions associated with the return policy to see if they are favorable to you.
How Can You Use CBD Cream for Arthritis?
There are very good reasons some enthusiast swears by CBD arthritis cream. One is that when used topically, CBD has a direct impact on the affected muscles and body joints. In other words, CBD topicals provide focused, localized relief instead of whole-body relief. Since most types of arthritis affect hands and feet, being able to target them specifically is a great advantage.
Compared to other CBD forms, such as edibles, you don't necessarily have to ingest CBD for it to work on you. CBD arthritis cream requires application directly on the affected part of the body. Then, the compound permeates throughout the skin and interacts with a vast network of receptors located beneath.
Thus, simply apply and spread the CBD arthritis cream by gently massaging it over the skin of the area you applied it to. Massaging the affected area also enhances blood circulation. This, in turn, enhances CBD's penetration into tissues and muscles.
Is CBD Safe to Use for Arthritis?
At this point, there's limited research on the long-term effect of CBD usage. So far, there have been no adverse effects reported in relation to moderate use of the compound. However, CBD seems to possess the potential to interact with certain drugs commonly used by arthritis patients.
It would be prudent to speak with your doctor before using CBD if you use any of the following drugs:
Most antidepressants.
Medications for fibromyalgia.
In general, if you are using any prescription medication, consult your doctor before taking CBD.
CBD Arthritis Cream – The Takeaway
CBD is a compound in hemp and marijuana plants that possesses anti-inflammatory properties. Applying CBD topical cream, especially CBD arthritis cream, on joints affected by arthritis might alleviate both pain and inflammation. Some users also report an improvement in their joint mobility. Thus, if you are looking for an alternative to regular arthritis treatments, it may be worth looking into CBD.