CBD Oil Review by Nashville Tennis Pro Charles Batt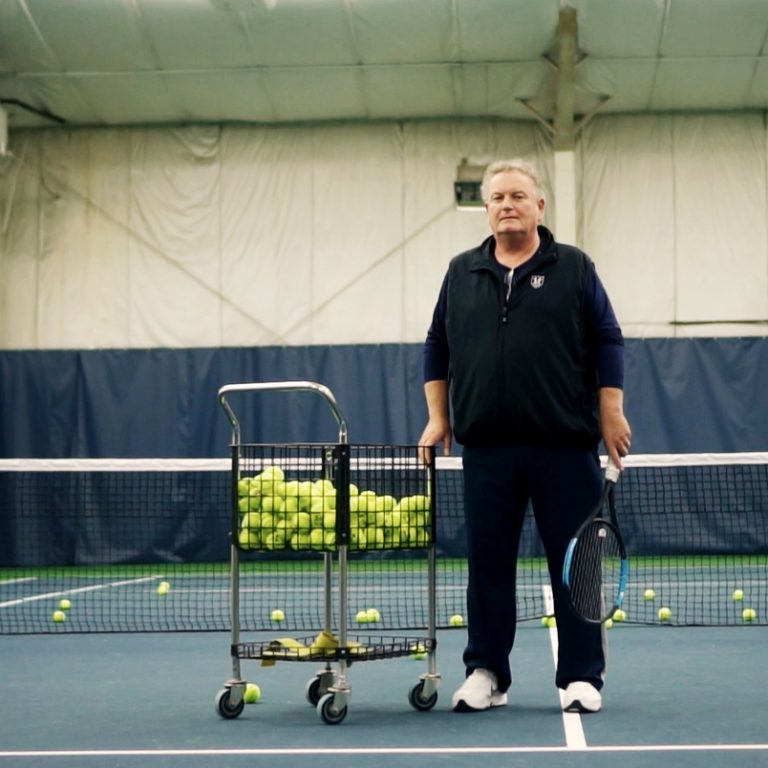 Posted on March 7th, 2020
When we learned that Charles Batt, one of Nashville's most prolific names in tennis, was an avid Tanasi CBD user, we were incredibly flattered. Batt, originally from Wimbledon, England, has earned local and national renown for his work as the tennis pro at Hillwood Country Club, a post which he has grown since he first started three decades ago. 
During his time at Hillwood, Batt has transformed the tennis experience for members by providing amazing experiences—both for playing and watching tennis—which we'll describe in more depth later in this article! 
As you'd expect, he has experienced the wear and tear that a life of rigorous physical activity can provide. Before we dive into the incredible life story of Charles Batt, we thought we'd give you a rundown of why elite athletes like Charles are turning to CBD to fight their daily aches and pains. 
Athletes and CBD: Supportive Teammates
A retired NHL enforcer recently explained to MensHealth.com, "As a 14-year professional athlete that has had a dozen surgeries, many broken bones, and north of 20 concussions… I believe in all of the healing properties of this plant so much that I went out and purchased a 64-acre farm."
Likewise, a former NFL player told the website, "I enjoyed a 10-year playing career [and] I have taken more pain pills in that time than most people have in their lifetime. I wish I had known about the benefits of CBD much earlier."
Now, while Batt may not have discovered CBD as early as some, now that he knows it, there's no turning back. He tells Tanasi, "I've seen wonderful benefits from CBD oil."  
What are some of those benefits? Because every individual is different, the impact is unique to every user. But for Batt, the value is clear. "For me, it's a great anti-inflammatory," he says. In fact, this CBD property has helped keep Batt active as he throws himself fully into the pickleball circuit.
"When I play now, you compete in a complete circuit in one day. It's literally six hours of tournament play. I always take my CBD on the road with me," he says, "it really helps with my recovery."
Batt could pick any CBD products. In fact, he recently ran out of Tanasi product while traveling, and used a different brand's supply. Now, he says, that's a mistake he won't soon make again. "Truly, I noticed a difference," he explains. "So I couldn't wait to get home and take my usual dose. I always take it at night, and it always helps me."
Charles Batt's Tennis Journey
There's an English town, south-west of London, that you may have heard of once or twice—especially if you're at least sort of into tennis. It's called Wimbledon, and for two weeks in June and July, it houses the world's oldest tennis tournament. But, for tennis pro Charles Batt, it was home for a whole lot longer than that.
Yes, it's a story so good it shouldn't be true, but it is: an elite tennis player growing up within reach of the famed matches at the All England Club. And while you might expect that Batt grew up with a racket in his hand, that's not quite the way this story plays out.
In fact, says Batt, tennis was always on his radar, but it wasn't where he placed his early efforts. Rather, Batt played a whole bunch of fields in his youth. He explains: "I played lots of sports. Until I turned 16, tennis was just a seasonal thing for me." 
Taking a Turn
Thankfully, the relatively late start didn't hamper his progress within the sport. As a high school senior, Batt was getting noticed for his skill on the court. "By my senior year in high school, I was a junior top 10 player in the UK," he says. As a result, he explains, he was getting lots of attention from American college coaches.
After all, "Back in the 70s, college tennis was a really big deal. There were so many schools, but most of the top American players went to UCLA, USC or Pepperdine. So, if coaches wanted to fill a team of six, they had to look overseas for recruitment."
Thankfully, that dynamic worked out well for Batt—he received offers from 40 different American institutions. Still, he was a true English boy at heart, and didn't know what to expect from any of his prospective new home courts. So, how did he pick one spot? The process was simple: "I got out a map and saw that Moorehead State in Kentucky was my closest option." He accepted the offer, and packed up his life in England for a new, American future.
The Road to Discovery
Batt arrived in Kentucky, ready to play. Unfortunately, the atmosphere at school didn't quite match up to his vision of American college life. Something would have to change, he knew, but Batt also didn't want to compromise his future in tennis.
He explains, "I could either take a redshirt and remain on the team, but be banned from intercollegiate play. Or I could go play for junior college." Never one to stick to the sidelines, Batt chose the latter option.
And it was a lucky choice, too. Since Batt's father was already doing business in California, heading to the west coast was an easy decision. And, once there, Batt and his new teammates enjoyed tremendous success. "We really dominated," he says with pride. "In fact, we almost beat Pepperdine that year," which is how top tennis scouts happened to show up to a Junior College semi-finals match.
Shortly after getting spotted at the match, recruiters once again became a major part of Batt's life. "Back then, there were a lot of free trips," he recalls. "I went to Oral Roberts, somewhere in Louisiana, and then I got to Vanderbilt." That's when Batt fell in love—with the school and the city. And, once again, his life took on an entirely new trajectory. Little did he know that this city would give him the chance to truly shine—and become his home for the next four decades.
Putting the Coast Behind Him
In the early days in Nashville, all Batt knew was that he'd found a place he belonged. He says, "Nashville in the late 70s reminded me a lot of the English countryside." And, it must have put some home-town fire back in his step, because Batt quickly rose to the forefront of the Vanderbilt tennis team—and the entire SEC (the Southeastern Conference of the American college athletic conference.) He won two men's singles championships, in 1979 and 1981.  And, in those years, Batt became Vanderbilt's all-time letter winner in tennis. He was also named First All-Team SEC. And that's a big deal in this highly competitive division.
Sadly, the professional tennis circuit was not meant to be Batt's home. Though he did earn a world ranking, Batt also put his body through the ringer. "My senior year," he says, "I was taking classes, thinking about law school, and playing competitively. I was trying to do too much." He ended up with a case of tennis elbow so awful, "I could barely lift my arm," he recalls. So, though he briefly joined the pro-circuit after graduation, this kind of career was simply not meant to be for Batt. And, while the pain took him off of one path, it turned him toward an entirely new direction: a life that was still filled with tennis, and a solution to the lingering pain that was the legacy of his fast-paced athletic career.
Home at Hillwood
Once he'd left pro-tennis, Batt wasn't sure of his next step. Still in town, considering law school, Batt luckily stumbled across Hillwood Country Club. "I was 23, and everyone else was 40," he says, "but they took a chance on me. I figured I'd stay there for five years." 
Now, those 'five years' began in 1983, when Batt became Hillwood's tennis pro. But, he's still going strong 30 plus years later. In fact, at the club, he's advanced from tennis pro to Director of Tennis. And his growth isn't merely personal. Batt's grown Hillwood's tennis program, and he's also grown the infrastructure, bringing a bit of his home to the club. You may not know this, but Wimbledon is the only match of the four Grand Slam tournaments to be played on a grass court. And, under Batt's direction, Hillwood installed two grass courts at the club. Now, Batt's adopted home is the only spot in the entire state—and one of just a few in the South—where you can get in a match of lawn tennis. 
Travel Times
As if injecting Wimbledon into Hillwood weren't enough, Batt has also become something of a tennis guru in town. Every year, he leads groups of Hillwood members on tennis pilgrimages. The destinations have varied, but favorite spots include Paris, for the French open and—naturally—Wimbledon, for what Batt has described to Club and Resort as a "sacred two weeks" for the sport.
So, Hillwood has been a place where Batt grew into his adult relationship with tennis. But, it was also a place that grew his legacy of athletic pain. In fact, in his early days at Hillwood, Batt slipped and fell on the tennis court, tearing a ligament in his left knee. And, combined with his earlier tennis injuries, he found a new, less welcome companion at Hillwood—chronic pain.
The Big Hurt
Over the years at Hillwood, Batt struggled with the residual pain of his earlier knee injury, creeping arthritis issues—and his weight. As the pounds added up due to his decreased ability to stay active, Batt saw both knees become a problem. And daily living-especially tennis play—became a challenge.
In an interview with Saint Thomas Health, given during the thick of his discomfort, Batt explained, "The end of the day for me is no fun. It's ice and it's pain." Eventually, the discomfort would lead him to undergo double knee replacement surgery. But before that, it helped Batt discover a new sport: pickleball. In fact, he is now a pro-level pickleball coach with the PPR. Batt says, "My knees were so painful, I couldn't play tennis. So I found a sport that looked like little tennis and a big ping pong. And it still allowed me to compete, but it took less of a toll on my body."
Even with less of a physical challenge, pickleball—and Batt's pain—was no joke. So, two years after falling for pickleball, Batt went in for double-knee replacement surgery.  And, while his procedure gave him a new lease on life, it also helped Batt discover a new way to improve his recovery. 
Road to Recovery With CBD Oil
Shortly after his procedure, Batt began exploring CBD, also known as cannabidiol, which is a naturally occurring compound found in the Cannabis Sativa plant. It produces effects in your body because it interacts with the endocannabinoid system, which, according to Stasia Woodcock, PharmD, Director of Education at the International Research Center on Cannabis and Health, is responsible for maintaining balance in your body. Specifically, she explained at a recent CBC Summit in New York City, this system interacts with your appetite, sleep patterns, and your ability to mentally and physically relax.
Given its connectivity in your body, CBD is on lots of people's radars. As Batt explained to Tanasi, "Being a former athlete, you hear things [about CBD being helpful], so you want to try things." Now, Batt is not alone in this interest—today, many professional athletes, both current and retired, are falling in love with CBD.
Onwards and Upwards
Today, Batt lives without pain. And his freedom means the tennis pro can do what he loves—on and off the court. Around town, Batt spends time with his three children, who live in East Nashville. He mourned his first wife, but met wife Anne six years ago, "on the pickleball court," he says.
At Hillwood, Batt has graduated to an Elite Professional position within the United States Professional Tennis Association (USPTA), which he has been a member for 35 years. To earn that distinction, he had to pass extensive written exams; he had to ace the Elite stroke analysis exam and the Elite-level on-court exams; not to mention earning six credits every three years in order to maintain his standing. And, because he's living pain-free, Batt is more than up to that challenge.
With his new lease on life, Batt also finds time to give back to his community, especially through his involvement with events for Tennis Nashville, a USTA non-profit making tennis programs and services open and accessible to all. In short, his days are good: personally, professionally, and communally, and due in no small part to his new relationship with Tanasi CBD.