Tanasi: The Perfect Synergy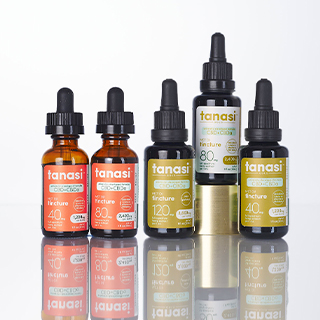 Posted on June 5th, 2023
We know that you have a choice when choosing hemp-derived products.
There are a lot of products out there today, and the list is growing when it comes to choosing hemp derived products. It can be hard to understand the differences between all your options, and even more difficult to determine which is your best choice. Our products are scientifically validated and we have studied hemp for years now, thanks to permissions granted under the 2014 Farm Bill that allowed us to do so. Even better, we formed a relationship with a university-based team of scientists. As a group, they formed 10 separate research teams, with expertise in chemistry and biology. And, using that expertise, they have discovered a whole lot about the compounds found in hemp plants. More specifically, they studied two exciting cannabinoids: CBD and CBDa. And now, allow us to introduce them to you more formally.
CBD and CBDa: the powerful duo that infuses all of Tanasi's hemp-derived products
Both cannabidiolic acid (CBDA) and cannabidiol (CBD) are compounds derived from the hemp plant. Now, these two compounds aren't the only ones you can find inside this low-THC variety of the cannabis plant. In fact, there are many cannabinoids, hundreds in fact. THC is one of these cannabinoids; you may also have heard of others such as CBG, CBN, THCV and more. All are interesting compounds that are worthy of scientific exploration. But, for now, we focus on the CBDA and CBD. Both can be extracted for use in oils, lotions, capsules, tinctures and more. So, what is the real difference?
In order to get CBD, you must begin with CBDA. Then, you must take that acidic compound through a process known as decarboxylation (a heating process). That process can happen naturally with exposure to the heat and light from the sun. But in can also happen in a lab setting, like the kind we create at Tanasi.
Still, as makers of whole-plant extracts, we hope to stay as close to nature as possible. And that is why we don't fully heat the CBDA, removing all of the acidic properties from the cannabinoid. Instead, we preserve some CBDa and combine it with CBD in a unique, patent-pending, 1:1 formulation. (More on this in a minute.) During our team's years of research, we've learned that the CBDA/CBD combination has a synergistic effect that sets our products apart from other CBD products. (To quantify that difference, we've learned the CBD + CBDa combo is abut 2.7 times more effective. BUt we just say 2X, to keep things simple and straightforward. But whichever number you look at, we think the superiority of this combination is something you should consider when choosing your CBD product.)
Tanasi Patent-Pending, University Developed Hemp Derived Formula
Our products' 1:1 cannabinoid formula was University developed in 2017.  We've created a wide-ranging product line that includes everything from salves and lotions to anti-aging beauty products, muscle relief rubs, tinctures and more. While delivery methods and doses vary across our products, one thing remains constant: each delivers an equal ratio of CBDA and CBD in every dose, via that 1:1 formula we can't stop talking about. And that's because, as we've hinted at already, our scientists made an important discovery: CBD and CBDA work better together than alone. We've even affirmed that discovery with bioassay studies (using living organisms to test for the presence of a compound).
But our CBDA/CBD ratio isn't all that sets our products apart when choosing CBD products. We understand that people need to know exactly what is going on or going into their bodies.  That is why we print our labels with details, numbers, and Supplement Facts, and we list all the ingredients we include, whether or not they come from hemp. (As an aside, we work really hard to minimize the number of ingredients on the list. So that you get plant-based goodness without too many distractions.)
Also, we want to provide transparency into the full contents of our products which should help you in choosing CBD products. And some of the contents in our products include:
Terpenes, organic compounds found in all plants that delivers flavor and smell
Omega oil, a natural source of DHA and EPA
MCT (medium-chain triglyceride) oil, an easily-digested oil
We stand by our products, and have a satisfaction guarantee showing how strongly we believe in what we share with you.  We hope you enjoy Tanasi products like we do. But if you don't? Simply let us know within 30 days of your purchase. Regardless of your reasons, we will refund your purchase, and hopefully help you find a different Tanasi product that better meets your needs!