Do you want to know if CBD is Legal In Indiana? Well, the answer is, yes! Hemp-derived CBD has been legal in Indiana since March 2018. Indiana residents can enjoy legal access to CBD products so long as they are derived from hemp plants that contain no more than 0.3% THC. 
In case you're wondering, the cultivation of hemp for research purposes was legalized in Indiana in 2014, under the Industrial Hemp Act. After the passing of the federal 2018 Farm Bill, Indiana lawmakers started developing regulations to operate and license commercial hemp processors and growing operations based in Indiana. 
It's important to note that Indiana doesn't have a medical marijuana program, meaning the adult use of cannabis is currently illegal. This means that CBD obtained from cannabis is also illegal in Indiana. 
The current law allows any resident to buy, possess, and sell CBD products so long as they contain no more than 0.3% THC, by weight. As you may already know, THC is the psychoactive cannabinoid found in the cannabis plant. It's the compound responsible for creating the "high" feeling that is often associated with recreational cannabis use. 
Indiana laws are quite strict when it comes to THC. In fact, it requires that CBD manufacturers test each batch of their products to ensure that the end product contains less than 0.3% THC.
Current Indiana Laws Regarding CBD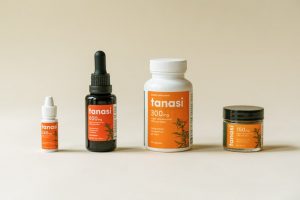 Historically, Indiana has always maintained an anti-cannabis stance. Several bills, such as SB 284 and HB 1487, tried to create a medical marijuana program in the state, but none have made it to the governor's desk. 
Following the 2014 Farm Bill, Governor Mike Pence signed the Industrial Hemp Act (IC 15-15-13) into law, sanctioning the Office of the Indiana State Chemist and Seed Commissioner to give farmers licenses to cultivate industrial hemp for research purposes. However, this legislation didn't give consumers legal access to CBD and hemp products. 
In 2017, Gov. Eric Holcomb signed HB 1148 into law, legalizing the use of CBD oil containing less than 0.3% CBD. This law was meant for eligible patients, particularly those diagnosed with uncontrollable seizures, as well as those with symptoms that proved resistant to conventional therapies. However, the law didn't specify a way for patients to access these products. 
Before the use of CBD oil was legalized in Indiana, consumers were confused as politicians struggled to confirm the cannabinoid's legal status. HB 1148's ambiguity necessitated a new law that would broaden access to CBD and clarify regulations regarding its sale. Fortunately, they found an agreeable solution,  and CBD was fully legalized on March 21, 2018, allowing the sale and use of CBD containing less than 0.3% THC. 
That same year, President Donald Trump signed a farm bill that paved the way for farmers to legally grow and cultivate hemp for different purposes, including the extraction of CBD. But let's get back to Indiana. 
The new 2018 state law specified that CBD products could only be sold and distributed in Indiana if they were batch tested by an independent laboratory. CBD packaging also has to be well labeled with a QR code or information outlining the product name, name of manufacturer, ingredients, expiration date, batch date, batch number, the total size of the batch, the quantity of cannabis extract per product, a statement to confirm the product contains 0.3% THC or less, and a scannable link to certify the analysis for THC content (by weight). 
Following the passing of the federal 2018 Farm Bill, lawmakers quickly drafted and passed SB 516 into law. This further aligned the terminology with that of the federal government and banned smokable CBD flowers. Still, there are no rules in Indiana that ban the use of CBD in beverages, food, or cosmetics. 
Requirements for Licensing
SB 516 was established to provide the Indiana Seed Commissioner advice on fees, licensing, testing, labeling, and research requirements for hemp. Hemp farms are currently operating in accordance with the regulations outlined by the 2014 Industrial Hemp Act.  
Only individuals who have a license from the Indiana State Chemist and Seed Commissioner are allowed to legally grow industrial hemp crops or process hemp products. The yields from those who grow without licenses are defined as marijuana, and the violators might be prosecuted. Cannabis cultivation without a license is punishable by fines and incarceration. 
The commissioner's office is currently drafting new rules to revise the Indiana Hemp Statute and has specified that it might have regulations in place this year. However, until the new regulations are adopted, licenses are issued under the Industrial Hemp Act regulations. The General growers' licenses will be made available in 2020. 
If you intend to apply for that license, you must include the GPS coordinates of the property on which you wish to grow hemp, a written consent for a background check and a signed statement showing that you haven't been convicted of a drug-related misdemeanor or felony in the last 10 years. You must also pay the applicable fee. 
Indiana Limits on CBD Possession
There are currently no possession limits for hemp-based CBD in Indiana. However, as mentioned earlier, the possession of CBD obtained from cannabis or CBD exceeding the legal amount of THC (0.3%) is illegal. 
Based on the current laws, the first possession offense is considered a misdemeanor, punishable by up to 180 days of incarceration, and a fine of $1,000. People who have been previously convicted for a drug offense and are found to be in possession of up to 1.06 ounces (30 grams) of illegal CBD might be charged with a class A misdemeanor, and punished with a fine of up to $5,000 and a one-year imprisonment. 
Possessing more than 1.06 ounces (30 grams) with prior or subsequent offenses is considered a class D felony, which might result in between 2.5 years imprisonment and a fine not exceeding $10,000. 
Where to Buy CBD in Indiana?
There are no restrictions on the sale of CBD in Indiana, so long as the product has met the labeling requirements. You can purchase CBD oil in local retailers and pharmacies. And, for maximum convenience, you can also buy CBD online. 
No matter where you're buying, you should take time to really get to know the brand. Reputable brands will give you the essential product details, including the form of CBD (e.g. full-spectrum, broad-spectrum or isolate) the ingredients present in the product, the quantity of CBD contained in the product, and more. Just remember: all those details should be confirmed by third-party testing. 
Things to Keep in Mind When Buying CBD in Indiana
Indiana has zero-tolerance for THC and its metabolites. As such, you can get in trouble for having THC in your body. You should be extra careful when purchasing CBD, to avoid crossing the legal threshold for THC. Here is what to keep in mind when buying CBD:
Ensure that your product contains less than 0.3% THC

The best CBD products are extracted via CO2 methods

Work with brands that undergo third-party testing. The results should easily be accessible on their website

Choose a brand with clear policies about shipping and returns
One of the most important things you can do when buying CBD products is research. Be sure to visit the website of each brand you're considering and see how transparent they are about THC content and the results of their independent lab tests. It's also wise to read reviews from previous customers. 
As a rule of thumb, a good brand should be clear about the ingredients in their product and the recommended dosage. 
Final Thoughts on CBD in Indiana
In Indiana, it's legal to buy, sell, and use CBD products. However, you must ensure that every CBD product you buy, whether online or from a retail store, contains below 0.3% THC and that it has a valid lab-tested label (from a third-party lab), with easily-accessible results. 
While CBD is legal in Indiana, it doesn't mean that each product you buy in the state will stay true to its marketing claims. There are still many brands out there that mislead customers just to make more sales. In case a retailer is selling products that are labeled fraudulently, they can have their license revoked and get additional penalties. 
On a similar note, if an Indiana retailer hides the fact that they sell marijuana alongside CBD products, they risk facing level 5 felony charges, which would mean penalties of up to $5,000 in fines and up to six years in prison. 
With this in mind, you should be stricter with your selection process. Make sure that you do your due diligence and familiarize yourself with a reputable CBD brand. Try to find out what extraction process they use for their products, and where their hemp plants are sourced. This should help you transition smoothly into a new CBD routine.