Why We Love Full Spectrum CBD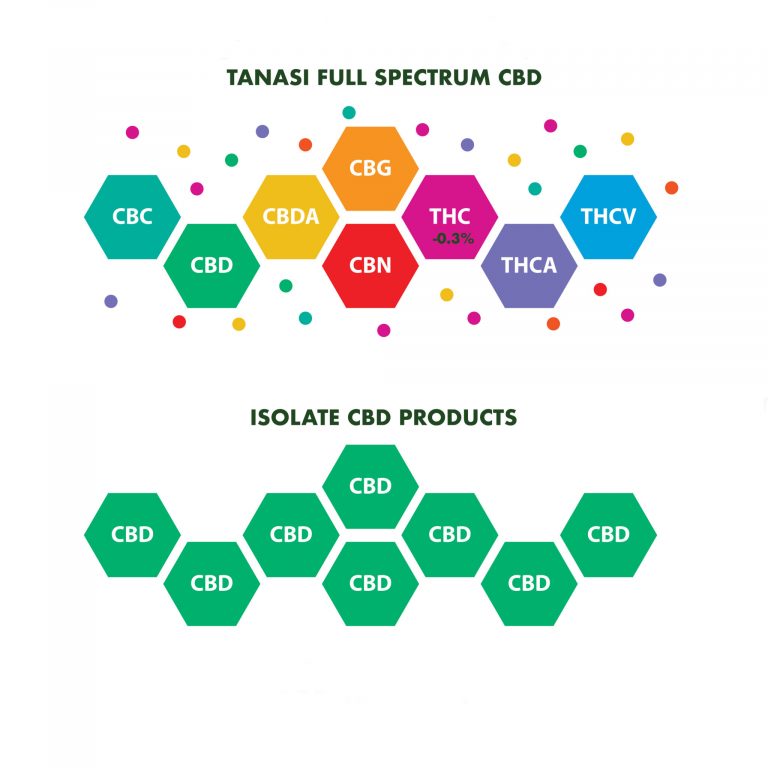 Posted on February 11th, 2020
There are so many ways to get your daily doses of Tanasi CBD: Rubs, oils, capsules, drops. All our products are full spectrum patent-pending university developed formula of CBDA/CBD. 
You may be wondering, what's full spectrum CBD? It's simple. Our Tanasi products contain the (cannabidiol) "CBD" cannabinoid, plus all the other naturally occurring cannabinoids found in the hemp plant from that batch — and there's a bunch of them!
But what does that really mean for you? All those cannabinoids work together to produce a more dramatic effect when you consume full spectrum CBD. If you use isolate CBD, the opposite of full-spectrum — it's just that — isolated. It's CBD all by itself (99%), no help from any other fabulous cannabinoids. 
So, let's take a closer look at a few other cannabinoids.
CBD and CBDA
Of course, our CBD products contain CBD, which is the hemp plant's most abundant compound. But what makes Tanasi CBD products so unique is that we produce our master formula with a 1:1 ratio of CBD and CBDA. When combined, Cannabidiolic-Acid (CBDA) and Cannabidiol (CBD) produce its own benefits. Our university-developed, researched formula shows that the two cannabinoids are better than when taken on their own — even in a full spectrum profile.  So our scientific team developed a proprietary, optimal blend of the two (CBD/CBDA), which goes into every single Tanasi hemp-derived CBD product.
THCA
For so many years, CBD was banned from use in the United States because of its close association with marijuana and THC, the compound in the marijuana plant that delivers a mind-altering state. Now, our CBD contains tiny traces, per federal guidelines, of THC, which means it stays below the legal CBD threshold of 0.3% THC content. A Full-spectrum extract also contains small amounts of THCA, the raw, acidic cannabinoid. Now, much like CBDA, many experts say THCA has potential benefits for human health and wellness. And that's why we keep it in our full spectrum hemp extract products.
Additional Cannabinoids
After those big-name ingredients, there are some other compounds in our hemp extract that deserve to be highlighted. Like CBG (Cannabigerol), for example, which, when broken down, gives birth to THCA or CBDA. Closest to nature, CBG delivers independent benefits while also maximizing the impact of other cannabinoids. Such as Cannabinol (CBN), which you can read in various scientific publications, like NIH.gov, is associated with helping users feel relaxed. All without any psychoactive properties, which makes our oil safe, effective and legal wherever CBD use is permitted.
Terpenes
In addition to cannabinoids, our CBD products contain hemp-derived terpenes. These are the flavonoid compounds found in the cannabis sativa L. plant. Terpenes are found in all plants, it's the smell and taste. The hemp extracted terpenes are responsible for delivering the unique and natural scent found in our Tanasi hemp extract products. But research suggests that terpenes carry their own benefits. 
In fact, according to Dr. Wolfgang Dostmann, a professor of pharmacology at University of Vermont's Larner College of Medicine, terpenes actively work to maximize the effect of cannabinoids on your body. It is said when terpenoids and cannabinoids interact, they produce an "entourage effect" in your body, which means each element amplifies the therapeutic effects of every other compound. Many experts believe, even on their own, terpenes have amazing benefits.
So, now you've met the all-stars that build our hemp-derived CBD products, and you know why we're so proud of our incredible lineup. All that's left to do is try them out for yourself!