Is CBD Legal in Alabama?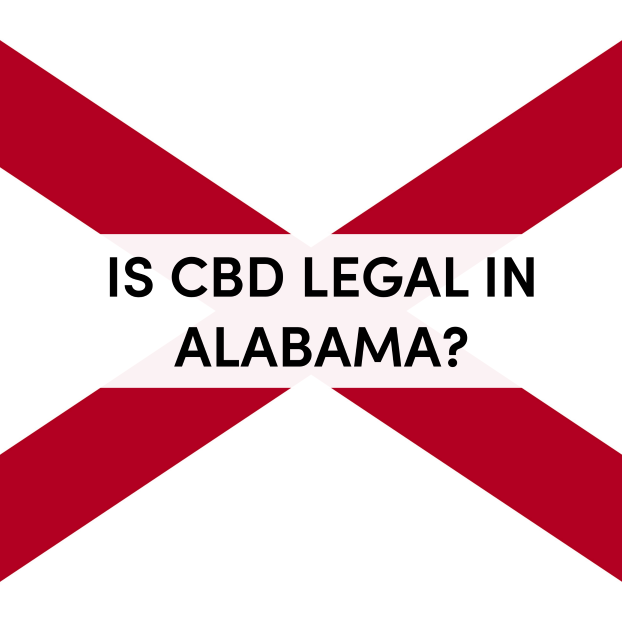 Posted on December 27th, 2020
For Alabamans who have treatable conditions that CBD could help them manage better, getting a prescription for it is something they look forward to. Now, they often wonder if purchasing CBD oil from a vendor nearby is something that has little risk of getting in trouble with the law. To these residents, the question of "Is CBD legal in Alabama?" pops in their heads constantly – and the answer is "yes". However, there are a lot of nuances to the laws governing hemp-based CBD and its consumption in the state of Alabama. While Alabama is one of the most CBD-friendly states, there is a lot to learn about its CBD laws and regulations. Herein we will dive into CBD's legality in Alabama, covering everything you need to know and understand.
Is CBD Legal in Alabama – Understanding CBD
Cannabidiol, better known as CBD, is a non-intoxicating compound found in all cannabis plants. Unlike its cousin tetrahydrocannabinol (THC), CBD does not cause an altered state of mind. On the contrary, the compound might have many therapeutic effects. Anti-inflammatory, analgesic, anti-anxiety, and even seizure-suppressing are among the most reported. While marijuana and hemp plants contain the compound, hemp plants have a higher concentration. Thus, making them the best CBD source. That is the reason why people colloquially use the term hemp oil as a synonym for CBD oil.
With states increasingly relaxing the laws governing them, CBD products are increasingly becoming more and more available. Such products include full-spectrum CBD oils, pure CBD oil, tinctures, CBD gummies, CBD ointments, CBD infused water, and much more.
What Makes CBD Illegal in Some Instances
While industrial hemp, the primary source of mass-market CBD, does not produce a high concentration of THC, hemp still has a little THC. Consequently, the plant was at one point in the Schedule 1 narcotics list thanks to the 1970 Federal Controlled Substances Act.
This law classified all cannabis plants under one category and also defined the plants as having no accepted medical value but a high potential for abuse and addiction. As such, all compounds produced by cannabis plants, including CBD, became illegal substances. This, regardless of their health benefits and the fact that it does not cause intoxication. The Farm Bill passed by Congress in 2018 rescheduled CBD from the same classification as marijuana.
Past CBD Laws Before The 2018 Farm Bill
The road to CBD legalization has been long. The first legal effort to avail CBD to the masses was the 2014 Carly's Law (officially known as SB174). This law permitted Alabamans with epilepsy to access CBD as recommended by doctors to treat the condition. It is important to note that patients did not access CBD as a prescription. The term "prescription" is a federal term that only applies when a substance has federal level approval, which it did not yet achieve.
The 2016 Leni's Law (officially known as HB 61) expanded CBD access. It approved additional seizure-inducing conditions to access medical CBD through Epidiolex, a product containing CBD.
In the same year, the Alabama State Legislature passed the Alabama Industrial Hemp Research Program Act, 2016. This act gave the Alabama Department of Agriculture and Industries (ADAI) the powers to create an inspection program. It also afforded them the right to provide industrial hemp production licenses for cultivation and processing. In 2018, ADAI completed the development of the industrial hemp regulatory program, which stipulated procedures for getting licenses. ADAI finalized the regulatory guidelines just before the 2018 Farm Bill became law.
So, Is CBD Legal in Alabama Today?
There were efforts at the state level to give patients with certain conditions the right to use CBD as a treatment option. However, the 2018 Farm Bill passed by Congress underpins the legality of this compound in Alabama, just like many other states. Before Congress passed the Farm Bill, Alabama had a small, tightly controlled medicinal marijuana program. The Farm Bill legalized hemp farming while defining and differentiating between hemp and marijuana.
Under the Farm Bill, hemp is a cannabis plant that contains less than 0.3% THC of overall weight. Conversely, marijuana is any cannabis plant that has more than 0.3% THC by weight. This law made hemp-derived CBD legal while leaving marijuana-derived CBD as a Schedule 1 substance. As such, hemp became a legal agricultural commodity, while marijuana is still illegal.
The Farm Bill also empowered the Food and Drug Administration (FDA) to regulate CBD's therapeutic claims, CBD labeling, and use in foods and drinks. With these powers, the FDA released a directive prohibiting CBD's inclusion in foods and beverages. They also restrict the marketing of CBD products as a dietary supplement. In line with the FDA's history of being strict against making unproven health claims, they warned manufacturers against them.
By the end of 2019, there are over 2,000 acres of industrial hemp already planted. Moreover, ADAI has licensed over 180 farmers to farm industrial hemp. Also, the 2019 SB 225 legalized the sale of CBD products in pharmacies across Alabama. Additionally, SB 225 rescheduled and redefined CBD products, aligning state regulations with federal laws.
Growers Licensing Requirements
Farmers growing industrial hemp do so under the ADAI's licensure. To participate in the Alabama Industrial Hemp Research Program, farmers must pay a $200 application fee. Plus, an annual $1,000 application fee after they get approval. Additionally, applicants must submit to the ADAI some reports, including criminal background checks.
Failure to submit any reports, submitting falsified reports, growing hemp with a THC concentration above the legal limit, or failing to pay the annual fee will violate ADAI regulation. Transgressors are subject to civil penalties up to $500 and other disciplinary sanctions, including revocation.
It is important to note that growing hemp with a THC level above the legal limit exposes farmers to all of the laws and regulations governing marijuana. To this end, farmers whose hemp tests to have THC above 0.3% risk a jail sentence of 2 years to life. Additionally, the farmer faces a fine of up to $60,000.
There is no regulation on posting the test results. However, the ADLA has the legal right to demand sample lab testing at any time for any reason. The grower is responsible for the lab testing fees, which can cost as much as $200 per sample.
CBD Processor Regulations
CBD processors operate under similar regulations to CBD growers. Individuals or companies operating as processors require submitting a myriad of material. These include criminal background checks with the ADAI during the license application process and annually. Additionally, the applicants must pay a $200 application fee. Plus, an annual $1,000 license when approved to participate in the Alabama Industrial Hemp Research Program.
Like growers, the law prohibits processors from processing marijuana-based CBD. As such, processors can only process cannabis plants with THC content at 0.3% weight. Processing cannabis plants with a higher THC concentration are grounds for facing civil penalties. These can amount to $500, and you could also face disciplinary sanctions such as the revocation of your license.
Processing hemp plants with THC concentration exceeding 0.3% exposes a manufacturer to regulations regarding marijuana cultivation, possession, sale, and processing. Therefore, a processor could face a jail sentence of at least two years to life or a fine not exceeding $60,000.
CBD Sale Regulations
Individuals and companies engaging in industrial hemp cultivation and process require a license. However, individuals and companies selling CBD do not require any license. ADAI's regulations and licenses cover the industrial cultivation of the plant and its processing.
However, it is essential to note that you can only sell hemp flower products that meet the THC limits. Selling any hemp product with THC levels over the legal limits is a felony offense that carries severe punishment. Depending on the extent of the crime, you face a fine of up to $30,000 and a prison sentence from 2 years to 20 years.
CBD Possession and Consumption Regulation in Alabama
Possessing and smoking CBD in Alabama is legal as long as it contains 0.3% or less THC. However, the possession and consumption of hemp oil with THC exceeding the 0.3% limit is a misdemeanor offense. When found guilty, you will get fined $6,000 and serve a jail term not exceeding one year.
Is CBD Legal in Alabama For Small-Scale Users?
No laws permit the home cultivation of hemp in Alabama. As mentioned above, to cultivate hemp, you need to possess the necessary licenses from ADAI. Cultivating hemp under any other circumstance is simply illegal. Equally, it is unlawful to possess, grow, or process any hemp plants or seeds without a license from ADAI.
How and Where to Buy CBD Oil in Alabama
Alabamans can purchase their hemp oil or CBD products from a brick-and-mortar shop such as pharmacies. The signing of SB 225 legalized physical stores across the state of Alabama to sell hemp-derived CBD oil that meets regulations. Additionally, you can purchase your CBD from online vendors.
In fact, choosing an online vendor is a much better option for Alabamans to access a wider variety of excellent quality products. Choosing to purchase products online is also better for your pocket as you stand to get a better deal, especially since you can search for a high-quality vendor.