In What States Is CBD Legal?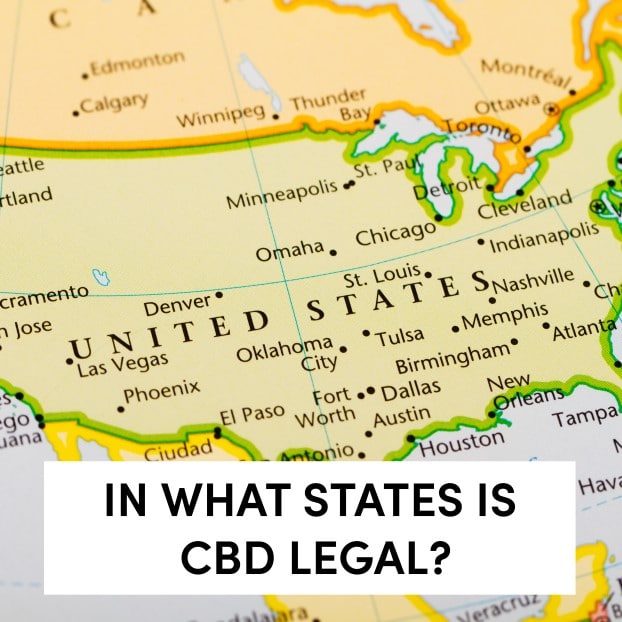 Posted on April 16th, 2021
The potential benefits of CBD are undoubtedly many, but its legality within the US remained unclear for years. Thus, leading many to hesitate in consuming it and others to unknowingly get in trouble for doing so. Manufacturers can derive CBD from all the variations of cannabis that feature the compound within its chemical composition. However, the matter of if the legality of the specific variation from which it's derived ultimately might influence if the CBD itself is legal or not. That is one of the main, if not the single, reasons why CBD might not be legal in some states today.
Since CBD is such a popular commodity these days, it's only natural for consumers and would-be consumers to want to know in what states is CBD legal. While laws are continually changing, it is important to note that there are states which criminalize the growth of some cannabis plants. Thus, depending on which variety of cannabis the CBD derives from, CBD could possibly be illegal in those states. If you look for the answers to the "in what states is CBD legal?" question, read on to find out more.
What Is CBD?
By now, cannabis enthusiasts probably are very familiar with some of the chemical components that make up the plant. Among the most abundant compounds are cannabinoids, which are naturally occurring compounds within the cannabis sativa plant. There are about a hundred different cannabinoids inside cannabis sativa, and are the reason the plant has its signature effects.
THC, which is short for Tetrahydrocannabinol, is the most abundant cannabinoid in most the marijuana variety of cannabis. It is the main psychoactive compound present in cannabis and is therefore responsible for the euphoria associated with the use of marijuana.
Cannabidiol (CBD) is also another cannabinoid present in the cannabis plant but usually in lower amounts than THC. However, the main source of CBD is the hemp variety of cannabis which is high in CBD and very low in THC. This is important due to the fact that for most CBD products to be legal for sale, they must have 0.3% or lower THC content. While manufacturers can pretty well extract this cannabinoid from the marijuana plant, hemp is preferable since it already has low THC
Unlike THC, CBD does not have psychoactive properties and, therefore, does not get the user "high." In fact, CBD might lessen the effects of THC if sufficiently taken beforehand on top of having its own therapeutic effects. Particularly, CBD has anti-inflammation and anti-anxiety properties that could help alleviate pain, depression, and other conditions like acne.
What Is CBD Oil?
CBD oil is by far the most common CBD product in the market today. Unlike the case of THC from marijuana, you can get only very little CBD from consuming the various parts of the cannabis or hemp plant raw. Thus, this cannabinoid undergoes extracting to later be made into various forms, including CBD oil. So, why make CBD into an oil?
CBD is fat-soluble cannabinoids. Manufacturers can extract them from plant materials like buds, leaves, and stems by having them undergo supercritical CO2 or solvent extraction. After putting the hemp plant material through the process, what remains left behind is the cannabinoid.
As the last step, they combine it with a carrier oil. The advantage of CBD being an oil is that it allows you to use it in various ways, like sublingually, vaping, and even taken together with drinks.
Where Does CBD Come From?
Like the other cannabinoids present in cannabis, CBD occurs naturally in the plant. Particularly, CBD and other cannabinoids synthesize in the resin glands of cannabis and store in leaves, buds, and stems. There are other compounds in the plant that are not cannabinoids but are still useful for CBD products like terpenes and flavonoids.
Interestingly, CBD and most cannabinoids will occur in an inert acidic form in the plant until exposed to heat. Particularly, CBD begins as CBDA, which is short for cannabidiolic acid. Therefore, CBD only forms after heating the plant materials, a process called decarboxylation.
What Is Hemp Exactly?
Hemp, also called industrial hemp, is a variety of the cannabis sativa L that falls into the family Cannabaceae. Over the years, hemp saw cultivation for its fiber and edible seeds. However, something that separates the hemp plant from the rest of the cannabis family is that it has only negligible amounts of THC. Thus, it does not share the psychotropic effects of cannabis sativa.
Hemp also has a host of other uses as its various parts of the plant have several applications. The plant's stems provide fiber useful for making textiles, paper, rope, and even building materials. Hemp seeds are rich in oil and proteins, while oils from the leaves and buds make hemp smokable.
Most people confuse hemp and marijuana, and there has always been a question of whether hemp products contain THC. For instance, It is true that hemp contains a range of cannabinoids, including THC. However, this cannabinoid occurs only in trace amounts which are not enough to create the intoxicating effect. Conversely, the hemp plant is capable of producing CBD in high concentrations. Thus, it's no wonder that hemp-derived CBD is the staple form of the cannabinoid on the market.
What Is Marijuana?
Marijuana goes by a couple of aliases, including weed, pot, dope, herb, grass, ganja, bud, Mary Jane, and many other slang names. It is basically the dried leaves, buds, stems, and seeds of the Cannabis sativa or Cannabis indica plant. Marijuana contains high amounts of THC, and many users only use marijuana for its psychotropic effects.
People mostly smoke marijuana in joints, blunts, or bongs (water pipes) although some users also prefer to vaporize marijuana to avoid inhaling smoke. Marijuana is also to make edibles like cookies, brownies, candy and can also be brewed as a tea.
How Is Hemp Different from Marijuana?
While the hemp plant and cannabis plant are in the same family, these plants are different in their uses and how the law categorizes them. In terms of their use, people will have a hard time getting high from hemp. While the leaves and buds of the hemp plant are smokable, one doesn't get a psychoactive high due to the negligible amounts of THC in the plant.
Legally, what makes the hemp plant and marijuana different is that the hemp plant contains 0.3% or less THC. Meanwhile, marijuana will have at least an 18% of THC. Some states allow the growth and use of hemp products. On the other hand, many states still don't allow marijuana, and some of those still make no distinction between it and hemp, banning both.
Can You Get High from CBD Oil?
There may be different types of CBD oil on the market, but you won't get high from any of them. While some oils will contain THC and other cannabinoids, they are usually present in small amounts and not enough to get you high. The most common types of CBD oil include:
Broad-spectrum CBD oil: This type of CBD oil will contain no THC, but other cannabinoids and compounds like terpenes will be present in the oil.
Full-spectrum CBD oil: This is a CBD oil extracted from the cannabis or hemp plant and will contain various cannabinoids, including THC and other compounds.
Is CBD Completely Legal?
Generally speaking, CBD is not legal in all 50 states. Its legality varies from state to state, with one of the main determining factors being whether it derives from hemp or marijuana. Although the legality of CBD might be somewhat unclear, a good way to clarify is by talking researching the legality of hemp and marijuana.
Due to the high levels of THC in marijuana, the Controlled Substances Act of 1970 made the use and possession of marijuana federally illegal. However, the legalization of marijuana made some states allow its growth and use.
Hemp became federally legal through the 2018 Farm Bill. Thus, products derived from hemp, including CBD, therefore became completely legal. Notwithstanding, due to the remaining ban of all cannabis in some states, it follows that the manufacture and use of CBD remain illegal in such states.
In What States Is CBD Oil Legal to Buy?
The legality of CBD in most states will depend on its uses. Some states allow its use for therapeutic. Meanwhile, some will also allow for therapeutic and recreational purposes. Generally, it is legal to buy CBD oil in the following states:
Alaska
Alabama
Arizona
Arkansas
California
Colorado
Delaware
Florida
Georgia
Hawaii
Illinois
Indiana
Iowa
Kansas
Kentucky
Louisiana
Maine
Maryland
Massachusetts
Michigan
Minnesota
Mississippi
Missouri
New Hampshire
Montana
Nevada
New Jersey
New Mexico
North Carolina
North Dakota
New York
Ohio
Oklahoma
Oregon
Pennsylvania
Rhode Island
South Carolina
Tennessee
Texas
Utah
Virginia
Washington
West Virginia
West Virginia
Wisconsin
Wyoming
In What States Is CBD Oil Legal to Manufacture?
The 2018 Farm Bill made hemp federally legal. However, some states are still taking steps to legalize the growth of the hemp plant and the manufacture of hemp-derived CBD. The following is the list of states that allow the growth of hemp and the manufacture of CBD oil as of April 2021. Hopefully, this will further help in providing an answer to the "what states is CBD legal" question:
Alabama
Alaska
Arizona
Arkansas
California
Colorado
Connecticut
Delaware
Florida
Georgia
Hawaii
Illinois
Indiana
Iowa
Kansas
Kentucky
Louisiana
Maine
Maryland
Massachusetts
Michigan
Minnesota
Missouri
Montana
New Mexico
Nebraska
New Hampshire
Nevada
New Jersey
North Carolina
North Dakota
New York
Ohio
Oklahoma
Oregon
Pennsylvania
Rhode Island
South Carolina
South Dakota
Tennessee
Texas
Utah
Vermont
Virginia
Washington
West Virginia
Wisconsin
Wyoming
In What States Is CBD Legal? – The Takeaway
The 2018 Farm Bill legalized the growth of hemp, and the recent calls to legalize marijuana is set to define the full legality of CBD in the future. Currently, states like Idaho still criminalize the growth of both hemp and marijuana, meaning that the use of CBD is also illegal. If you have doubts on the "what states is CBD legal" topic, it is important that you read your state's specific laws to find out more.