How Using Hemp Seed Oil for Skin Can Give You A Natural Glow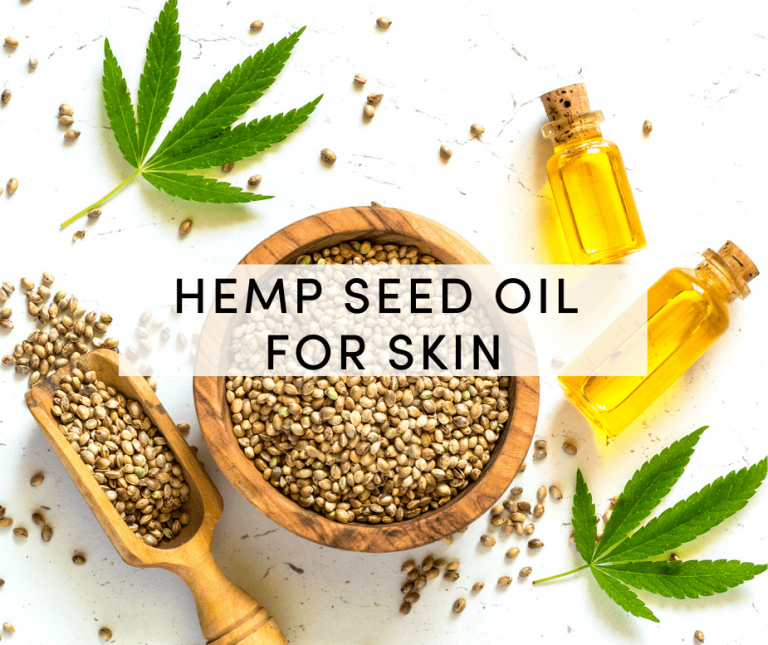 Posted on February 18th, 2021
Most people don't know as much as they should about hemp seed nutrition. Many wonder if the seeds contain cannabinoids, such as CBD. Studies prove that hemp seeds don't induce any psychotropic effects. Instead, they might offer significant health advantages because of the essential amino acids and fatty acids available in the seeds. Oil and skin don't usually go well together, but using hemp seed oil for skin can actually have some benefits.
Hemp is basically a variety of the cannabis plant with a long usage history in the U.S. Since the 50s, it has been lumped into a similar category with cannabis since it consists of small quantities of naturally existing THC. As a result, its application has been marginalized to a huge extent. 
However, when ingesting hemp seeds, the cannabinoids are not present. Cannabinoids such as THC and CBD are found in the plant's flowers and leaves but not in the seeds. This superfood is mostly used for its omega-3 & omega-6 fatty acids, as well as its antioxidant effects. 
Hemp Seeds
Each section of the hemp plant provides various compounds, and the hemp seeds are no different. As the market continues to grow, there is plenty of confusion when it comes to the many hemp parts and their uses. There are hemp seeds, hemp extracts, hemp seed oil, CBD oils, and much more. 
Generally speaking, hemp is one of the most diverse industrial crops worldwide. It's used for industrial applications because of its durable natural fibers. Hemp seed oil comes from pressing hemp seeds. 
Hemp seeds are a great source of nutrients, particularly essential amino acids, and unsaturated fatty acids. Studies prove that the advantages of hemp seeds include their ability to ameliorate gastrointestinal diseases, improve dermatological issues, support cardiovascular health, and alleviate constipation.
Hemp Seed Oil for Skin
Hemp seed oil is known to refresh, revive, and improve the skin because of its emollience. It's reputed to balance the complexion when it comes to toning qualities that boost the clearing of conditions- for example, eczema and acne. As a result, this enhances skin texture and overall appearance.
Hemp seed oil is rich in antioxidants, minerals, and vitamins and is known to help preserve skin's brightness and clarity to allow a radiant complexion that feels and appears rejuvenated. Primarily, hemp seed oil functions to balance skin oil production while alleviating inflammation and preventing harmful environmental pollutants. 
It is commonly added to conditioners or natural shampoos for added protective effect. It can condition your scalp and hair to naturally alleviate inflammation and improve growth, luster, health, and overall strength of the hair.
Hemp seed oil contains a composition similar to that of skin lipids. Hence, it's a great hydrator that improves parched and dull nails and skin. It also promotes the regeneration of the skin's protective barrier. 
Furthermore, hemp seed oil can relieve skin conditions such as psoriasis, eczema, acne, and abrasions. By improving skin elasticity, hemp seed oil offers tightening and firming activity. By enhancing the skin's ability to retain water, its long-lasting hydration also contributes to softness, suppleness, and plumpness. As a result, this diminishes the appearance of fine lines and wrinkles. Being light in terms of consistency, using hemp seed oil for skin allows quick absorption into your skin without clogging the skin pores. Because of this, it's a reparative moisturizer for dry and blemished skin and an excellent ingredient when it comes to natural massage blends. 
How to Use It
In topical and cosmetic applications, you can use hemp seed oil by itself as a moisturizer. Alternatively, you can combine it with essential oils for increased effectiveness. 
If you're looking for a gentle facial moisturizer that's good for application beneath your eyes, you just need to dab a drop beneath your eyes and on your eyelids. It can be applied throughout your face rather than synthetic creams that mainly work to reduce under-eye bags, puffiness, and wrinkles. 
Another useful application of hemp seed oil for skin is as a makeup remover. Simply dip a soft and clean cloth into one tablespoon of hemp seed oil, then slowly pat it on and apply it on the skin areas with makeup – such as the eye area. (the oil shouldn't get into your eyes!) Once you rinse off the oil, you can apply a toner and pat your skin dry. The great thing about using hemp seed oil is that it won't dry your skin out like many other makeup removers will.
As a fragrant and skin-conditioning body lotion, you can disinfect your skin while improving circulation. You can simply apply the lotion to your whole body after a shower or a bath while your pores are a bit more receptive to hydration. The hemp seed oil can not only remove harmful fungi and bacteria but also stimulate circulation and, ultimately, allow a refreshed appearance with a firm, smooth, and refined finish.
D.I.Y. Body Butter
You could also make a hemp seed body butter by melting 60 ml/gram of several ingredients in a pot. These ingredients include jojoba oil, hemp seed oil, avocado oil, coconut oil, shea butter, palm kernel oil, beeswax pellets, and cocoa butter. Once all the ingredients have melted together, you can add 50-75 drops of any preferred essential oils to the blend. Pour this mixture into a separate glass jar while it's still in its liquid state. After the mixture solidifies, you can apply it to the body just like a body lotion. 
Chemical Composition of Hemp Seeds
A 30 gram serving of raw hemp seeds consists of: calories (1.66 grams), fat (14.6 grams), protein (9.47 grams), fiber (1.2 grams), carbohydrates (2.6 grams), and sugar (0.45 grams). Furthermore, hemp seeds are an excellent source of zinc, B-vitamins, magnesium, manganese, vitamin E, and iron. 
Generally, hemp seeds consist of large amounts of omega-3 & omega-6 essential fatty acids. Research shows that the best ratio for the fatty acids in these seeds is 3:1. That ratio enables fatty acids to regulate your metabolism, immune system function, and facilitate healthy cholesterol levels. 
Hemp seed oil won't make you test positive when it comes to a drug-screening test. Typically, hemp seed oil is lab-tested for its actual THC levels. Each oil test usually shows low amounts, below 10 PPM; therefore, making them legal and mostly undetectable. 
Nutrition of Hemp Seed Oil for Skin
Hemp seed oil is basically a deep green oil created by pressing the seeds from hemp plants. These strains contain natural trace amounts of cannabinoids, which are substances that primarily interact with your endocannabinoid receptors. Raw hemp seeds are used when making food supplements, and the oil is typically cold-pressed.
Hemp seed oil is a healthy and nutritionally-balanced oil. Its primary constituents include linoleic acid, oleic acid, alpha-linoleic acid, stearic acid, and palmitic acid. Hemp seed oil also offers the optimum balance of omega-6 & omega-3 fatty acids. With only one tablespoon, you can get your daily dose of essential fatty acids.
Legality of Hemp Seed Oil for Skin
The Farm Bill of 2018 legalized industrial hemp in the U.S. Although this makes hemp products federally legal, there are still some confusing aspects of certain state laws. Tanasi's blog has detailed breakdowns of each US state's laws available to double check your state.
There has been an increase in cannabis products on the market, such as beauty products. Although CBD is a new ingredient to most users, hemp seed oil has been around for years. You can buy it at health food stores and even for cooking applications. And of course, you can use hemp seed oil for skin care. 
Hemp seed oil is well-known for having anti-inflammatory properties, not clogging pores, and offering excellent moisturization to keep your skin feeling and looking supple. You can simply use it as face oil or add it to your favorite product. Thankfully, since hemp is now federally legal, using hemp seed oil for skin doesn't have to make anyone worried about legal issues.
Hemp Seed Oil for Skin: Conclusion
Hemp seed oil consists of a wide range of phytochemicals useful for skin health and overall human health. Skin conditions that might benefit from hemp seed oil include dermatitis, psoriasis, and eczema. 
Hemp seed oil might also be beneficial in the treatment of acne scarring and anti-skin aging. Before buying or using hemp seed oil, it would be prudent to ensure it's a pure and high-quality product. Patients with chronic skin conditions should speak to a health specialist about using hemp seed oil to manage or treat their particular condition.