A CBD Tincture Recipe For You To Make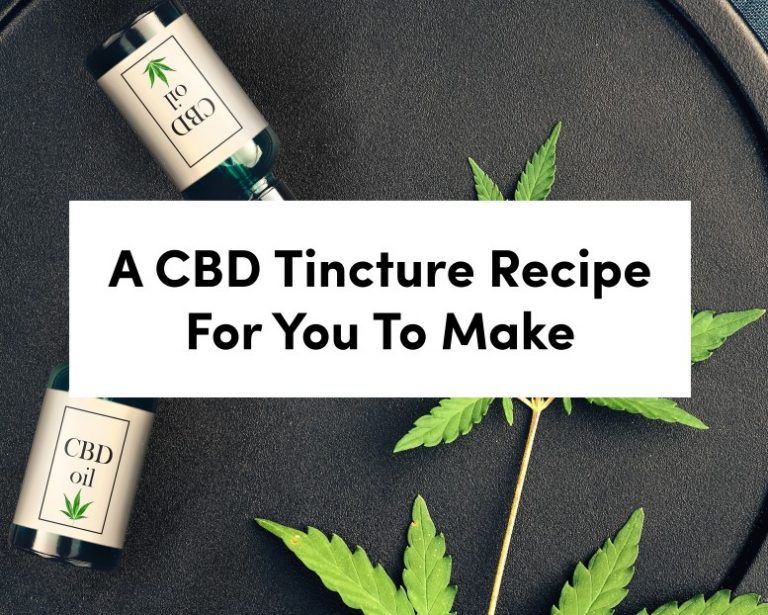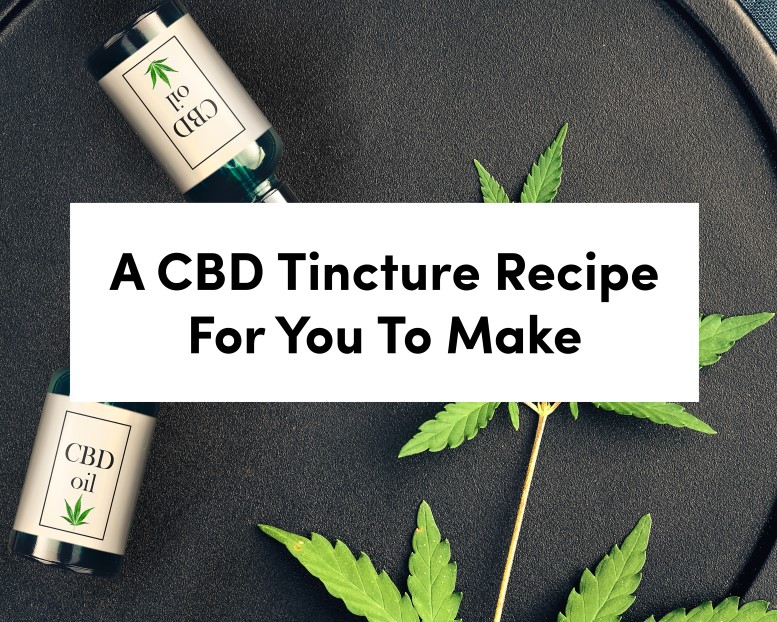 Posted on October 16th, 2020
Chances are you have come across products like CBD tinctures that contain little to no THC due to how popular CBD has become. There are some good reasons for that popularity. Among other things, they have proven to help manage anxiety and tremors in patients.
CBD oil tinctures also have zero psychoactive effects due to below-average content of THC inside of them. Thus, they present an excellent alternative to prescription meds which are not only addictive but usually have many side effects.
Millions of users report that CBD products give them substantial relief from various ailments. All without the stoned or drowsy feelings experienced when consuming marijuana. That makes CBD an appealing solution, because anyone seeking its benefits can enjoy them without its psychoactive effects.
Tinctures enable you to take CBD doses in a precise and convenient manner. If you are new to cannabis consumption, this might sound a bit technical. But if you continue reading, you will discover everything you need to know about this remarkable tincture.
So, What Are CBD Tinctures?
A CBD or cannabidiol tincture is a liquid extracted from the cannabis plant. It's consumed orally as an organic preparation to ease chronic pain, enhance sleep, and balance mood. CBD tinctures contain cannabidiol (CBD). It also contains other active components from the cannabis plant. Alkaloids, minerals, glycosides, terpenes, phytonutrients, and cannabinoids are all in it.
These tinctures usually come from the industrial hemp plant, a cannabis strain with no more than 0.3% of THC within itself. However, they can also come from a marijuana plant as long as it has a below-average THC content.
For most users experiencing chronic pain, CBD tinctures are their go-to choice due to their ease of use, speed of delivery, and long shelf life. Tinctures are sublingually applied by taking a small dose under the tongue. CBD is then absorbed instantly by the mucous membrane found in the mouth. The compound makes its way into the bloodstream and takes effect within several minutes.
If you have been wondering how to make CBD tinctures, the good news is that it's easy. You don't need a chemistry degree to follow a CDB tincture recipe and enjoy the benefits it has. Read on to discover how easy it is to make your own CBD tinctures.
Ideal CBD Tincture Recipe
If you enjoy a mess-free, straightforward preparation, CBD tinctures are a great DIY project. For this CBD tincture recipe, you are going to need alcohol, a jar, cannabis, and a strainer. That's it!
Using Glycerin vs. Alcohol for Tinctures
When it comes to creating tinctures, food-grade, high-proof alcohol will be your best friend. If you're not into alcohol, glycerin, a plant-based oil, is a good alternative. However, glycerin is not as efficient in bonding to cannabis compounds; thus, it will give you a less potent CBD tincture.
Some try first using alcohol and evaporating it off the tincture before introducing glycerin to make it stronger. That allows you to get a similar potency with glycerin as you would if using alcohol. However, this presents a hazard, given you are using highly flammable alcohol with a heat source. If you are no well-versed in alcohol-based CBD tincture recipes, we don't recommend this method.
Picking the Right Alcohol for Tinctures
The aim here is to find high-proof alcohol that's safe for consumption. The higher the alcohol concentration, the better it will dissolve the cannabis resin. One of the best types of alcohol for this recipe is Everclear. It is not only highly potent but also safe to consume.
Products such as isopropyl alcohol are absolutely not for consumption. So, only use them for cleaning your pipes and not to make a CBD tincture!
Making the CBD Tincture
To make the process simple, use the following ratio: For every ounce of cannabis flower, use a 750ml alcohol bottle. This gives a mild effect, excellent for micro-dosing. If you are looking for a more potent CBD tincture, reduce the alcohol amount by a third until you reach the desired potency.
First, decarboxylate the cannabis concentrate or flower. If you are using the latter, ensure you grind it to a fine consistency.
Next, mix the concentrate of flower in a mason jar with high-proof alcohol.
Close the jar and leave it to sit for several weeks, shaking it once per day.
After several weeks, strain your product through a coffee filter. If you do not feel like waiting that long, you can shake it for a few minutes, strain, and store.
Tips for Dosing and Using CBD Tinctures
It is imperative to be consistent when creating cannabis tinctures. If you make two batches with varying strengths, the dose from each will not be the same nor would the effects per dose taken. So, note how much cannabis and alcohol you use for every batch so that it can be easy to replicate if it was to your liking.
When you have made the CBD tincture recipe, the dosages are pretty easy to measure. Begin with 1ml of the finished product and put it under your tongue. If you are happy with the effects, that's it!
Otherwise, you'll want to increase your dosage gradually to avoid an uncomfortable effect. Consider trying 2ml the following day and so on until you find an ideal dose. The tinctures can last for years when stored in a cold and dark place. The long shelf life means you can make huge quantities in one sitting.
When compared to conventional cannabis-infused brownies, CBD tinctures are a low-calorie option. If you create a a tincture with 190 proof alcohol, you will be looking at around seven calories per milliliter.
You can mix CBD tinctures into all kinds of drinks and foods. These include:
Soups
Juices
Ice creams
Salad dressing
Mashed potatoes
Gelatin.
There's no limit to the foods you can infuse CBD oil.
The Benefits of Using CBD Tinctures
CBD tinctures are particularly ideal for first-time users due to the following reasons:
1. Quick Onset Effects
CBD tincture effects tend to set in pretty fast. Unlike CBD edibles that take at least an hour to set in, you can feel the effects of CBD tinctures in under 15 minutes. Thus, enabling you to have a quick understanding of how cannabis affects you before moving onto other tasks. If you have a big meeting or presentation ahead and want to feel relaxed, tinctures are ideal due to the fast onset of its effects.
2. Easy to Experiment Dosing With
CBD tinctures are great for discovering your ideal dose. That's because you can easily measure your dose using an eyedropper and increase or decrease depending on your experience.
3. They are Discrete
I doubt anyone has ever had a moment in their lives where they wished they smelled more like marijuana. Despite the benefits, weed is not discrete unless you consume in edible form. However, CBD tinctures are more appealing as they not only take effect quickly, but you can enjoy them without worrying about the smell. Also, tinctures are easy to conceal, allowing you to use them while on the go.
CBD Tinctures FAQs
1. How do I Consume a CBD Tincture?
People take CBD tinctures sublingually, meaning, by putting several drops under the tongue. When consumed in this manner, the arterial blood supply under the tongue instantly absorbs the cannabinoid. However, you can always swallow the product in food or beverage, but it will take longer to take effect due to the liver's slow absorption rate.
2. How long does a CBD Tincture Need to Take Effect?
When you use a tincture sublingually, it takes between 15 and 45 minutes for CBD to kick in. Effects usually peak at around 90 minutes. However, if you swallow the dose, expect the effects to kick in after an hour, similar to conventional edibles.
3. Do CBD Tinctures Burn Under the Tongue?
Some users have reported a burning sensation under the tongue after several drops. This probably because of the high-proof alcohol used to make the CBD tincture. If the product burns under your tongue, consider going for a glycerin-based one, or add the substance into a beverage before consuming it.
4. How Long Do the CBD Tincture Effects Last?
Expect the effects to last longer than when you vape or smoke, but shorter than consuming an edible.
CBD Tincture Recipe – The Takeaway
CBD tinctures are alcohol-based cannabidiol extracts. They are an ideal entry point for both recreational and medical users on the hunt for a smokeless alternative. CBD tinctures are easy to measure for dosing. Begin with one eyedropper and gradually increase the dose until you experience the desired effects.
If you drink or add the tincture to your food, the effects can take up to 2 hours to set in. Keep in mind that it takes time for them to do so. So, start small and have a little patience. This way, you'll not end up with undesired or unexpected effects.
CBD helps endure the symptoms of many conditions. It does so without side effects associated with many prescription medicines. Tinctures prove to be one of the best CBD consumption methods. And with the recipe outlined above, you should be able to make one that fits your needs. Enjoy!