CBD Massage – Is It an Upgrade from Your Regular Massage?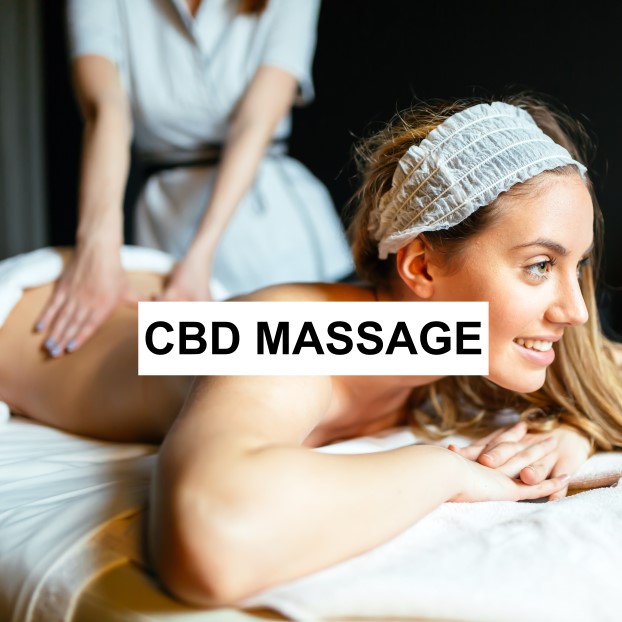 Posted on February 7th, 2021
CBD came in and caused a storm in the already booming cannabis industry. Over a short period, the CBD market exploded, offering a rather large selection of products to choose from. Tinctures, oils, gummies, and even massage oils! Meaning, the cannabis industry is not the only industry CBD is making waves at this very moment. The massage industry also got the message, and it's embracing the therapeutic effects CBD has to offer. The result? The CBD massage, something many enthusiasts are calling a step up from your regular massage when it comes to relaxation.
What Is CBD?
Cannabidiol, or CBD for short, is the second most abundant chemical compound in the cannabis plant after tetrahydrocannabinol, or THC. Unlike its cousin THC, CBD is not psychoactive. Thus, it will not get you high nor impaired in any way.
How Does CBD Work in The Body? CBD's Interaction with The Endocannabinoid System
CBD works in our bodies through the endocannabinoid system (ECS). That is a complex biological system inside the body that regulates several major processes, including:
Appetite.
Sleep.
Mood.
Motor functions such as movement and coordination.
Pain.
Memory, among other functions.
Researchers only took notice of the ECS rather recently around the 90s. So, there's still a lot to uncover about it. What we do know so far, its that its interaction with CBD might yield so many therapeutic benefits.
CBD works its magic by activating CB1 and CB2 receptors that are key parts of the ECS. Both of those kinds of receptors are abundantly present across many structures within our bodies. Activating those receptors is what delivers the purported health benefits from CBD in our bodies. So far, research hints that triggering CB1 receptors specifically influences appetite, motor functions, memory, and mood. Meanwhile, the CB2 receptors had much to do with pain and inflammation.
CBD also modulates non-cannabinoid receptors. For instance, it directly activates the 5hT receptor, which is a serotonin receptor. It also directly binds to TRPV1 receptors, which control the hypothalamus and influence pain and inflammation. Finally, researchers also imply that it inhibits the GPR55 receptor as well, which, through a chain of events, reduces bone resorption, prevents the proliferation of cancer cells, and many other things. Quite a lot of things for a single compound to do.
CBD Glossary – A Glance at The Basics
As you might guess, the CBD world is rife with very specific terminology; here are some of the most common you'll find:
-> CBD (cannabidiol): One of many cannabinoids found in marijuana plants. It is the second most prevalent and is not psychoactive, meaning it won't get you high.
-> THC (tetrahydrocannabinol): The main cannabinoid in marijuana and also the psychoactive component. Unlike CBD, THC doesn't easily get into the bloodstream via the skin. So, even if a massage oil contains trace THC amounts, it's unlikely it will do anything
-> Hempseed oil: Also called hemp oil, it's an extract from cannabis seeds rich in Omega-3s. Usually contains little to no THC or CBD.
-> Full-spectrum CBD: A CBD extract that contains multiple plant compounds like terpenes, flavonoids, and small amounts of THC of about 0.3% or less.
-> Broad-spectrum CBD: A CBD extract that features a wide array of plant compounds, except THC.
-> CBD Isolate: A pure form of CBD that contains no other cannabis plant compounds.
How Does CBD Enhance the Benefits of Massage?
A normal massage has many health benefits besides relaxing you, which is something they have in common with CBD. Thus, combining them makes much sense. To better understand, here are a couple of things a CBD massage is great at:
1. Reducing Tension
Many people get massage therapy to relieve tension in the mind and body. The cannabinoids present in CBD massage oil helps to do this and, in the process, enhance the massage experience. During a CBD massage, as the massage oil is rubbed on your skin, the cannabinoids enter your body. Once inside, CBD helps reduce tension by relaxing your muscles further than a regular massage does.
2. Enhancing Chronic Pain Relief
If you suffer from chronic pain, one good way of managing it is by getting a massage, which is excellent for pain management. Adding CBD to a massage enhances these benefits thank to its anti-inflammatory properties. Cannabinoids will soothe the muscles and further reduces inflammation, the main vector of chronic pain.
3. Enhancing Stress and Anxiety Management
A good massage gets rid of stress and anxiety. Using CBD massage oils for the massage therapy add the anxiolytic and de-stressing effect of CBD on top of the physical relaxation. The combination is a match made in heaven. The result is enhanced relief from stress and anxiety.
4. Enhancing Skin Moisturization
Massages are a fantastic way of moisturizing your skin. Few people know it, but CBD is a great moisturizer as well. CBD massage oils, like all CBD topical, also have the anti-acne properties of the compound as well. If you like your skin looking great, there's no loss with CBD.
5. Boosting mood
A nice massage improves your mood and leaves you feeling great. It really does help you loosen up on top of momentarily letting you forget about your worries. Combining with it CBD massage oils elevates the experience due to CBD mood stabilization properties. At the end of it, you can expect smoother skin, relaxed muscles, and less stress and anxiety.
6. Enhancing Stimulation of Senses
One of the benefits of a massage is affording you the chance to better connect your mind and body. A CBD massage will leave you feeling even more refreshed and alert since your mind, skin, and muscles were all just stimulated. A CBD massage is a great way of further connecting with yourself, something we all could do more often.
When Will I Feel the Effects of A CBD-Infused Massage Session?
Immediately after the CBD-infused massage is over and done, most users report a feeling of Zen. According to enthusiasts, it resemblances how you would feel if you stepped out of a spa rather than a regular massage with a different oil. Even after a couple of hours, you will still feel looser and lighter, according to enthusiasts.
Bottom line, a CBD massage might not make you high, but it might make you feel amazing.
Tips for Buying CBD Massage Oils
Before you buy just any CBD massage oil, you need to know if the product you are purchasing is of good quality. The best way to that is to make answering these questions:
1. Is the CBD massage oil third-party tested?
A good CBD massage oil underwent testing beforehand. High-quality manufacturers of CBD products test send their products to 3rd party labs. These labs, in turn, return to a Certificate of Analysis (COA), which is a full lab test result that includes:
The amount present of each cannabinoid inside of it.
Confirmation that no harmful substances like toxins and heavy metals are present.
Usually, a CBD manufacturer posts these results on their website and puts them on their label.
2. What amount of CBD is in the massage oil?
Another thing You'll want to check is the oil's total concentration of CBD. Since CBD is trendy, many scam brands will try to make a quick buck by slapping on the "CBD" label on their products even its CBD concentration is very little, if any. Always make sure you check the label for the total concentration of CBD in massage oil, usually expressed in milligrams.
3. What was the method of extraction used?
The quality, safety, and purity of the final product depend on how the manufacturer extracted the CBD. For the best CBD massage oils, look for CBD obtained through ethanol or CO2 extraction. These two methods use either ethanol or carbon dioxide to get the CBD from the plant in the purest way possible.
Stay clear of synthetic CBD massage oils. Most come from using unsafe hydrocarbons like petroleum, propane, or butane.
Check the brand manufacturer's website because information like this may not be on the product label. If the manufacturer fails to disclose their method of extraction, consider using a CBD massage oil from a brand that's more transparent.
4. Is the CBD product isolate or full-spectrum?
When referring to CBD oil's overall cannabinoid profile, there are two categories – full-spectrum or isolate.
Full-spectrum oils have high CBD concentrations and just about 0.3% or less THC. It also still has smaller amounts of other cannabinoids like CBN, CBC, CBG.
CBD isolates contain very high concentrations of CBD and only CBD; thus, nothing of the other cannabinoids remains.
Research shows that full-spectrum CBD oils might provide more relief than those containing just CBD.
CBD Massage – The Takeaway
A CBD massage is a fantastic experience, one that you need to get to understand. Apart from relaxation, it will help ease stress, anxiety, pain, and even skin conditions, among some other issues. CBD massage oils and CBD massage are becoming increasingly popular. If you are into massages, your masseuse might offer you one next time.