Is CBD Legal in Montana? Good News in The Treasure State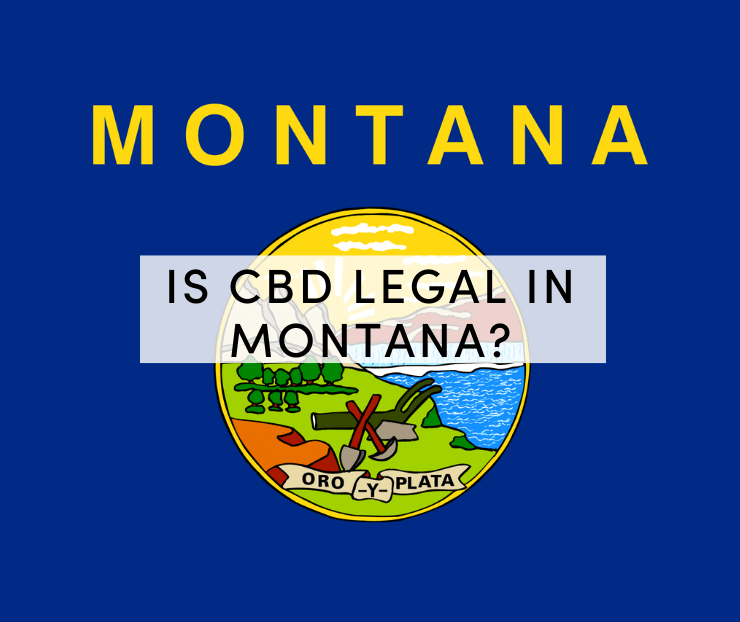 Posted on January 11th, 2021
Is CBD Legal in Montana? Well, there are two main types of CBD; marijuana CBD and hemp CBD.  Marijuana CBD is only legal with specific requirements and restrictions, while hemp CBD is legal within the state. The difference between marijuana CBD and hemp CBD is the THC (tetrahydro cannabidiol) concentration. Marijuana CBD (controlled) has a higher THC concentration while hemp CBD contains less than 0.3% THC. This low THC amount qualifies it as safe. Only individuals in the medical marijuana program and with the MMJ card can legally obtain marijuana products. 
CBD (cannabidiol) is a compound common in the cannabis plant.  It is one of the two most abundant cannabinoids in the cannabis plant. Many claim it has several health benefits to the human body. THC (Tetrahydro cannabidiol) is the intoxicating cannabinoid that can induce a 'high.' This is a reason it is still mostly illegal.  Under the Montana Medical Marijuana Allowance, Montana provides a framework for how to provide medical marijuana to certain patients. Doctors can thus prescribe medical marijuana to those suffering from:
– Intractable nausea
– Multiple Sclerosis
– HIV/AIDs
– Crohn's Disease
– Epilepsy
– Chronic muscle spasms
– Cancer
– Glaucoma
– Peripheral neuropathy
– PTSD (Post-traumatic Stress Disorder)
– Severe chronic pain
– Cachexia
Anyone can legally use hemp CBD in many forms without requiring a medical card.  The confusion between marijuana and hemp still raises the question; is CBD legal in Montana?  Here are some of the legislations and laws surrounding medical marijuana, hemp, and CBD.
What Makes CBD Legal in Montana
The 2001 Montana senate bill 261 allowed for the cultivation and production of industrial hemp. The bill helps separate hemp from marijuana, calling it an agricultural crop.  According to the bill, industrial hemp contains less than 0.3% THC levels, hence not harmful for human consumption.  Thus, the bill made it legal to grow, harvest, possess, and sell industrial hemp and hemp-derived products.  The law requires producers/farmers to get a license, allowing them to grow the crop.  Thanks to senate bill 261, it is legal to buy and sell hemp CBD alongside other hemp products. 
Citizens of Montana also voted for the 2004 initiative 148, which decriminalized marijuana for medical purposes. This meant patients with debilitating conditions and non-responsive to conventional medicine could use medical marijuana under Montana's MMJ program.  Individuals with conditions ranging from cancer, glaucoma, chronic illnesses including arthritis, seizures, chronic pain, muscle spasms, etc., could thus register for the Montana Medical Marijuana Program. The patients would, upon approval, get IDs provided for by the DPHHS (Montana Department of Public Health and Human Services) showing they could access and use medical marijuana.  Anyone without the MMJ ID card found in possession of cannabis CBD or even medical marijuana, even if suffering from qualifying conditions, would be fined $500 and face 6 months of imprisonment. 
Farm Bill 
The Agriculture Improvement Act of 2018, popularly known as the Farm Bill 2018, was signed into law by the president. This bill legalized the production of industrial hemp and the sale and distribution of hemp products.  The Farm Bill 2018 only allows industrial hemp with less than 0.3% THC. However, farmers and producers have to get a special license to grow industrial hemp. They also need an in-house and third-party laboratory to test and ascertain THC content of their hemp. Any products that contain more than 0.3% THC are destroyed at the producer/farmer's expense. It is also worth noting that state law supersedes Federal law in this case. So it is up to the individual states to allow hemp and CBD within their borders.
The 2019 Montana Senate Bill 176 made it possible for entities and individuals looking to cultivate industrial hemp to get a license. Anyone looking to grow hemp has to pass all the requirements before getting a Montana Department of Agriculture license. The Department of Agriculture in Montana introduced a certified help program and plans to help producers produce hemp with the recommended less than .3% THC. In a public letter from the DPHHS, hemp CBD is legal to use as long as it complies with the FDA.
Hemp Licensing Requirements in Montana 
An applicant must meet a number of requirements before they can be licensed to produce industrial hemp in Montana.  They are thus required to provide information about the crop, the source of seeds or clone, participant information, and entity information. They must also include their full names, title, phone number, and email address in the application form.  The applicant is also required to pay a non-refundable fee of $850 when applying. The Department of Agriculture in Montana may choose to run background checks on new applicants to ensure they fit the licensing criteria as well. Senate Bill 177, in May 2019, eliminated the need to run criminal background checks for hemp growers within the state. 
CBD Sampling and Testing Requirements 
So now we know that state and federal laws have made CBD legal in Montana. But all producers must submit samples of industrial hemp to the Montana Department of Agriculture analytical lab for testing. This measure has been put in place to ensure the product has less than 0.3% THC in its dry weight. The lab tests for, among other things:
CBD to THC ratio 

THC levels 

Presence of heavy metals (from fertilizers) 

Yeast and mold 
The State laboratory provides a certificate of analysis (COA) to the farmer before the product can be processed and allowed in the market. The COA also includes a batch code and a QR code to the analytical data for fast-tracking and verification purposes. 
CBD/Marijuana Possession Limits
Hemp CBD is an unregulated product in Montana. There currently aren't any restrictions or limits on how much CBD one can possess or purchase in Montana. You can thus order as many CBD salves, tinctures, capsules, and lotions as you like.  However, patients under the Montana medical marijuana program can only have an ounce of medical marijuana at a time. Buying or having more than the stipulated amount of medical marijuana could attract a number of penalties. Anyone with 60grams of marijuana CBD or marijuana can be charged with a misdemeanor or imprisoned for 6 months. Anyone in possession of more than 60grams of marijuana faces felony charges and could be fined up to $50,000 and serve a jail term of up to 5 years.
How and Where to Buy CBD
While it is permissible to buy and sell industrial hemp CBD, you should be careful not to buy CBD with more than 0.3% THC.  As long as your supplier is legit and trusted, you'll never have to worry about this. CBD consumers in Montana can buy and enjoy a wide range of CBD products ranging from balms, tinctures, capsules, CBD isolate, and full-spectrum CBD. These products are available in licensed local dispensaries, convenience stores, health food stores, and online as well. 
The online market gives you the freedom to choose between suppliers, try several CBD products, and have these delivered to your doorstep. Tanasi is one such company who follows every legal guideline to ensure that people trust their products. Millions of dollars funded the scientific research that led to Tanasi's full spectrum hemp extract formulas. Tanasi tests and labels every product clearly to show that consumers need not doubt their quality. And of course, Tanasi ships products to all 50 states, including The Treasure State. https://tanasi.com/our-products/
Conclusion: Is CBD Legal in Montana?
This depends on the type of CBD you are looking to use or buy. Although you need an MMJ card to use marijuana CBD, you don't need one for hemp CBD. You won't be breaking the law by buying or using hemp CBD oil.  Thus, you can try CBD tinctures, salves, lotions, and even creams if looking to enjoy the potential benefits that CBD offers. If your medical needs aren't quite severe enough to apply for a medical marijuana card, CBD could still help. Hemp CBD and recreational marijuana are currently unregulated. But the Montana Department of Revenue is looking for ways to make licenses for growing and selling recreational marijuana available in October 2021. 
The process of legalizing medical marijuana and CBD products has been a lengthy one in Montana. Nevertheless, the 2018 Farm bill and senate bill 176 made it possible to grow industrial hemp. Growers can choose cannabis cultivars with higher CBD content and negligible THC levels and never worry about breaking the law. The United States is starting to realize that cannabis products like CBD might be a treasure worth seeking. So it's no surprise The Treasure State is jumping in on the action.