Is CBD Legal in Louisiana? A Rundown of The Pelican State's Laws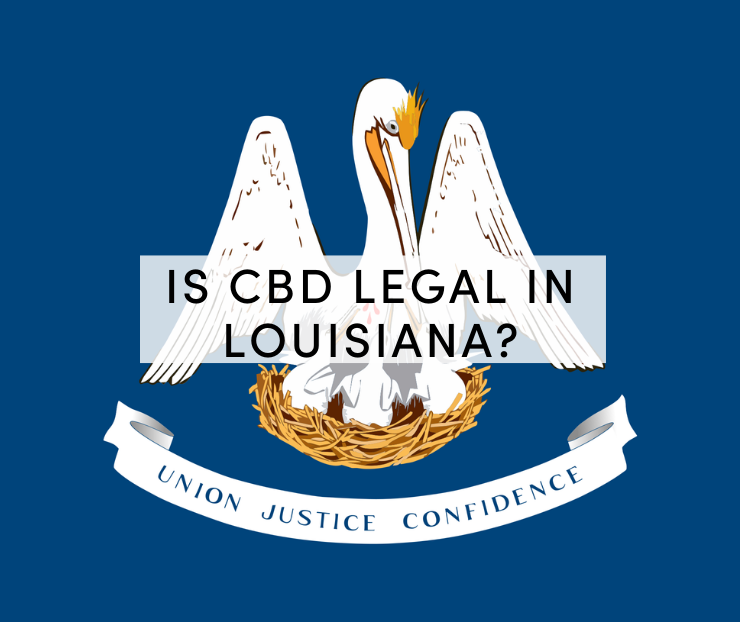 Posted on January 10th, 2021
Attitudes on cannabis are starting to change not just in the United States but across the globe. This started with Oregon which was the first US state to decriminalize marijuana in 1973. California was the first to legalize medical marijuana in 1996. And Colorado was the first to legalize recreational marijuana in 2012. However, many people in the state of Louisiana still wonder: is CBD legal in Louisiana?
Louisiana was not the first state to declare cannabis as illegal in the United States. However, it joined the likes of North Dakota and Oklahoma when these two states banned the drug. Soon, 29 other states followed suit and passed their own legislation. Louisiana voted to pass a revised statute (Title 40, Section 966) which penalized the use and distribution of marijuana and other drugs, such as heroin. The exact year when Louisiana criminalized the use of marijuana is still up for debate. Some say it was as early as 1924 or as late as 1927. Nevertheless, here is a quick rundown on the history of marijuana in Louisiana. This will help to highlight the path to the current legal status of CBD. 
Marijuana in Louisiana 
So, is CBD legal in Louisiana? The Controlled Substances Act in 1970 affected The Pelican State (and every state). This act criminalized the possession and distribution of several narcotics in the United States, including marijuana. Because federal laws trump state laws, Louisiana had no choice but to enforce this law and create legislation in accordance with this act. Until now, Louisiana has had one of the strictest and harshest punishments for the possession of marijuana in the United States. Eight years after the Controlled Substances Act was passed, Louisiana Governor Edwin Edwards signed a law allowing minimal medical marijuana in the state. 
This was also five years after Oregon decriminalized marijuana and more than a decade before California voted to fully legalize medical marijuana. However, this law had a very small effect. It only allowed medical marijuana for patients who either had glaucoma or were undergoing chemotherapy for cancer treatment. This law also created the Marijuana Prescription Board. The secretary of the Department of Health and Human Resources in the state appointed the board members.
Second Medical Law Passed 
In spite of this legislation, recreational marijuana in Louisiana was still illegal and medical marijuana was hard to get. This changed in 1991, when Louisiana's state legislature filed a second bill. It added "spastic quadriplegia" to the list of ailments that could qualify for medical marijuana. Doctors in the state could technically fill prescriptions for certain ailments listed in the bill. But there was no framework on how the product will be grown and distributed in the state. Therefore, this made the procurement of medical marijuana extremely difficult, despite  the legislation passed to legalize its use.
Then in 2014, Republican senator Fred Mills authored Senate Bill 541. This bill sought to define how Louisiana would grow and distribute medical marijuana and how prescriptions would work. The Louisiana Sheriff Association and Louisiana Attorney General caused the bill to fail. Still, Fred Mills continued to fight for the complete legalization of medical marijuana in the state.
Senate Bill 143
Fred Mill's efforts paid off, as Louisiana Governor Bobby Jindal passed Senate Bill 143 into law in 2015. Mills sponsored the bill, which aimed to establish a proper framework for the production, distribution, and prescription of medical marijuana in Louisiana. It also authorized the use of one cultivation site and ten dispensaries for the production of medical marijuana in the state. It also defined that list of ailments that would allow you to use it, and the acceptable forms of marijuana. 
As the bill stated, medical marijuana could be sold in Louisiana only in non-smokable forms, such as oils and pills. However, medical marijuana would not be dispensed until August 2019, when it was produced and dispensed for the first time by the cannabis growing firm GB Sciences. From this point, Louisiana has joined the likes of California and New York in completely legalizing the use of medical marijuana as treatment for various diseases.
Harsh Marijuana Laws
While the state has taken slow steps in completely legalizing the use of medical marijuana, the development of decriminalization and even the legalization of recreational marijuana in Louisiana has been even slower. Louisiana had one of the strictest and harshest recreational marijuana restrictions in the United States. Possessing around or less than 14 grams of recreational marijuana in the state could mean staying in prison for 15 days and/or paying a $300 fine. 
But there's more to this legislation. The more marijuana you have, the heavier the punishment. You can serve 5 to 30 years with hard labor if you're caught with 60 to 2,000 pounds of marijuana and a fine between $15,000 and $30,000 will be added to your punishment. Nevertheless, there have been some changes in legislation concerning recreational marijuana although it is still not sure if Louisiana will join Colorado in fully legalizing it any time soon. 
Nevertheless, major cities in Louisiana such as New Orleans and Baton Rouge recently made a move to decriminalize the use of recreational marijuana in their borders. Furthermore, Senate Bill 143 specified the fines and/or jail time for possessing marijuana. Now, people caught with marijuana for the first time will pay a $300 fine and/or stay in prison for 15 days. If that person is caught again two or more times, the punishment is greater. 
Tax Stamps
Furthermore, Louisiana also requires the use of tax stamps for every purchase and possession of medical marijuana in the state. This is because the state has a tax stamp law that mandates users to purchase and put state-issued tax stamps on their marijuana. The tax rate for these stamps go at around $3.50 if the owner possesses 42.5 grams or more of medical marijuana. Failure to comply would cost you 5 years of prison, 200% of the tax rate of the stamp, or both. With these prohibitions, it shows that Louisiana still has a long way to go in easing restrictions in the use of both medical and recreational marijuana.
What Makes CBD Legal in Louisiana?
By now you might think it impossible that legislators made CBD legal in Louisiana. The answer is both a yes and a no. While some CBD products are legal in Louisiana, there are still challenges in regulating these products. Many people in the state use CBD products to help with various ailments, such as postpartum depression, Alzheimer's disease, and even meth addiction. Still, The Pelican State has been harsh on all things cannabis. 
Finally, in June 2019, Louisiana Governor Bel Edwards signed House Bill 491 into law. This allowed the production, distribution, and sale of hemp-derived CBD products, such as pills, oils, and even injections. Products must have less than 0.3% of tetrahydrocannabinol or THC. As most people know, this is the compound responsible for the "high" feeling that most people associate with using marijuana. This mirrored the passage of the Agricultural Improvement Act in 2018.  It created the framework for growing hemp and producing products derived from the plant, such as CBD oil. 
Nevertheless, the challenge of regulating CBD products looms large. This is because of the current federal law which puts cannabis in the same narcotics category as LSD and ecstasy. This is also due to the new restrictions introduced by House Bill 491. This bill made the edible and drinkable versions of CBD illegal and placing strict regulations on retailers that sell CBD.
Conclusion: Is CBD Legal in Louisiana?
There is increasing support for the decriminalization and legalization of cannabis in the entire United States. The Marijuana Opportunity Reinvestment and Expungement (MORE) Act in 2019 could change the legality of recreational marijuana in Louisiana. Whether recreational marijuana would be fully legal or not would depend on the US Congress for now. 
Nevertheless, companies such as Tanasi meet the FDA's laws and guidelines for CBD products. Since Tanasi sells CBD oils, lotion, salves, pills, water soluble concentrates, and more products, there are many legal options to choose from. If you are interested in trying CBD products that fit Louisiana's strict laws, Tanasi is a safe bet. Tanasi products are all thoroughly tested for quality, and are all properly labeled to give consumers peace of mind. Despite CBD's scarcity in The Pelican State, Tanasi will solve that problem by shipping its hemp extracts to you.