CBD For Kids: Should You Consider it For Your Child?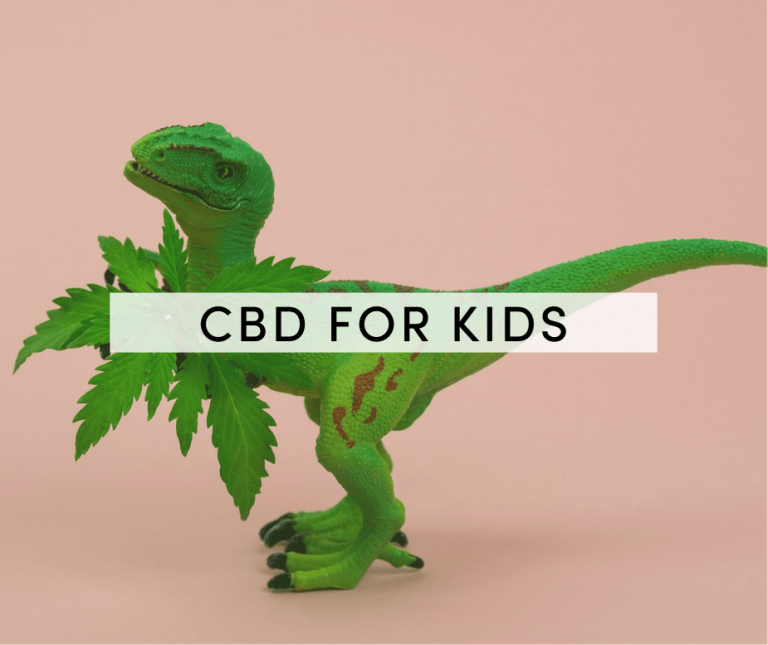 Posted on March 2nd, 2021
CBD is everywhere nowadays. From bars to medical marijuana dispensaries. Generally, this is because of its potential to alleviate pain and make users feel better. It's worth noting that although cannabidiol comes from hemp or marijuana, it doesn't contain THC, which is the chemical that makes people "high." In today's market, CBD is available in various forms such as gummies, coffee, cocktails, lotions, and tinctures – just to mention a few. For some time now, CBD has been hailed as a treatment for such various things as anxiety, insomnia, and pain. Undoubtedly, CBD has gone mainstream. Many adults are trying the compound for their own issues, but what about children? If you're a parent wondering what information there is on CBD for kids, read on to put your mind at ease.
Keep in mind that because hemp and CBD have only recently become federally legal in the US, the research is still sparse. And because cannabis is in the early stages of regulation, there is a wide range in the quality of products. As a result, you must be thorough in the research you do before settling on any specific product.
How Safe is CBD For Kids?
Quite recently, the World Health Organization (WHO) recognized the drastic increase in "unsanctioned" medical applications of CBD. So they keenly looked into the evidence for its effectiveness and safety. According to the WHO report, CBD is well tolerated with an overall good safety profile. The WHO also noted that any adverse effects might be an outcome of interactions between CBD and an individual's current medications. 
The report generally found no sign of potential dependence or abuse. As of now, they say "there is no evidence when it comes to recreational use of CBD or any other health-associated disorders related to the application of pure CBD."
The WHO also found out that – in terms of effectiveness – a few clinical trials had demonstrated effectiveness for epilepsy. They added that there's also preliminary evidence that CBD might be an effective treatment for several other medical conditions. 
Benefits of CBD for Kids
There are several conditions and reasons parents may consider CBD for kids. For some time, the only condition that has been strongly approved by the FDA is epilepsy. However, read on for more potential benefits.
Epilepsy
The FDA vetted a medication derived from CBD to ease difficult-to-manage seizures in children with Dravet and Lennox-Gastaut syndromes. These are two rare types of epilepsy. Epidiolex is an oral medication that includes pure CBD from hemp plants. 
This medication underwent three randomized, double-blind, and placebo-controlled drug trials. It involved 516 patients that suffered from either of the aforementioned rare forms of epilepsy. This medication was found out to be highly effective at lowering seizure frequency in comparison to placebo. Based on different studies, it has yielded the same outcome. 
Epidiolex is a carefully produced and administered medication. CBD alone does not have the same level of effect on seizures, but has few side effects.
It's worth noting that Epidiolex, like any drug, isn't without risk. Because of this, you should involve your child's doctor and discuss the advantages of this medication versus its potential risks. 
Some of the side effects might include infections, sleep issues, weakness, diarrhea, lethargy, rash, reduced appetite, and elevated liver enzymes.
Anxiety
According to several animal and human studies, CBD has the potential to ease anxiety. People with anxiety disorders, such as post-traumatic stress disorder (PTSD), social anxiety disorder, and obsessive-compulsive disorder (OCD) are good candidates for CBD treatment. One study of a 10-year old PTSD patient found that CBD oil generally improved her emotions of anxiety and also diminished insomnia.
Autism
Some studies have analyzed CBD oil in children with autism. They have have reported that there might be an improvement in autism symptoms. 
One study examined 188 kids on the autism spectrum, between 5 and 18 years old. The study participants were provided a solution of 30% CBD oil and 1.5% THC, kept beneath the tongue, thrice daily. 
A general improvement was reported in many participants, for various symptoms such as rage attacks, restlessness, and seizures, after a month's use. For a majority of study participants, the symptoms continued to diminish within 6 months. 
Some reported side effects are reflux, lack of appetite, and sleepiness. In that study, the kids continued to use other prescribed medications, such as sedatives and antipsychotics. The scientists insisted that their results must be interpreted with extra caution since there was no control group in position. It prevented them from identifying causality between the application of cannabis and the alleviation of symptoms. 
More studies are currently underway throughout the world. Fortunately, this might help to establish whether there are effective and safe doses of CBD for kids with autism.
Attention Deficit Hyperactivity Disorder (ADHD)
Today, there's little research when it comes to CBD oil's advantages or side effects for children with ADHD. Although some parents report a decrease in their children's symptoms after using CBD oil, others report no effect. As of now, there is only anecdotal evidence to verify whether CBD oil is a useful treatment for ADHD. Which is better than nothing, but not enough to depend on it yet.
Skin Conditions
Additionally, CBD is beneficial for addressing skin conditions. CBD skin care products are effective for this. Internally, CBD is also effective in dealing with underlying causes for skin disorders. This can be the case if they stem from the immune system, liver, gut, or a combination of all three. 
Topical CBD products may be highly beneficial in reducing symptoms or managing issues not caused by other underlying health problems. Some examples of skin conditions that might benefit from CBD are bug bites, rashes, dry and flaky skin, ingrown hairs, sunburns, psoriasis, and eczema.
Types of CBD For Kids
In today's market, you can easily purchase CBD online via different manufacturers and even purchase in person at various health shops. 
Typically, these outlets carry CBD oils, candies, topicals, gummies, capsules, and much more. Children might be more drawn to CBD sweets, snacks, and gummies. But if you can find a water soluble type like Tanasi makes, adding it to drinks is another great option.
The type of CBD is not a big concern for most people, including kids. Maybe gummies or a flavored tincture are easiest, but whatever works is the best option. However, keep in mind that some products may contain more THC than you want your child to take. CBD for kids should have minimal THC (0.3%) or none.
Research
Research in the U.S. has increased because of changing laws. The DEA has even made some changes in their perception and treatment of CBD. They announced that if CBD has less than 1% THC and has potential medicinal value, there's increased interest when it comes to medical studies.
And in permitting the first CBD-derived drug, the FDA demonstrated enthusiasm for the research boom that's certain to come. They have also included stern warnings for marketers of products promising unsubstantiated health claims. 
The FDA also pledged that they will not stop supporting thorough scientific research on cannabis products. They will also partner with product developers who are looking to bring patients effective and safe products. However, at the same time, they promised to be ready to take action in case they noticed the illegal marketing of CBD products with unproven medical claims. 
Final Thoughts
CBD has been proven to be highly beneficial in the treatment of seizures in kids with certain rare epilepsy forms. However, the FDA hasn't approved of it for any other specific health disorder in children. Many companies produce CBD products. Because it is not federally controlled, it can be challenging to identify whether a particular product is safe.
Anecdotally, many parents have claimed that CBD for kids is a great thing to try. However, it is always wise to discuss this with your doctor or their pediatrician.