What Is the Best CBD Dosage for Cats?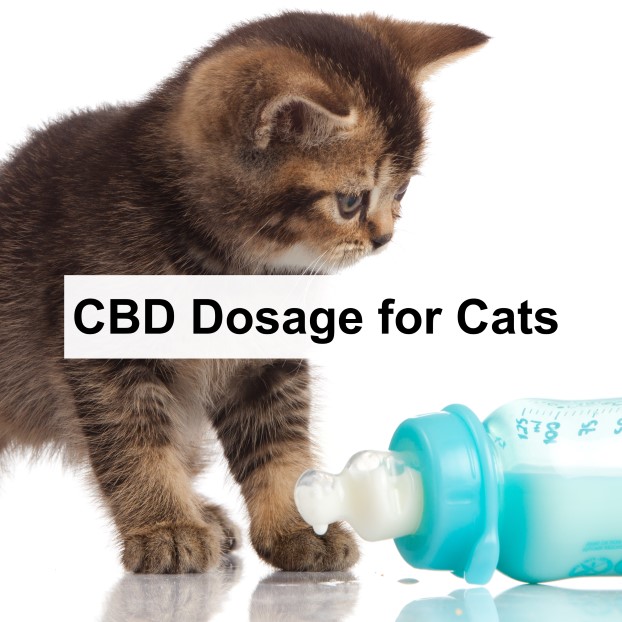 Posted on February 1st, 2021
Thanks to the 2018 farm bill, CBD has been fast becoming one of the most popular new compounds for the wellness sector. You might've heard people both online and in real life sharing how it apparently helped them cope with some specific health condition.
But, did you know that CBD might also have similarly positive impacts not only on people but also on your beloved cat? With the changing level of cultural acceptance towards cannabis, people are less reluctant and more open to trying its benefits. They are also more welcoming of the possibility that it might serve their cats as well.
The article below is a guide to the basics of CBD and the correct CBD dosage for cats. Let's begin.
How Does CBD Work?
Each animal (and that includes humans, as well) has an endocannabinoid system (ECS) running through their bodies. Much like your central nervous system, the ECS is a complex network of receptors and neurotransmitters. Functionally speaking, it plays a major role in the regulation of some key bodily functions.
The body itself produces endocannabinoids, substances similar to the cannabinoids existing in the cannabis plant. It will secrete them on an on-demand basis as a way to regulate and restore balance to your body when it deems necessary. Now, your body can only produce a limited amount of endocannabinoids. Due to our modern lives being so overwhelming frequently, it's easy for stress to overtake the body and throw it off balance more often. Thus, you might run short of endocannabinoids to restore homeostatic balance and could use external help.
CBD may offer that help. Since these compounds of plant origin are very similar to endocannabinoids, they can actually boost their efforts. Once ingested, it will bind to the cannabinoid receptors on the body. The effects that interaction yields might help your bodily functions to rebalance themselves. In short, CBD acts as a supplement for your endocannabinoids, which often could use some reinforcements. The purported therapeutic effects of CBD are many; we can classify them into anti-inflammatory, anxiolytic, and de-stressing or relaxing agent.
CBD Oil for Cats: How Does It Work?
Cats have an endocannabinoid system as well. Thus, it's not even a stretch to assume that CBD might offer them support, just like it would do to you.
However, do note that there are only a few official studies to back those claims. Still, what there is much of is a wealth of anecdotal evidence from cat-owing CBD enthusiasts online. Many of them make clear statements about giving some CBD drops to their felines. As a result, they relate that both anxious cats and older, arthritis-stricken cats started seemingly feeling better.  Dog owners also share similar experiences. One important thing they also agree on is that you better keep the CBD dosage for cats within range. Cats might start acting strange if they ingest large amounts of CBD.
Furthermore, the same study discovered that cats absorbed and released CBD differently than dogs. That implies that, if you own both, better not to give the cat the same dose regardless of if they have similar weight.
CBD Oil for Cats – What Are the Benefits?
The main claim to CBD's popularity is its supposed ability to relieve inflammation and ultimately lower chronic pain in mammals. According to researchers at Cornell University, CBD oil targets vanilloid receptors and inhibits them from turning on.
Besides, CBD might act as a neuroprotector, which does make it a potential treatment for neurological disorders like epilepsy. CBD also might benefit cats by assuaging their symptoms of:
Inflammatory bowel disease
Arthritis
Epilepsy/seizures
Inflammation
Pain
Anxiety
CBD Dosage for Cats
When owners are looking for the right CBD dosage for cats, they often come across sites advertising 'CBD calculator'. The reason they do not immediately find an official recommended dosage is that the FDA is yet to settle on one.
In fact, there's no official dosage, neither for humans nor animals yet. That will continue until the FDA runs medical trials and extensive CBD research, which does take time. Until then, we will have to settle for anecdotal experience of which there's much.
Generally, the advised CBD dosage for cats ranges between 1mg to 5mg for every 10 pounds they weigh. Start with 1mg and gradually increase the CBD dosage for cats you find the amount that yields the best results. Let's go into detail.
CBD Dosage for Cats: Basic Rules
Many variables are involved in determining the best CBD oil dose for cats. In general, doses rely on the animal's diet, body weight, age, well-being, and health condition.
Most CBD brands recommend between 0.10mg (the low dose) to 0.5mg (strong dose) of CBD oil per pound of body weight. The brands also go further and outline some of the health conditions that these particular dosages might benefit from.
For example, a standard dose of 0.10mg CBD is for general well-being. The dose might help with conditions associated with old age, immune function, digestion, and appetite.
The standard CBD dose might also help with:
Minor aches and pains.
Stress and anxiety.
Minor skin conditions.
Cancer-related symptoms.
Epileptic seizures.
Now, a strong CBD dose of about 0.5mg is for alleviating chronic pain, severe joint inflammation, and severe arthritis.
A strong dose might also help with
Extreme nausea.
High anxiety.
Cancer-related symptoms.
Epileptic seizures.
Consider CBD Oil Potency When Dosing
Quite a lot of factors can and do affect the potency of a CBD product. Extraction method, hemp strain, and growing conditions are the most important. The CBD amount in each product, given in milligrams and highlighted on the label, establishes its potency.
Yet, there's no standard labeling practice throughout the industry. Typically, CBD differ widely, around 100mg – 5,000mg for any 30ml bottle. Some vendors might claim their product consists of "2,400mg of hemp extract". However, others might say "2,400mg of CBD." Though these might sound alike, they aren't the same. It ultimately depends on the product itself.
CBD isolate, for example, is much different from full-spectrum CBD. Full-spectrum CBD oils contain all of the hemp plant's compounds. On the other hand, CBD isolate has none of them except for, of course, CBD and only CBD.
A full-spectrum CBD will have terpenes, all the cannabinoids, and flavonoids. Thus, a full-spectrum product consisting of 2,400mg of hemp extract might have just 50 mg of CBD. It takes experimentation to figure out which product is best.
CBD Dosing Frequency
Although dosing frequency differs even among enthusiasts, most advise giving CBD to cats:
Every eight hours to alleviate inflammation and pain.
At least half an hour before an event, like going on a trip, to control anxiety.
One or two times daily for any other purpose.
Some recommend being a bit proactive in giving CBD to cats. For example, if the cat gets anxious when there's rain and thunder, try giving them some as soon as it seems it will rain. That way, your cat may relax throughout the event.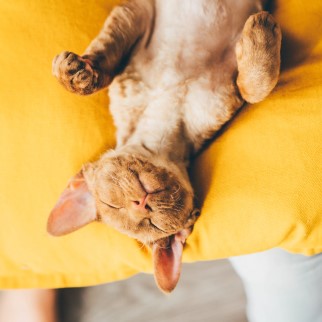 Determining the Optimum CBD Dosage for Cats
Knowing the right CBD dosage size must be a priority for CBD-curious cat owners. If you're a beginner in CBD, start with a low dose and see how your cat's body responds. As soon as the cat owners confirm their pet shows no negative reactions, they could start to slowly increase it
Finding the optimum dosage for your pet might take some time and some experimenting. However, once you hit the sweet spot, you'll have a much easier time when wanting to give your cat some relief.
According to a 2019 study documented in the Brazilian Journal of Psychiatry, the authors noted CBD's anti-anxiety effects. Based on their findings, they described the bell-looking dose-reaction curves with pure CBD.
The response type implies that CBD's therapeutic effects can only happen when issued with a particular dose range. Generally, little advantage difference showed at either higher or lower doses. As a result, it might be better to identify the optimal CBD dosage for cats than relying solely on higher potency-labeled products. Moreover, cats do not tend to do very well with CBD side effects. Even though these side effects rarely occur, they are more likely to occur when taking a higher potency product.
CBD Dosage for Cats – The Takeaway
The endocannabinoid system has a similar working principle across de different physiology of all mammals. Thus, cat owner that use CBD themselves can surely share some of the relief it gives them with their beloved cats.
Unfortunately, so far, there's no official dosage instructions for cats and not even for humans. On top of that, the liberties some CBD manufacturers take with the labeling also adds to the issue. Doses depend on the cat's health condition, diet, body weight, and age. Dosing frequency, hemp source and strain, and potency are also factoring worth considering.
The objective for all cat owners is to determine the optimum dosage that might provide their particular cat with optimal benefits. After they determine that, it becomes much simpler to provide you cat relief on a daily basis.
Remember, consult with a veterinarian before choosing to give CBD to your cat for whatever reason you are thinking of.