The Best Way to Take CBD is Different for Everyone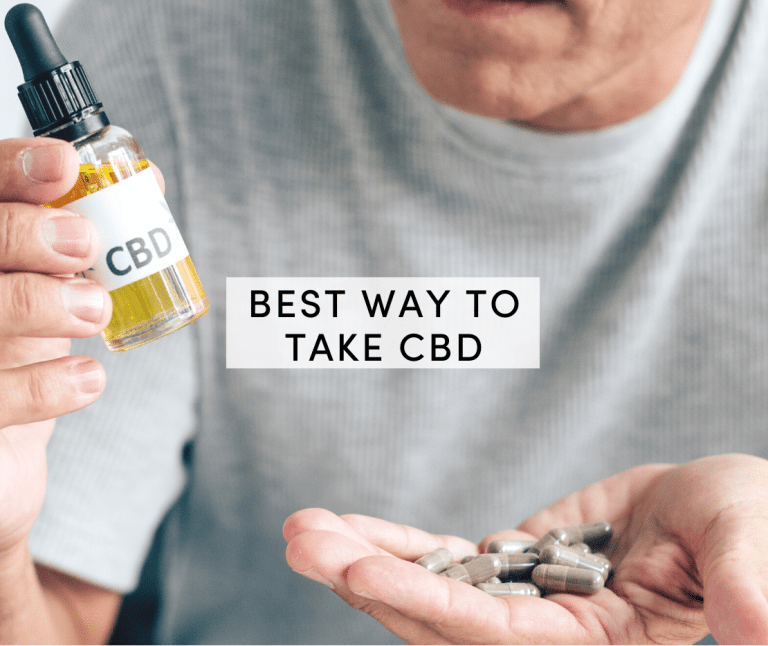 Posted on May 26th, 2021
Health is as important in this modern day and age as it has always been. But today's health fanatics have been rediscovering the benefits of alternative medications. This is not just for their efficacy, but their tendency to have fewer negative side effects. At this opportune time, CBD has hit the alternative health market and exploded into an array of products. The advantages of CBD intake include addressing chronic pain, improving general well-being, and increasing the capacity to handle stress. With CBD splashed across packaging labels for everything from morning tea to lotion, a broad perspective is helpful to see through the hype and find what you want. This is what we intend to provide in this article on finding the best way to take CBD. The following is a comprehensive catalogue of various products on the market, how to meet your needs and how to maximize CBD's benefits.  
Delivery Methods and Bioavailability 
Different types of CBD products will deliver their beneficial constituents to your body in different ways. It is the way these special ingredients enter the body systems that will determine the results that will take effect. The amount of a substance and the rate at which it enters into the bloodstream make up the bioavailability of the substance. When determining which is the best delivery route for your regular CBD intake, you should consider the needs you have against the bioavailability of the product. Here is what you should know about the five most common ways to get CBD into the body: 
Ingested or Oral Use: 6% – 15% Bioavailability
Entering the stomach and then the gut means that the CBD will face the massive metabolism of the liver. This breakdown will decrease the bioavailability of the CBD considerably.   
Sublingual Use or Oromucosal: 35% Bioavailability
CBD products that release their compounds into the membranes and fluids beneath the tongue have a more direct delivery route to very important blood vessels. This gives tinctures higher bioavailability. 
Intranasal (in the nose): 34% – 46%  Bioavailability
Some of the more sophisticated products on the market make use of the higher bioavailability of the intranasal passage.  
Vaping: 40% – 56% Bioavailability 
Releases decarboxylated CBD content into the lungs. While this may not always be the safest way to take CBD, it is by far the most direct delivery system to the body and the effects will be almost instantaneous.  
Topical Use  
CBD does not absorb readily into the skin. Nevertheless, some of the more effective products on the market have found ways to increase the bioavailability of topical CBD products through the use of special carrier oils and creams. Application must be liberal and regular to ensure that the CBD delivery is effective.  
Most Common CBD Products
Of course, bioavailability is not the only factor when deciding which is the best way to take CBD. Your personal situations, health conditions and health goals will be other important points to consider. To ensure your supplementation integrates well with your life, here are some things to consider about the major CBD products.  
CBD Oils
There are many products on the market but the highest content per dose is usually from top-quality hemp. Good quality hemp is selected for its high CBD content. The colors and consistency of these products will be different depending on the crop from which it came. The most common form of taking  concentrates is in a small dose that delivers these oils to the mouth or under the tongue.  
Other people have reported creating their own homemade oils by combining these concentrates with carrier oils and other ingredients. The biggest drawback to concentrates is their considerably potent flavor.  
CBD Tinctures 
Probably the most common form of cannabidiol treatment is by a tincture. Tinctures typically use sublingual delivery as this is the most bioavailable route for them. But many people also add tinctures to their teas, soups and salads. Another advantage they have over oils that are also taken sublingually is they generally lack the earthy flavor of raw hemp oils.  
CBD Capsules, Isolates and Edibles 
Cannabidiol oils can also be taken in capsule form and this allows the user to side step the unpleasant taste. Furthermore, it allows for a relatively discreet delivery system for daily dosing. Then there are edibles that exist in every shape and form from brownies and cookies to gummy candies and pills.  
Then there are hi-tech CBD liquids that come in water-soluble form. In addition to having a very high CBD content, these options lack the harsh flavor that can make tinctures and oils so unpleasant.  
 CBD Topicals 
CBD topicals are designed to be absorbed directly through the skin, but some perform this function better than others. Because you will need to apply your solutions liberally as many as three times a day, it makes sense to choose an option that you will be able to afford regularly. You will probably use a large amount to achieve the effect you want.  
CBD topicals are a good way for relieving the tired aches of strained muscles due to its potent analgesic capacity. In addition to treating sports injuries and strains, CBD products can be highly effective in treating chronic ailments of the joints and bones. Creams and CBD ointments are also very effective in treating dry skin, oily skin, inflamed skin and skin affected with psoriasis or acne.  
Then you will find other impressive topical treatments on the market that include nanotechnology and transdermal methods that ensure a deeper penetration through skin layers. While CBD topicals will deliver their CBD supply to the bloodstream, they are best for treating conditions of the skin, muscles and joints.
Vaping 
A very popular method of CBD intake, vaping is also one of the most effective. According to research, vaping cannabidiol may have some of the best benefits in the short term. While sublingual use has been found to maintain CBD in the body systems for the longest periods of time, vaping provides a different advantage. CBD vaping allows the greatest amounts of CBD to enter the bloodstream. This can be especially useful in dealing with high-stress levels and chronic pain. The downside of vaping is that inhaling substances may be bad for your lungs in the long term. Especially if the company you buy from doesn't remove all of the solvents they use in the extraction process. 
The Best Way to Take CBD
Generally, the best way to take CBD will depend on the conditions you hope to address or the benefits you are looking for. One good way to choose the best CBD delivery system for you will be to consider your goals in the long and short term.  
Long Term Benefits  
As supplementation continues your body will build a baseline of healthy compounds. This baseline may help to address many of the discomforts common with fibromyalgia, migraine headaches and arthritis. This same strategy can help to relieve stress. The reason for CBD's effects is your body's endocannabinoid system. The additional cannabinoids supplement your body's natural endocannabinoids and help maintain homeostasis. 
One of the best options for this type of supplementation will be sublingual tinctures. This is because the sublingual route allows CBD to remain in the bloodstream for the longest amount of time. This can also be done through capsules, gummies and edibles, although the time of the CBD in the body will be somewhat less. Topicals can also play a role in this long-term strategy by maintaining higher levels of CBD in specific areas.   
While the long-term benefits of CBD supplementation are widely effective for many people, this is not always the case. There will be times when pain can flare up significantly and this brings us to short-term goals. Again, this is why the best way to take CBD depends on your needs. 
Short Term Benefits  
Daily supplementation may go a long way in diminishing the pain and inflammation from various conditions. But, when the pain acts up fast, CBD can also be used to counteract the sudden discomforts and anxieties that can occur in your day.  
When this happens, you will want to rely on the fast-acting capacity of something like vaping. Vaping has been found the most effective in this regard as the delivery system is high and quickly available. Water soluble formulas are also very quick to take effect. Other delivery systems like edibles and sublingual treatments may also offer short term benefits but their delivery takes considerably longer.  
For fast relief to a painful flare-up or anxious situation, vaping has proven the most effective delivery system with fast effects. Tinctures, ointments and edibles can also be kept on hand to manage these situations, although their effects may take a bit longer (20–30 minutes).