Health Benefits of Hemp Oil for Dogs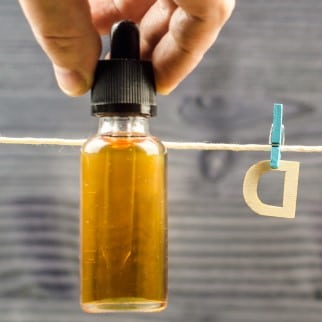 Posted on November 18th, 2021
Hemp oil may improve your heart's condition, lower your blood pressure, improve your skin, relieve pain, and reduce inflammation. How can it do all that? This oil contains three beneficial polyunsaturated fatty acids: gamma-linolenic acid, alpha-linolenic acid, and linoleic acid. But do you know that hemp oil for dogs may also offer benefits?
According to recent studies, hemp oil for dogs can lower their anxiety, improve their mobility, reduce epileptic seizures, and relieve osteoarthritis pain. The presence of Omega 3 and Omega 6 fatty acids helps your pet retain good fats in their body. Hemp oil also contains other essential nutrients, including arginine, magnesium, Vitamin B, Vitamin C, iron, and calcium. The high percentage of iron in hemp oil may even protect your dog from anemia.
How can hemp oil benefit your dog?
Thinking of using hemp oil on your dog? Here are a few potential health benefits that you should know about.
1. Reduces joint pain
Does your dog get tired after walking for a few minutes? Does he have an intermittent limp? These may be signs of joint pain. Talk to your vet and, if your dog has, arthritis, ask about using hemp oil. Many pet owners say that a few drops of hemp oil in your dog's food can relieve joint pain and make her playful again.
2. Keeps epileptic seizures away
Did you know that many dogs have epileptic seizures? While your vet may suggest potassium bromide, it may not be the best medication for your dog, especially if she already has a liver problem. But here's the good news. Many pet owners say that hemp oil relieves their dogs' epileptic seizures. Even better? It does so without affecting liver function for most pets. But you should always clear new supplements with your vet, since hemp oil may interact with other medications.
3. Improves cardiovascular health
If your pet has an irregular heart rate, it could mean that your dog has ruptured blood vessels. It can also suggest that her blood pressure isn't under control. One of the best ways to improve her cardiovascular health is by mixing hemp oil with her food. A few drops daily may help regulate her blood pressure, and could restore a regular heart rate.
4. Lowers anxiety
Does your dog bark when she hears a siren? Does he hide under the bed when an ambulance goes by? These are clear signs of anxiety. You may help her overcome these fears with hemp oil. Research suggests that hemp oil eases your dog's muscles, helping her relax.
5. Addresses inflammatory bowel disease
Colitis is a common health problem among dogs. It disrupts your dog's gut motility. She may not feel like eating and may vomit more frequently than other dogs. Using hemp oil may boost gut motility, helping manage symptoms of inflammatory bowel diseases.
Is hemp oil for dogs safe?
Many dog owners aren't sure if hemp oil for dogs is safe. They associate hemp oil with the cannabis plant, worrying the extract may adversely effect dogs. Fortunately, that's not the case. Scientists and vets both consider hemp oil safe for most dogs. And that's because it only contains trace THC content. So your dog won't get intoxicated.
Make sure that you check hemp oil labels before buying. It should specify that the oil has 0.3% of THC. If it doesn't, it's better not to buy the product. According to the latest farm bill, legal hemp oil products can have a maximum of 0.3% of THC. (Remember, THC is the intoxicating cannabis element that makes you feel high. But 0.3% concentrations aren't significant enough to trigger that feeling.)
If you are worried about the possible side effects of hemp oil for dogs, talk to your vet regarding doses and counter-indications. Overdosing may cause vomiting, make your dog lethargic, or even trigger loss of appetite.
How can dogs consume hemp oil?
Honestly, hemp oil doesn't taste so good if you consume it raw. It is bitter and has a bad aftertaste. Your dog may not like it if you put a couple of drops of this oil on her tongue. Therefore, you have to trick her into consuming hemp oil. You need to find ways to mix the oil with her food so that she doesn't understand the taste. Here are a couple of ways you can help your dog consume hemp oil:
• The best method to make your dog consume hemp oil is sublingually. Take a dropper and give the precise dose under her tongue or against her cheek. However, as already mentioned, the taste isn't good and your dog won't like it. She may refuse to open her mouth if she sees you with the same dropper again.
• The next method involves tricking your dog so that she consumes hemp oil. Drizzle a few drops of the oil on her food and mix it well. The flavor of the food should mask the smell of the oil. Even though the taste may be slightly bitter, it won't be the same as when she consumes it sublingually.
• Another technique is to mix the oil with her treats. You may come across various soft treats for dogs. The packets have instructions regarding how to feed the treats to your dog. Take out one of the treats and add the appropriate dosage of hemp oil. Mix the oil well so that she is not able to figure out what's inside. If you provide three treats every day, you can divide the dosage accordingly. For example, if your dog requires 1 ml of hemp oil every day, you can divide the dosage into 0.40 ml and two sets of 0.30 ml.
Is hemp oil the same as hemp seed oil?
Some dog owners confuse hemp oil with hemp seed oil. The biggest difference between hemp oil and hemp seed oil is their source and cannabinoid content. Hemp oil comes from the cannabis plant's stalk and stem. The manufacturers crush the stalk and stem and extract the oil available in these parts.
On the other hand, hemp seed oil, as the name suggests, comes from the seeds of the cannabis plant. Manufacturers crush the seeds in various stages to produce oil. As such, hemp oil contains CBD and other active cannabinoinds. But hemp seed oil doesn't, though it offers potential nutritional benefits.
Manufacturing Differences
There is also a difference in the manufacturing process of these two oils. Hemp oil is derived from a combination of hot and cold press methods, thus providing a higher purity than hemp seed oil. Hemp seed oil manufacturers only use the cold press method.
The cold press method is the most popular among hemp oil manufacturers as it produces the purest extract of hemp. The hot press method allows manufacturers to extract high quantities of hemp oil during the extraction process. Therefore, the combination of these two methods ensures that the manufacturers not only maintain the quality of the oil but also produce it in high quantities.
If you want full-spectrum hemp oil for dogs at an affordable price, you should rely on Tanasi. It is a hub for some of the best hemp oil and CBD products. From tinctures to gummies, you can find a wide range of products at Tanasi. Order in bulk to enjoy massive discounts.