5 Reasons to Use Full-Spectrum CBD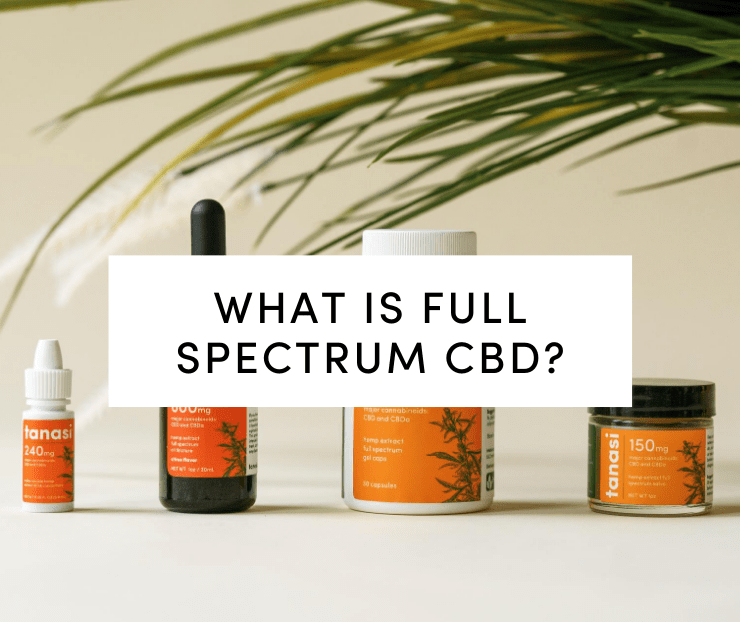 Posted on September 10th, 2021
Full spectrum CBD reflects all of the original hemp plant's profile. When taking this form of CBD, you'll experience the entourage effect. (More on that in a moment.)
Basically, this means that CBD is more effective when you take it with all other cannabinoids. (Including trace elements of THC). Because we've learned that other cannabinoids boost CBD performance. Which means that a full-spectrum product is the most effective form of hemp extract.
Understanding the Entourage Effect
Cannabis plants contain more than 120 different phytocannabinoids. And all of them effect the endocannabinoid system (ECS) in your body. This system has a big job: to balance your body.
Now, as best known cannabinoids, CBD and THC are the ones we usually isolate for consumers to get an ECS boost. But, because of the entourage effect theory, we know that grouping cannabinoids results in better effects.
Of course full-spectrum CBD includes other cannabinoids and terpenes. So it can deliver the entourage effect. And it can may be more effective if you're dealing with pain, inflammation, anxiety, or other chronic conditions.
What is Full-spectrum CBD Oil?
It's oil we extract from hemp, containing all the plant's naturally occurring compounds. Remember, cannabis plants contain over 400 chemical compounds. Over 100 of those are cannabinoids, which deliver some of hemp's  potentially therapeutic properties.
Full-spectrum CBD contains traces of THC, the psychoactive cannabinoid. But since the THC content reflects less than 0.3% of the total plant composition, you won't get high. Still, if you prefer to avoid all THC, you can turn to broad-spectrum CBD, which contains every cannabinoid except THC. Or try CBD isolate, which is pure CBD with no other cannabinoids. Just remember, broad-spectrum CBD may deliver the entourage effect. But isolate won't.
Legal Considerations
If you obtain product from a marijuana plant, it gets classified as a Schedule 1 substance, and is not legal in all states. If derived from hemp, your CBD will have a THC content lower than 0.3% and is legal at the federal level.
You can buy cannabidiol online in any state for home delivery. But, even with its legal status, CBD with THC can still make you fail a drug test. (Though that's more likely if you purchase poor quality product, without proper labeling.) Also, if you take a very high dose–about 1900 mg, which is much higher than any manufacturer recommends–you may fail a drug test. That's why it's best to ask for a certificate of analysis, and to examine third-party lab tests, before you buy CBD, online or in a store.
5 Reasons To Use Full-spectrum CBD
1. Pain Relief
Full-spectrum CBD oil may offer pain relief. After all, many of its components target several different pain triggers.  First, research shows that CBD acts on your body's endocannabinoid receptors; this help reduce chronic pain. Plus, full-spectrum CBD reduces the inflammatory process, which may also reduce pain. Finally, research suggests that using CBD can even reduce the pain response to surgical incisions.
2. Managing Anxiety and Depression
Depression and anxiety are common in our hectic modern world. Both can have significant effects on your mental and physical health. They can leave you unable to deal with your daily life, impacting your digestion, blood pressure and more. While prescription medications can treat these disorders, some become addictive or cause worse side-effects.
Recently, people have turned to full-spectrum and broad -spectrum CBD as an alternative way to manage their symptoms. And, while the research can't fully support their use, many say they find relief. So, if you feel the same way, full-spectrum hemp extract may give you a natural way to manage your symptoms.
3. Acne Problems
Acne affects about ten percent of the adult population. Often, breakouts happen when you experience hormonal imbalances. But inflammatory processes, or excessive sebum production can also clog your skin pores. Full-spectrum CBD may reduce inflammation, control sebum production and minimize clogged glands. So, in these ways, it may help you find a natural way to manage breakouts.
4. Heart Health
Stress can cause high blood pressure. And so obesity,  poor dietary choices or your own genetics. We've linked high blood pressure with many health risks, including heart attacks and strokes among others. But full-spectrum CBD may reduce anxiety and stress, in turn lowering your blood pressure.
5. Neuroprotective Properties
Full-spectrum CBD oil seems to have significant effects on your brain's signaling system and the endocannabinoid system. For those reasons, researchers believe it may help to people who are suffering from neurological disorders. Early reports suggest it can help patients who suffer from multiple sclerosis. But we need more research to confirm these findings.
Why Users Choose Full-spectrum CBD
Full-spectrum CBD comes with higher cannabinoid contents. It also preserves all the plant's naturally-occurring phytochemicals. So you benefit from CBN, CBC, and CBG, each of which come with their own potential health benefits.
Then, the entourage effect amplifies both their effects and those associated with CBD. So, today, many people know that you get more for your money with a full-spectrum product.
Earlier, people thought that pure CBD offered greater therapeutic effects, but today we know that's not the case.  Full-spectrum CBD seems to be more effective at reducing pain, thanks to the presence of other cannabinoids and terpenes. It also seems to be more effective at reducing inflammation, thanks to its higher bioavailability.
Methods and Options
You can take full-spectrum CBD as a daily supplement, or add it to your juice or food. Common dosages run anywhere from 3 to 20 mg. But some people develop a tolerance, so you may need to increase their dosage in order to feel the same effects.
Full-spectrum CBD provides you with all the benefits that hemp plants can offer. Plus, you may enjoy the added benefits from other cannabinoids and terpenes. Unlike other forms of CBD, a full-spectrum product should deliver fast and noticeable results. But, all types of CBD may interact with other medications. And a full-spectrum product could cause problems with drug tests. So always talk to your healthcare provider and employer before trying CBD with THC.