4 Health Benefits of CBD Water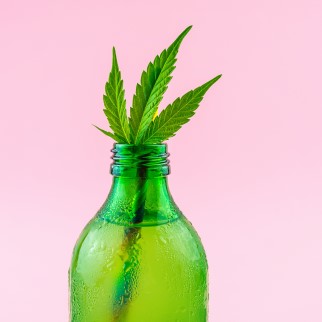 Posted on November 28th, 2021
CBD is one of the most popular compounds of the cannabis plant known for its ability to treat various health problems like anxiety, increased blood pressure, body ache, and insomnia. It doesn't have the psychotic effects of THC that make you intoxicated.
The 2018-Farm Bill made hemp cultivation legal in many states. This allowed manufacturers to come up with various CBD products. CBD water is one of the many CBD products that you will find on the market and it can deliver the same effects as its counterparts.
Types of CBD water
There are three types of CBD water available on the market: CBD isolate, broad-spectrum, and full-spectrum. CBD isolate only contains a percentage of CBD and no other compounds, making its efficacy rate lower than other CBD water products.
On the other hand, the difference between broad and full-spectrum CBD is that the latter contains 0.3% THC. Other than that, both broad and full-spectrum CBD contain essential components of a hemp plant, such as terpenes and other CBD compounds.
Are there health benefits with CBD water?
Research suggests that CBD water may help relieve chronic pain, deal with anxiety and depression, keep blood pressure under control, and alleviate migraine headaches. But before consuming this product, you should talk to your doctor about the appropriate dosage, and mention all your other medications. Your doctor may consider various factors like your body weight, health conditions, sex, age, and response to CBD before recommending a dose.
1. Keeping anxiety under control
One of the factors that trigger anxiety attacks is the low percentage of serotonin. It fluctuates whenever you are under stress. As the serotonin level goes down, it may cause you to panic. You may feel as if everything around you is about to collapse and you won't get out. It all happens because of the low percentage of serotonin. Fortunately, CBD works with CB1 and CB2, the two endocannabinoid receptors in your body, in ways that may keep your anxiety under control.
The CBD percentage in this product could be enough to boost your serotonin level. In turn, it may send signals to your brain to calm down. If you think that a situation will arise where you may get an anxiety attack, you can take a few drops of this solution.
In fact, CBD may also be effective in reducing your body's cortisol level, the hormone responsible for inducing stress. When you suffer from anxiety attacks, two things happen in your body: the cortisol level goes up significantly and the serotonin level comes down. CBD can successfully increase your serotonin level and decrease your cortisol level to keep anxiety attacks away.
2. Promoting quick recovery
CBD is not just effective in reducing anxiety attacks; it can also relieve chronic body aches. The combination of compounds in full-spectrum CBD may alleviate your muscle soreness, thanks to their anti-inflammatory properties. That is why many doctors recommend it to people with muscle sprains, acute back pain, or even arthritis. The CBD compounds work with CB1 and CB2 receptors to send signals to the brain to reduce joint pain.
3. Boosting heart health
Blood pressure can lead to life-threatening cardiovascular diseases, such as stroke and heart attack. Breathlessness and excessive sweating are a couple of common symptoms associated with high blood pressure. Therefore, it's best to keep your blood pressure under control to improve your heart health. Many studies on CBD suggest that it can keep your heart healthy by controlling your blood pressure.
Consuming CBD water can lower your blood pressure and improve your overall cardiovascular health. The dosage requirement varies for different people. If your blood pressure is slightly higher than normal, the doctor may recommend a low dose. On the other hand, if you have consistently high blood pressure, he may ask you to start with a moderate dose, before prescribing a higher dose.
4. Providing relief from migraines
Migraine attacks can literally drive you crazy. It seems as if someone is hammering on your forehead and another person is tearing the nerves. Most people with migraines immediately resort to medication because they can't tolerate the excruciating pain. Medication works temporarily and you may experience searing headaches as a side effect. Instead of relying only on medication, you need to find a solution that can eradicate migraine completely.
Fortunately, CBD can do that for you. Many research studies suggest that CBD compounds are highly effective in treating both prophylactic and acute migraines.
A journal published on Frontiers in Pharmacology says that the analgesic and anti-inflammatory properties of CBD are responsible for keeping migraine attacks away. Consuming the product regularly for months can slowly reduce the symptoms, before completely getting rid of the attacks. Apart from CBD, you also need to keep yourself hydrated. This makes CBD water an excellent choice for people looking for a long-term solution for their migraine attacks.
How to make CBD water?
Some people say that making this product is as easy as taking a walk in the park since you only need to mix water with CBD oil. In reality, it's not that simple. Mixing CBD oil with water isn't the right process as the two don't mix properly and you may end up wasting your CBD oil.
Manufacturers use nanoemulsion technology to make CBD water. In this technique, the infusion process lowers the overall surface tension of water.
Once the water has a low surface tension, its molecules won't stick to each other. Instead, they will try to stick to the oil molecules. The next stage involves agitating the mixture of oil and water. This allows the CBD compounds to break down and become microscopic droplets that don't allow the oil to separate from the mixture. One of the advantages of this process is that it allows the CBD compounds to dissolve in your body easily, thus making the product highly effective.
Without nanoemulsion, the oil will float on top of the water. Therefore, trying to mix water and CBD oil will be a waste of time.
FAQs about CBD water
Q: CBD oil or CBD water – which one to choose?
A: If you are confused about choosing between CBD water and CBD oil, you should remember one thing – your body needs to absorb the CBD compounds as quickly as possible to deliver their effects. According to experts, CBD water is more effective in doing that because of water's high bioavailability rate. Since your body contains 60% water, it becomes easier to absorb the CBD compounds. As a result, CBD water edges slightly ahead of CBD oil. However, both provide the same health benefits.
Q: How to buy CBD water?
A: Finding high-quality CBD water may become a daunting task, especially if you are new to CBD. Some brands may claim that they provide full-spectrum CBD, but they don't. Their efficacy may vary from brands that genuinely provide high-quality CBD water. Therefore, it's always wise to check the product's Certificate of Analysis before buying. Certificate of Analysis proves that the CBD in the product has gone through several stages of testing.
Q: What are the side effects of CBD water?
A: This product usually doesn't have any side effects, provided you follow its dosage instructions. You should consult with your doctor before consuming the solution to know what dose is right for your body.
Tanasi is one of the best brands when it comes to any CBD product. It provides full-spectrum CBD in various forms, including CBD oil, tincture, cream, salve, gummies, and CBD water at attractive prices. First-time buyers also get additional discounts on bulk purchases.